Today's culinary escape takes us to the island of Viti Levu in Fiji. Let's stop in at Volivoli Beach Resort to meet Chef Kepa and see what's cooking.
Chef Kepa (center – with today's treat – kokoda) and his kitchen staff at Volivoli.
Chef Lakepa "Kepa" Setitaia has worked for Volivoli for two years. He previously worked at the honeymoon boutique resort, Tokoriki, in the Mamanucas.
"For me, I started off working in the tourism industry when I was very young. My passion has always been to be a chef because of my mom. She used to work in a restaurant, so that passion through her drove me to become one. When I grew up, both of my parents were working and I was the only one at home so I started cooking for our family when they weren't around—traditional beef soup, stew, curry, chicken, stir fry, and that's how my career began.
Deep down in my heart I always wanted to be a chef. My mom, Gade, was the best chef, she is a lovely cook. From there I graduated from, TAFE Cooking school in Australia. I began my cooking career at the Sheraton. I was a training chef there and then moved onto the Westin, then to the Radisson and then Tokoriki."
What made you decide to come to work for Volivoli?
"In the culinary world, you need to excel. I've been a commi chef, a demi chef, a chef de parti, and a sous chef, so the next step was executive chef. I knew that being here would enable me to become the chef that I wanted to be in the future. Our food consultant, Janey, is the best. She's my mentor; she's the driving force for me now. She always pushes me to the limit to be better at what I'm doing, and I'm so thankful for her guidance. And she's taught me a lot. Fiji is a multiracial country, and you can see with our menu, there's an infusion of Chinese, Indian and Fijian. It speaks of who we are and what Fijians are all about. If a guest wants to come in and eat local food, our chef will come and chat with you and prepare local foods. Herbs, fresh from the garden in the back behind the kitchen, thyme, lemongrass, basil. Local is better, and more economical. We don't have to import and it supports the local community. I like to infuse local foods into our menus."
What do you see in your future?
"Looking at whatever customers we have coming in and try to design foods that suits them, while at the same time using local produce, so that we can support our local communities. We strive for our food to showcase what we have here in Fiji."
What is about Volivoli you love?
"Oh I love the resort, and I love the family here. They have a care factor and that's why I love about them. They are very detail-oriented; attention to details about the resort, food, guests that are coming in, how to keep them occupied and happy. It's because of you we are here. If you weren't here we wouldn't be here. The family is supportive of everyone here, that's why it's unique."
From the chef's recipe book:  Kokoda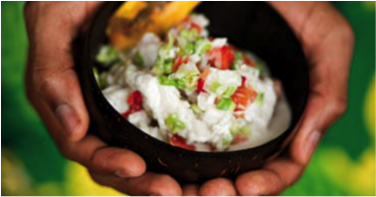 INGREDIENTS
2 lbs very fresh walu, mahi mahi or snapper fillet, skinned
Juice of 10 limes & 3 lemons
2 medium-sized onions, finely dices
3 red chilis, minced
2 c finely chopped tomato
Several spring onions, finely sliced
Few stems coriander leaves (or parsley)
4 c coconut milk
½ tbsp sea salt
Lime wedges to serve
PREPARATION
Cut the fish into ¼ inch dice, discarding any bloody tissue
In a bowl, mix the fish and the citrus juices and chill to marinate for 2-3 hours, or until fish is opaque
Drain the fish and add the onion, chili, tomato, spring onion, coriander (parsley), coconut milk & salt
Mix well, chill well, and serve in coconut shells