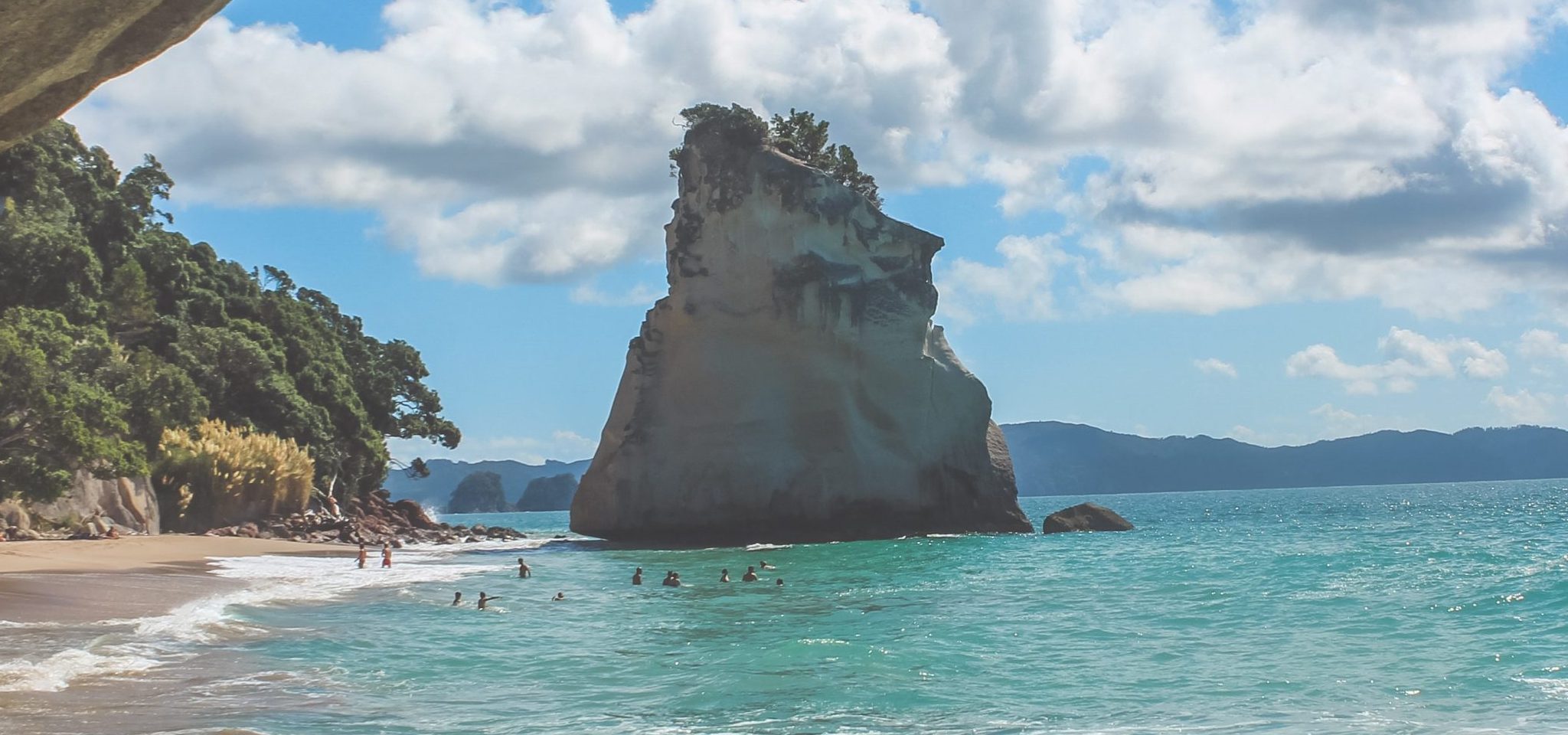 Baja
Scuba Diving in the Sea of Cortez
From just across the border in San Diego all the way down south to Cabo San Lucas, this 800-mile Mexican peninsula is a haven for both fiesta seekers sinking their taste buds into chips, salsa and margaritas and big animal loving scuba divers who plunge into the waters of the Sea of Cortez.
Loreto and La Paz are major diving gateways on the peninsula and the laundry list of gargantuan sea creatures includes all the stars: gray whales, hammerhead sharks, whale sharks, sea lions, dolphins, manta rays and more. Divers can explore the northern Sea of Cortez off Loreto, while La Paz is where southern Sea of Cortez diving is done.
In the northern Sea of Cortez, you'll dive into the wonders of Loreto National Marine Park, where nearly 1,000 different species of fish – all native to this body of water – swim. Not only will you encounter the giants of the sea here, but the rocky seascapes are draped with a plethora of invertebrates. There's also the thrilling Humboldt giant squid dive, where – from the protection of a specially-designed cage – you can observe the eerie two-to-six-foot long, color-changing creatures feeding in the shallows. While ashore, take to the road and explore the Baja California outback to visit La Giganta Mountains and Mision San Javier, an incredibly well preserved 18th century church. Or, take a whale watching excursion, where several varieties can be seen, close-up.
Down south in La Paz, you can satisfy your wreck diving appetite by exploring La Salvatierra, an ex-U.S. Navy vessel and on a night dive, spy on sleeping parrotfish hiding out from predators. Elsewhere, swim through the mazes of rocks and caves where schools of tropical fish live. There's plenty to do there, while off-gassing, too, from kayaking and sailing to checking out local museums to just lazing on the beaches.
Scuba Travel ventures has your Baja California vacation covered, offering a variety of resorts in Loreto and La Paz.
Sea of Cortez Liveaboards
We recommend three liveaboards in the Red Sea:
Nautilus Explorer
Stride into the waters of Baja California from this luxurious 116-foot live-aboard vessel. Book a berth and you can be one of 24 lucky divers enjoying spacious staterooms, a hot tub deck, delicious meals and a well-apportioned salon equipped with a 42″ plasma TV, a computer featuring card readers, a CD burner and Adobe Photoshop. No worries if you're thirsty, as the Nautilus Explorer has its own microbrewery – on what other live-aboard can you find that? – and wine stock. When you're ready to dive, you'll have your own individual station to suit up and when you're not spotting the big creatures; well-trained dive guides are ready with pointers to show you all the small things.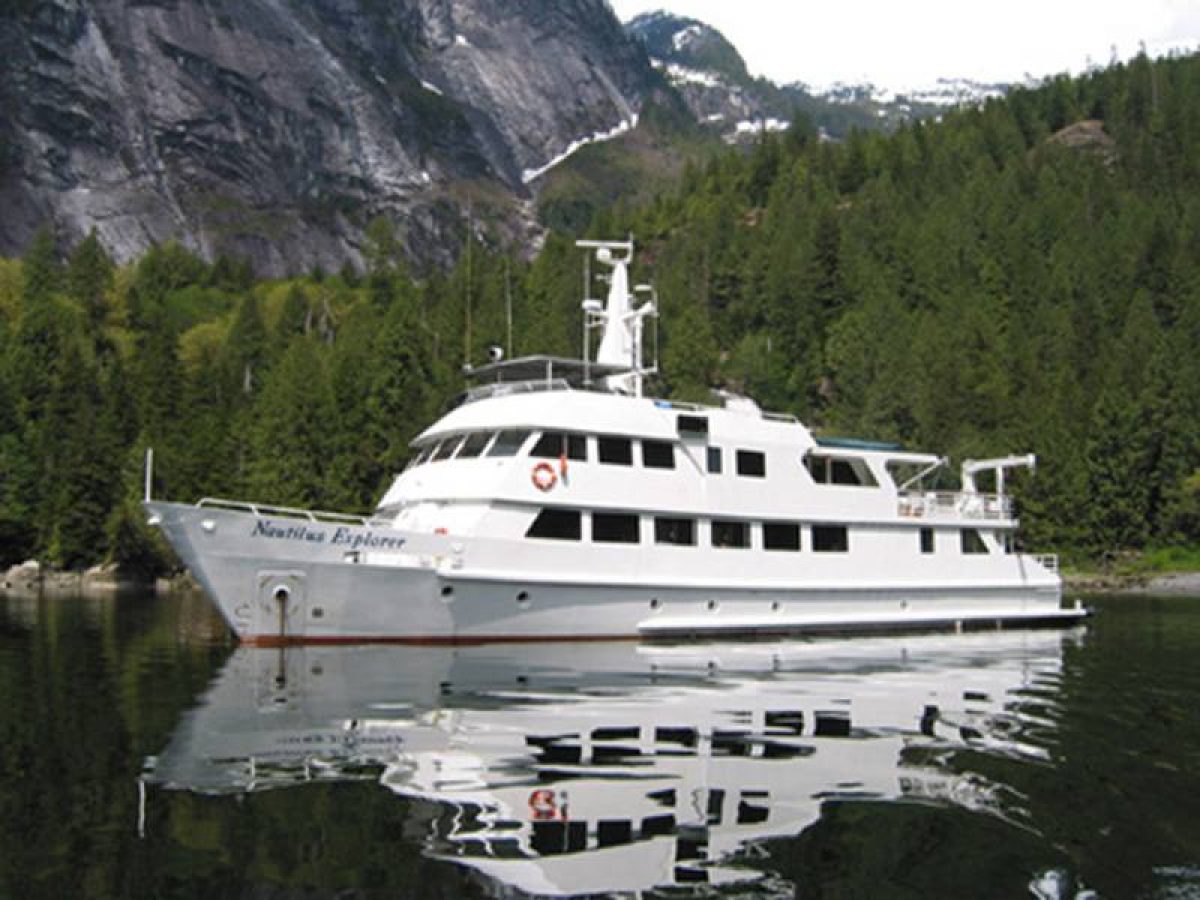 Sea of Cortez – Socorro Combo
There's so much to see here, in the narrow body of water between Mexico's Baja California peninsula and the main body of land that makes up the rest of the country. Fall is the ideal time to see whale sharks near El Mogote, hammerhead sharks in Gordo Bank and the El Bajo seamounts. Moray eels populate shelves at many dive sites, while schools of jacks and tuna often whiz by. Whale sharks are also occasional visitors, inhaling snacks in the plankton-rich waters.
Socorro Island
Perhaps nowhere else in the world can divers interact as much with graceful swimming; wide-wing spanned giant Pacific manta rays than this island south of Cabo San Lucas, at the extreme southern tip of the Baja California peninsula. Underwater photographers can shoot to their heart's content, often coming face-to-face with the beautiful animals. But the manta encounters are only a hint of the life you'll encounter in these waters. Bottlenose dolphins, drawn to the vessel by the mantas, also frequently frolic with divers and in some parts of the year, humpback whales enter the picture. Like sharks? You'll get your fill of them, too, with Galapagos, silver-tip, white-tip reef, silky, hammerhead and even whale sharks make their presence known. The Nautilus Explorer offers eight-night cruises here and sometimes trips to this part of Baja California are combined with another region.
Scuba Travel Ventures staffers stand ready to assist you with booking berths aboard the Nautilus Explorer.
Nautilus Explorer Dive Packages Start at $3355 per person
Gallery: Nautilus Explorer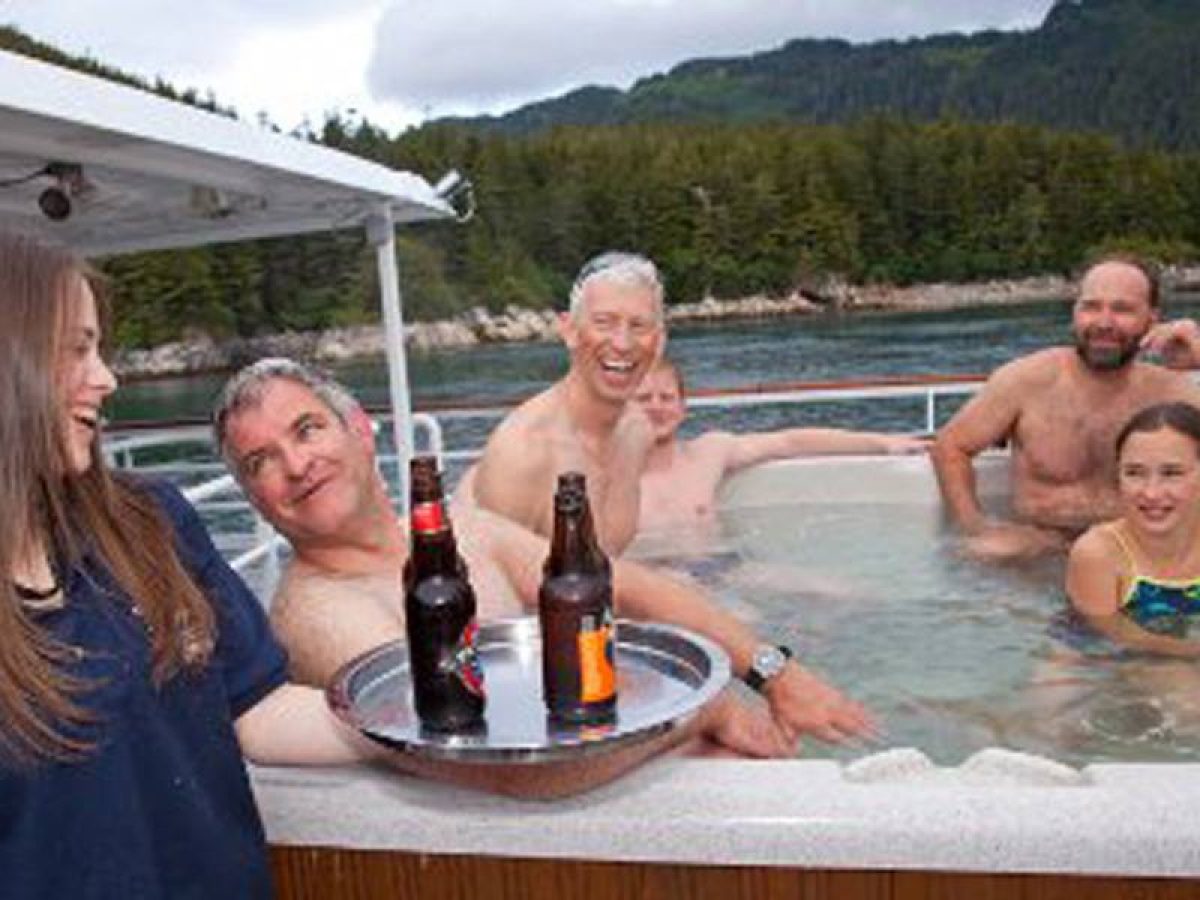 ---
Rocio Del Mar
With clear, deep blue waters, abundant sea life, white sand beaches and inspiring vistas, the Sea of Cortez – known as the Gulf of California – is a breathtaking destination for amazing fishing, scuba diving, snorkeling, sailing, boating, and exploring diverse marine creatures. Legendary diver Jacques Cousteau described the Sea of Cortez as the "world's aquarium" and the "Galapagos of North America." Dive on untouched walls and reefs abounding in marine life. Encounter great and small whale species, whale sharks, manta and jumping mobula rays, and sea lion colonies. Hike and explore remote uninhabited islets. Dine under the stars in a calm anchorage, socialize with your shipmates and make new friends. Then melt into a luxurious bunk in your own finely appointed cabin with private bathrooms and hot showers. All in a day aboard Rocio, combined with personalized service to enhance your live aboard safety and fun. Dive into your dreams and see what sea of cortez diving is all about.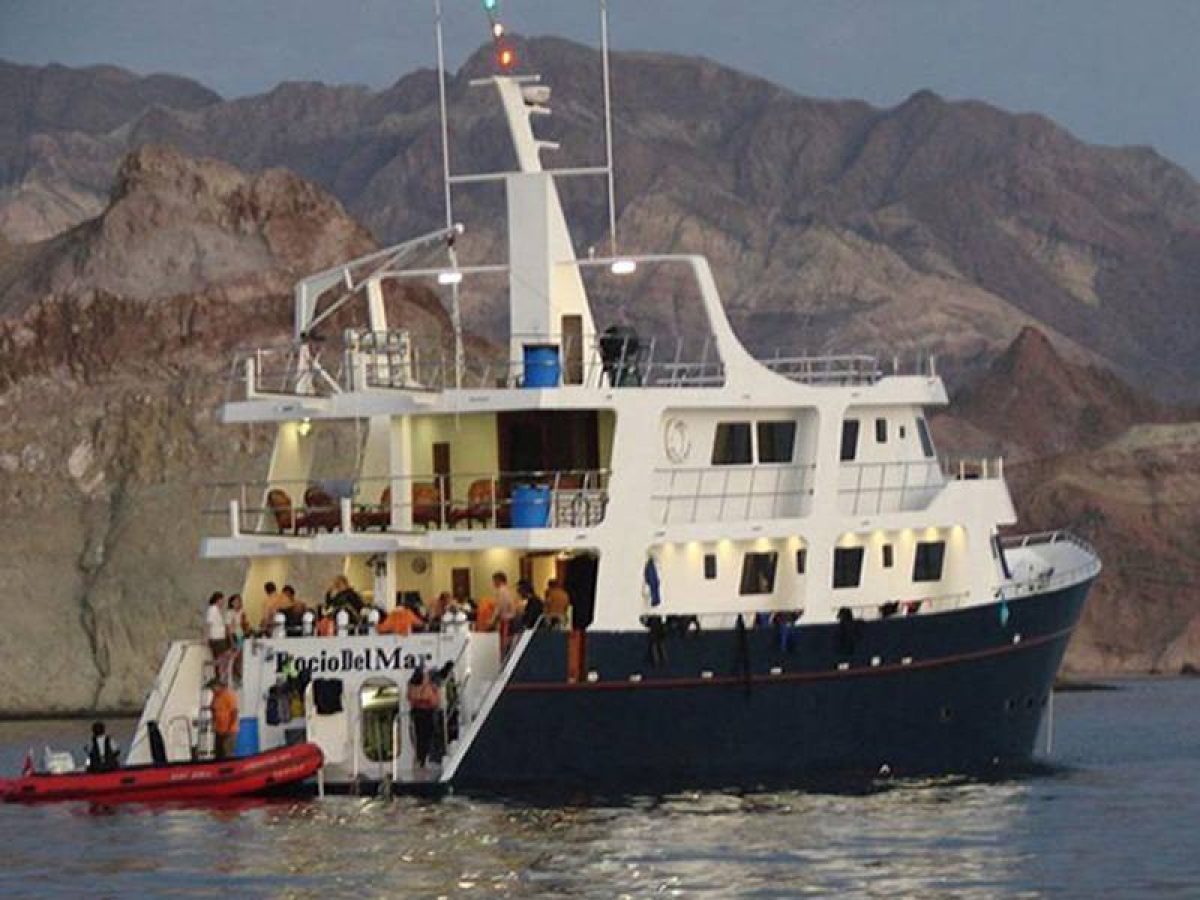 Although the conditions in the Sea of Cortez are mostly calm, there are times that the sea is rough. Please be prepared for this type of situation. There are several over the counter remedies that can help you in case we are faced with rough seas during your trip.
Sample Itinerary
Day 1. Embark at 4:00 p.m. Puerto Peñasco, leave at 5:00 p.m.
Day 2. Wake up at Refugio Bay on Angel Island – Potential Dive sites: Angel Rock, La Vela, Lolo's Cove, El Jardin
Day 3. Angel Island – Potential Dive sites: Andrea's Eagle, El Aquario, Las Vivoras, Las Vivoras Night Dive
Day 4. Salsipuedes – Potential Dive sites: Los Cuervos, El Caballo, In Animas, El Lavadero, El Lavadero Night Dive
Day 5. San Pedro Martir – Potential Dive sites: Ravijunco, Xareni's Pinnacle, Coromel, Morrito
Day 6. San Pedro Martir – Potential Dive sites: El Arroyo, Punta Martir (Sea Lions), Chayo's Cove
Day 7. Start trip back to Puerto Peñasco – Potential Dive sites: El Pescador, Baja Ca., Animas in Bahia de Los Angeles, La Ventana.
Day 8. Disembark between 7:00 am. and 8:00 am.
7 night dive package includes three meals per day, snacks, beverages including soft drinks, juice, domestic beer and wine. Tanks, weights and weight belts are also provided. Prices per person based on double occupancy.
National Park Fees of $28.00 per person due on the boat. If you are planning on diving with nitrox, the fee of $120.00 per person is due on the boat or can be added to the invoice. $15.00 mandatory contribution to Hyperbaric chamber. Gratuity fee of 10-15% per person recommended. DAN Insurance is required. You must show proof of insurance and dive certification when boarding.
PRICING VARIES THROUGHOUT THE YEAR SO PLEASE CALL 1-800-298-9009, EMAIL US AT INFO@STV.TRAVEL, OR CHAT WITH US ONLINE.
Socorro Islands
The Revillagigedo Islands (also Revillagigedo Archipelago or Islas Revillagigedo) are a group of four volcanic islands in the Pacific Ocean, known for their unique ecosystem. The islands are home to many endemic plant and animal species, and are sometimes called Mexico's "little Galapagos". Socorro island is the most diverse in flora, fauna, and topography.
The islands lie 250 miles off Baja Mexico's southern shore. When embarking on a trip to the Socorro Islands; possible destinations on the itinerary are San Benedicto, Socorro, Roca Partida and Clarion Islands.
These islands are a spectacular magnet for the largest ocean pelagic animals in the world. Schooling Hammerhead sharks, dolphins, silky sharks, Galapagos sharks, clouds of jacks and barracuda, tuna, wahoo, marlin, oceanic white tips sharks, whale sharks and mantas.
Mantas are the claim to fame for Socorro Islands; the island on which they seem to congregate the most is San Benedicto! The magical dive site called "The Boiler" is a submerged sea mount and cleaning station. More than a half dozen Mantas frequent this pinnacle regularly. The Mantas here are the friendliest I have ever experienced, they seem to enjoy the presence of humans. This is truly an exceptional place if you wish to really experience the Manta Magic.
Humpback whales visit during the winter months of December through March. This is a splendid time to hear the sound of the singing mating male escorts underwater. This destination can only be dived by a live aboard dive vessel. It takes approximately 24 hrs one way to reach the islands. This is an excellent dive destination for large pelagics due to the open ocean nature of the islands, which sometimes include currents and choppy conditions. The underwater topography consists of rocky outcroppings, boulders and some walls. There is not much in the way of coral as this is a cooler water destination.
Sample Itinerary
Arrive a day before departure, dinner will be served at 7 p.m. on the boat for those who wish to join us. Guests are asked to spend the night on the boat for early departure.
Day 1 – Departure 11:00 p.m. – 1:00 a.m.
Day 2 – Rocio del Mar arrives to San Benedicto around 6:00 a.m. Start Diving! 4 dives scheduled…
Day 3 – San Benedicto, 4 dives scheduled.
Day 4 – Roca Partida, 3 dives scheduled.
Day 5 – Roca Partida, 3 dives scheduled.
Day 6 – Socorro Island, 4 dives scheduled.
Day 7 – San Benedicto, schedule 4 dives. At the end of this day we will start our departure to San Jose del Cabo.
Day 8 – Arrive at San Jose del Cabo. Guests may sleep on the boat.
Day 9 – Disembark after breakfast.
8 night dive package includes three meals per day, snacks, beverages including soft drinks, juice, domestic beer and wine. Tanks, weights and weight belts are also provided. Prices per person based on double occupancy.
Airport transfers not included. National Park Fees of $28.00 per person due on the boat. Nitrox fee of $120.00 per person, per week due on the boat or can be added to the invoice. $15.00 mandatory contribution to hyperbaric chamber. Gratuity fee of 10-15% per person recommended.
Rocio Del Mar Dive Packages Start at $4059 per person
Gallery: Rocio Del Mar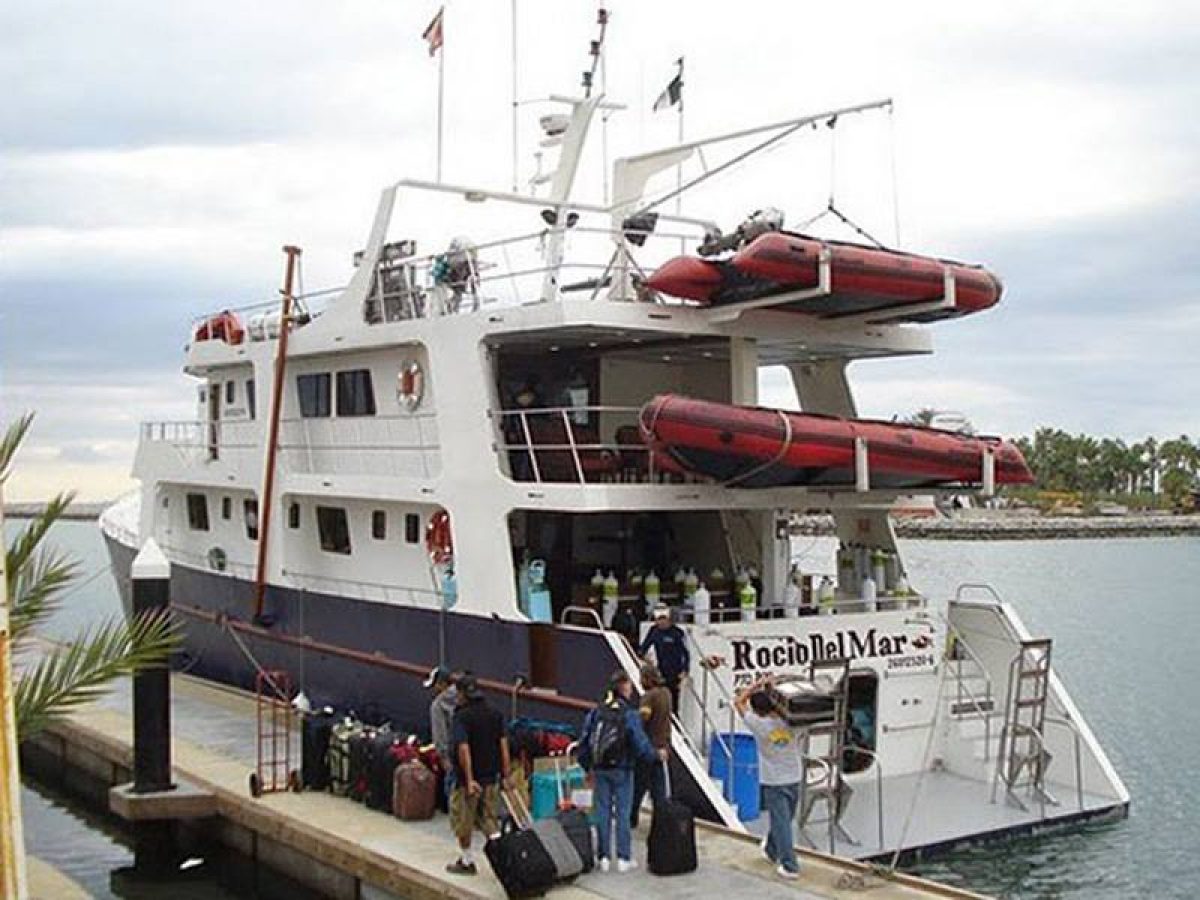 ---
Solmar V
They're the only luxury live-aboard dive vessel departing from Cabo San Lucas, Mexico—well within range of the most exciting diving in the Sea of Cortez and Soccoro Islands. During the weeks of their great white shark season at Guadalupe Island they depart from Ensenada, Mexico. The Solmar V travels with a crew of 10 and a maximum of 22 divers.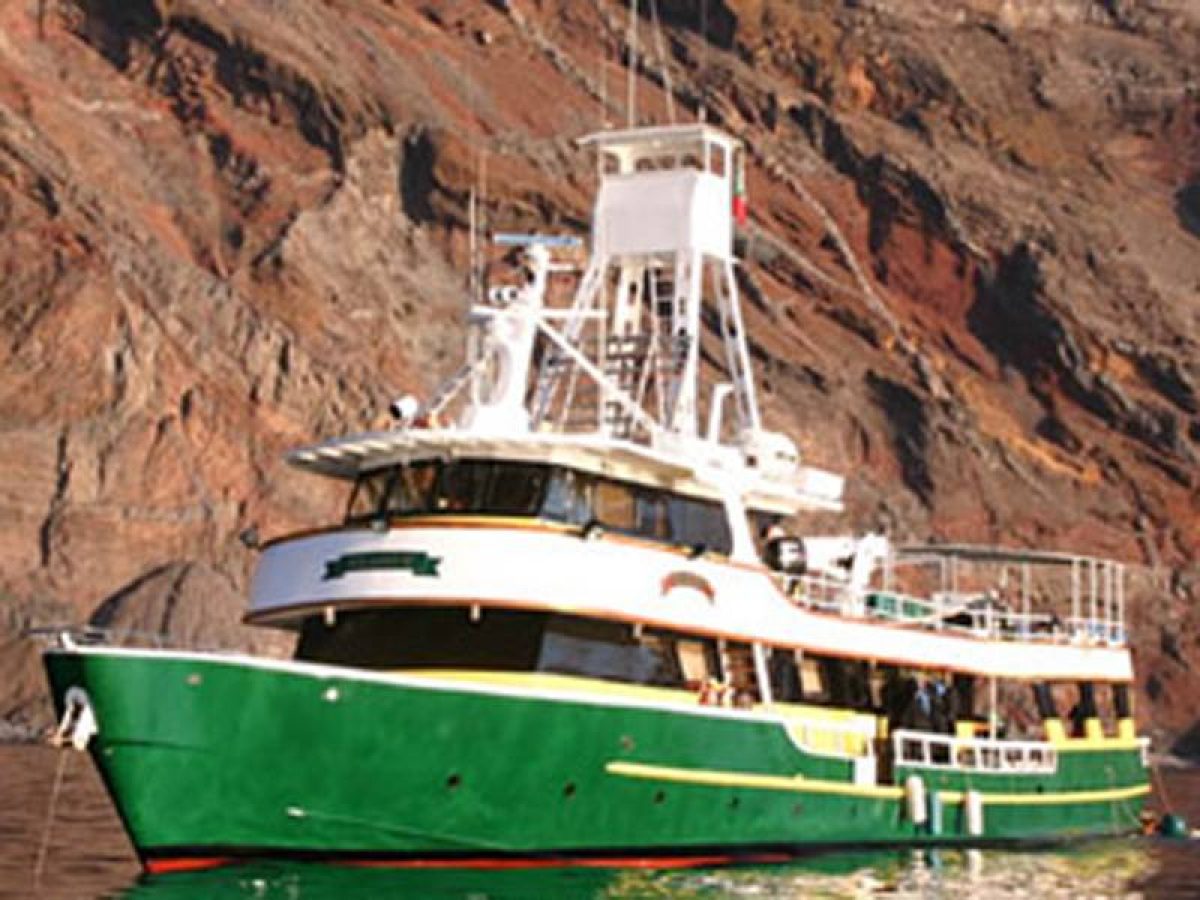 Side scanning sonar, multiple radar systems and the most modern electronic marine technology package provide an excellent compliment to their experienced crew. Twin compressors, with cascade storage for fast filling, provide their guests with an endless air supply and quick fills between dives. Two main engines and three full-time generators power the Solmar V to a top cruising speed of 11 knots. Two freshwater makers produce 1,600 gallons per day, more than adequate for their passenger capacity.
As their guest, you will receive unmatched service and comfort while experiencing the best big animal diving on earth! There are no dormitory-style rooms available on the Solmar V—luxury and comfort are their specialties. Their vessel was specifically designed with your comfort in mind.
The interior of the Solmar V is outfitted in brass, rich mahogany, granite table tops and is completely carpeted. It is a gracious and beautiful boat. The salon comfortably seats all of the guests and offers a large-screen HDTV, VCR, DVD player and stereo system.
Each mahogany-detailed stateroom features air conditioning with individual controls, a private head, sink and shower and a TV/DVD player for your enjoyment. All staterooms have top-of-the-line "Pillow-Top" mattresses and down pillows, and new carpet.
While they have always maintained satellite phone systems for emergency use, they also installed a brand new SEA WAVE communications system which will allow much better access via phone and email. If you're interested in email, you may sign up before you leave for your trip and have email sent to your Solmar V Sea Wave account. All online and easy.
Computer stations are available for use by guests for checking email, downloading and archiving images, and image processing using Adobe Photoshop.
The Revillagigedos Archipelago, more commonly called Socorro Islands, is located in the eastern Pacific Ocean approximately 250 miles south of Cabo San Lucas, Mexico – at the tip of the Baja peninsula. These islands have been compared to the Galapagos Islands in Ecuador or Cocos Island in Costa Rica because of the big animal encounters they provide.
The Sea of Cortez
Each year the Solmar V heads north from Cabo San Lucas into the Sea of Cortez. We have been diving the amazing Sea of Cortez since 1984, when we opened our scuba store, Amigos del Mar, in Cabo San Lucas, Mexico.
Solmar V Dive Packages Start at $3499 per person
Gallery: Solmar V