Creating Classic Spicy Indonesian Flavors at Home – Spicy Sambal Goreng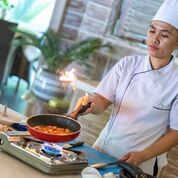 Indonesia is well known for its spicy cuisine and the people of North Sulawesi boast some of the liveliest dishes across the archipelago. That doesn't mean that every dish is packed with fiery flavors though, in fact, quite the opposite. Many of the region's best known dishes offer a fragrant, and often delicate, mix of herbs and spices without heat.
Classic ingredients include shallots, garlic, ginger, turmeric, coconut, candlenut, star anise, cloves, and of course, chili. The chili within the dish is utilized for its fruity flavor and not only its heat; but what really packs a punch in Manadonese cuisine is the accompanying 'sambal goreng' – a traditional Indonesian chili sauce.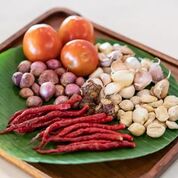 Lembeh Resort is not only famous for its world class diving, it's also firmly established itself on the map for its luxurious accommodation and resort facilities, commitment to sustainability and the environment and it's exquisite dining – which is of course, accompanied by a classic 'sambal goreng'. Here's Lembeh Resort's, flavor packed recipe to try at home…
*Because this sambal does not contain preservatives, once prepared it is best enjoyed on the same day.
Lembeh Resort's Sambal Goreng Recipe
Ingredients
20g tomatoes
10g shallots
5g garlic
15g curly red chili peppers (or other spicy red chili)
2cm fresh ginger
2 pieces candlenut (if you cannot find candlenut, substitutes include macadamia, cashew or almonds)
1 tablespoon salt
5 tablespoon sugar
10ml coconut oil
Preparation
Put the red chili peppers, garlic, ginger and candlenut in a blender and blend to a smooth paste or, for a more traditional technique (although more work), use a pestle and mortar to crush and blend the ingredients until you achieve a smooth paste.
Slice the tomato and shallot thinly and place to one side.
Heat the coconut oil in a wok or large fry pan and gently fry the shallot over a medium heat, until soft.
Add the blended spice paste to the pan and cook for another 15 minutes (note that the chili peppers will release some 'heat' during the cooking process)
Add the sliced tomato and cook for another 10 minutes, stirring frequently.
Add sugar and salt and stir over medium heat for a further 2 minutes.
Allow your 'Sambal Goreng' to cool and serve in a condiment bowl with your favorite dishes.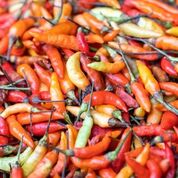 Notes
The ratio of tomatoes to chili peppers is what determines the heat of the blend. For a milder flavor incorporate more tomatoes and be prepared to reduce for longer due to the increased water content of tomatoes to chili peppers.
Sambal goreng is a wonderful accompaniment to fish, meat or vegetarian dishes and may also be stirred into soups and pasta sauces to add extra heat.
Staying at Lembeh Resort (and risk free reservations)
—–
Are you spending your lockdown planning your next dive trip? Stay at Lembeh Resort and enjoy the wonders of the Strait in comfortable accommodation with a touch of luxury. Lembeh Resort's secluded location on Lembeh Island, combined with exclusive service and exquisite dining make for a wonderful home away from home in North Sulawesi.
Lembeh Resort's professional dive guides are marine biology and underwater photography trained (and PADI or SSI certified), and Lembeh Resort is the only dive resort in Lembeh with on-site marine biologists, photo pro and Backscatter Authorized Photo Center.