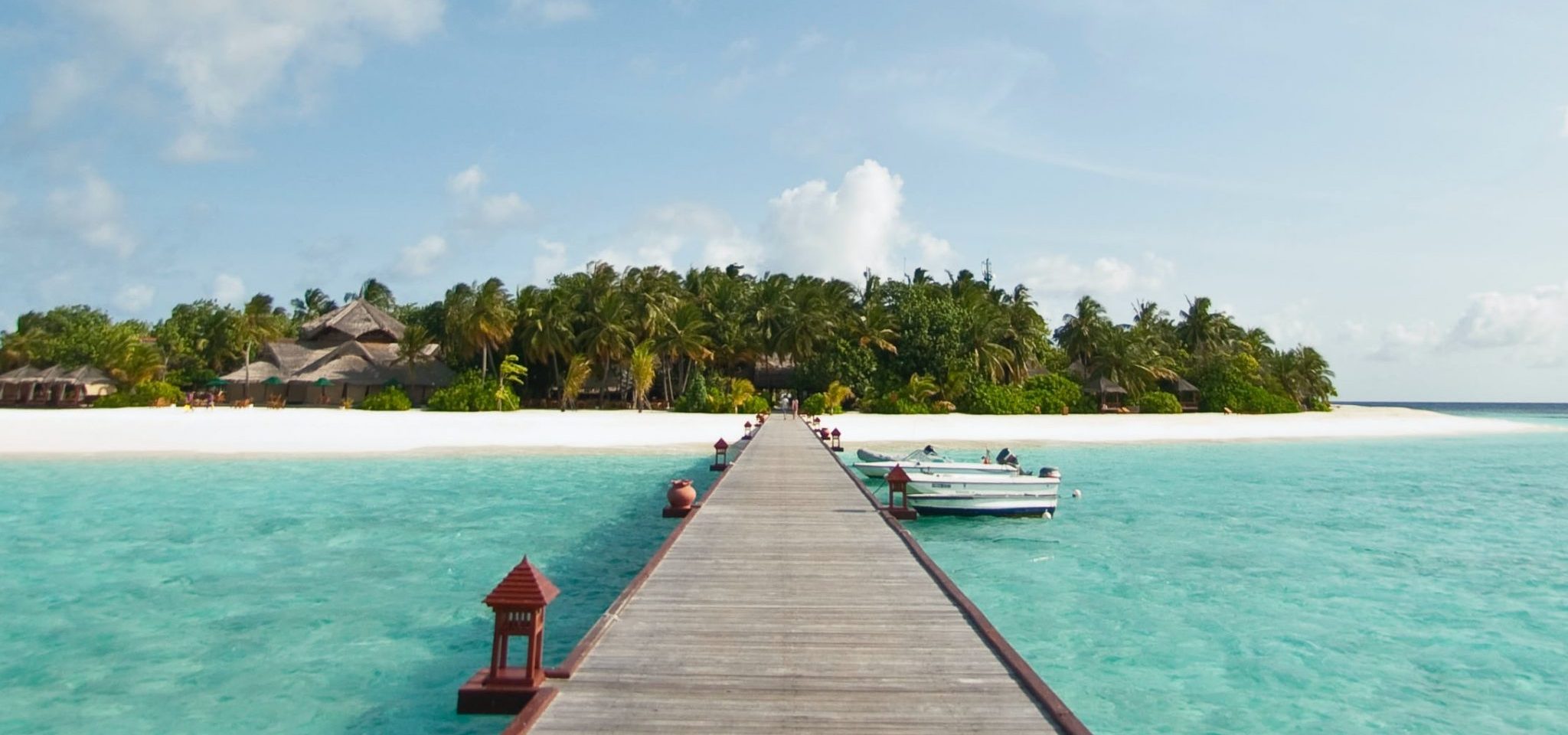 Maldives
Let your adventurous spirit sway you halfway around the world, to this Indian Ocean island nation of endless atolls, swimming with schools of big animals. Dive in and become one of the few Americans to dive in this stunning dive destination.
The Maldives consist of more than 1,200 islands, distributed in about two dozen coral atolls. The country lies a few hundred miles southwest of India and Sri Lanka. Only about 200 of those islands are inhabited and while its original residents were Buddhists who migrated there from the Indian subcontinent, history has seen Muslim, Portuguese, Dutch and British colonists and traders all leave their cultural and religious footprints there, which still remain. The Maldives – whose capital city is Male – is today predominantly Muslim and Asia's smallest country.
While there are a handful of land-based resorts in the Maldives, diving the country by live-aboard boat is both the most practical and enjoyable way to cover the four major dive regions of the country – North Male, Ari Atoll, South Male Atoll and the Northern Atolls. The currents there sweep plankton throughout the atolls, providing a veritable supermarket for big creatures and carry you along on exciting drift dives. And beyond the animal attractions, you'll find soft-coral laden caves, channels and magnificent pinnacles.
North Male Atoll
Your live-aboard boat will most likely depart from here, near Male International Airport and you'll find a great diversity of diving. There are bejeweled reefs, caves, pinnacles, drop-offs galore and also a few wrecks. Manta rays and sharks are the animal eye candy in this area, which includes a cleaning station where the mantas are tended to by smaller creatures and where moray eels can also be spotted. At least two pinnacles – "thilas" in the local language are well worth diving, as are a couple of wrecks.
Ari Atoll
This is the Maldives' pelagic capital, where big animals cruise individually and in schools. Sharks of all kinds reside in these waters – whale sharks, hammerheads, grey reef and white-tips – and are often seen and blacktail barracudas and batfish are seen in the greatest numbers. Count on seeing spotted eagle rays and Napoleon wrasse as well.
South Male Atoll
In addition to being a live-aboard destination, this area is where you're likely to find land-based resorts. Channels define this area, where a half-dozen of them house the needed nutrients schools of fish crave. Soft corals, pinnacles, caves, plateaus, walls and drop-offs form the underwater landscape, with rays, sharks, lionfish and morays as the primary inhabitants. The intentionally sunk Kuda Giri is the Maldives' most acclaimed wreck dive, where you'll find little critters like nudibranchs and gobies to larger life, such as turtles and humphead wrasse.
Northern Atolls
This region is so far off the beaten path that if you're lucky enough to dive it, your group may find itself utterly alone when its live-aboard boat settles in. In four different atolls here, swim-through fiends will delight in exploring the nooks and crannies of underwater caves, while shark lovers will be in heaven, marveling at schooling grey reef sharks.
Scuba Travel Ventures can match you or your group with a live-aboard boat or land-based resort that best fits your needs, desires and budget.
Liveaboards in the Maldives
Blue Force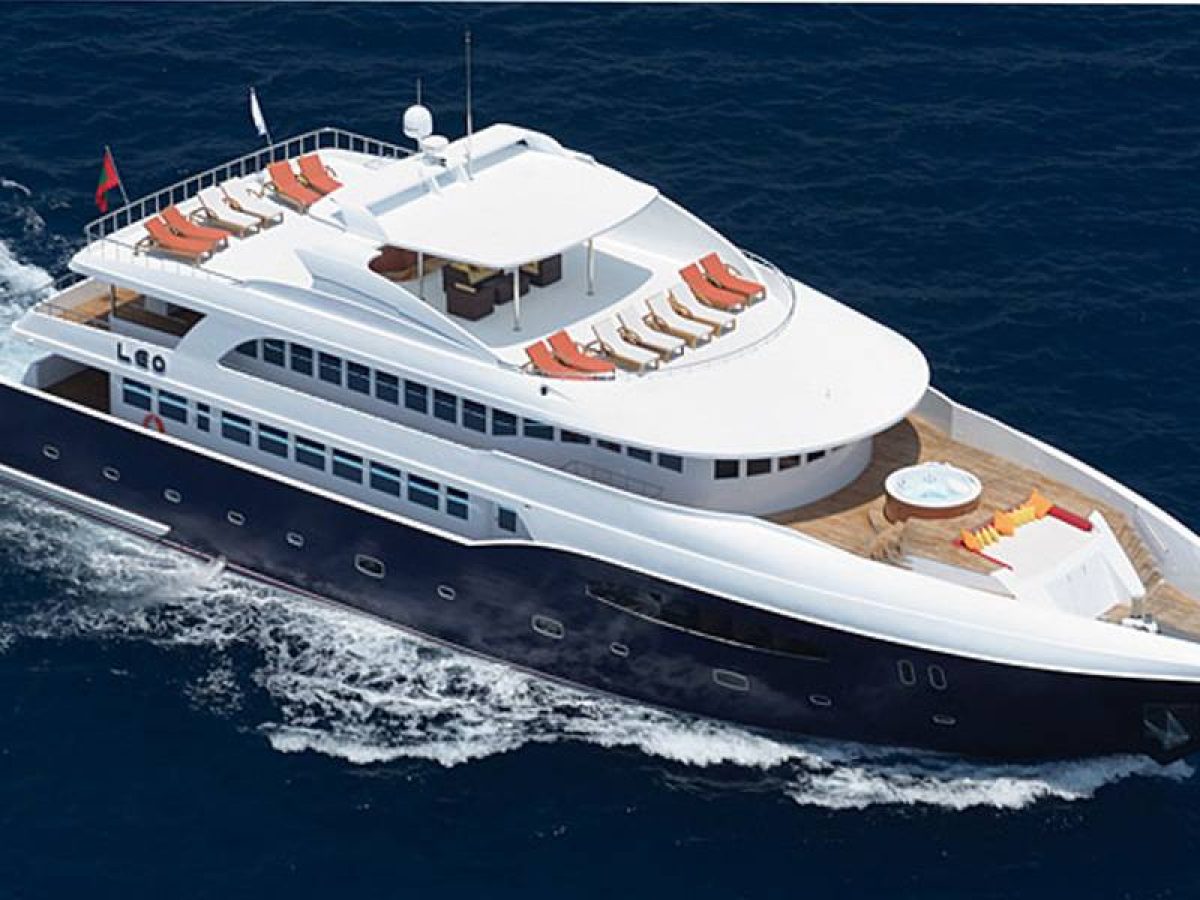 Blue Force One
The boat MV LEO which we have called commercially as MALDIVES BLUE FORCE ONE is considered one of the top three boats in the Maldives. Possibly there is nothing you could think about which is on this boat.
Last generation lighting system inside, outside and underwater. Touch switches. WIFI all over the boat. Electricity: available 24 hours. Voltage: 220 V. Spa will be available (with supplement) with the complete massages room, sauna and steam bath.
Two Jacuzzis outside one in bow and the other in stern. 3 solariums with sunbeds and mattresses (in bow, stern and in the upper bridge). Bar on the upper deck. Living room with sofas, massage armchairs, 65' TV with in house channels, satellite navigation and film system. Music equipment including Disco room with Karaoke.
10 excellent cabins for 20 people, 7 wide double cabins, 1 Junior Suite, 1 Master Cabin and 1 Master suite. All of them have complete bathroom, hair dryer, remote control for lights and air conditioning, 32' TV with in house movies, satellite, WIFI, in boat phone circuit, safe, bathrobes and towels.
Gallery: Blue Force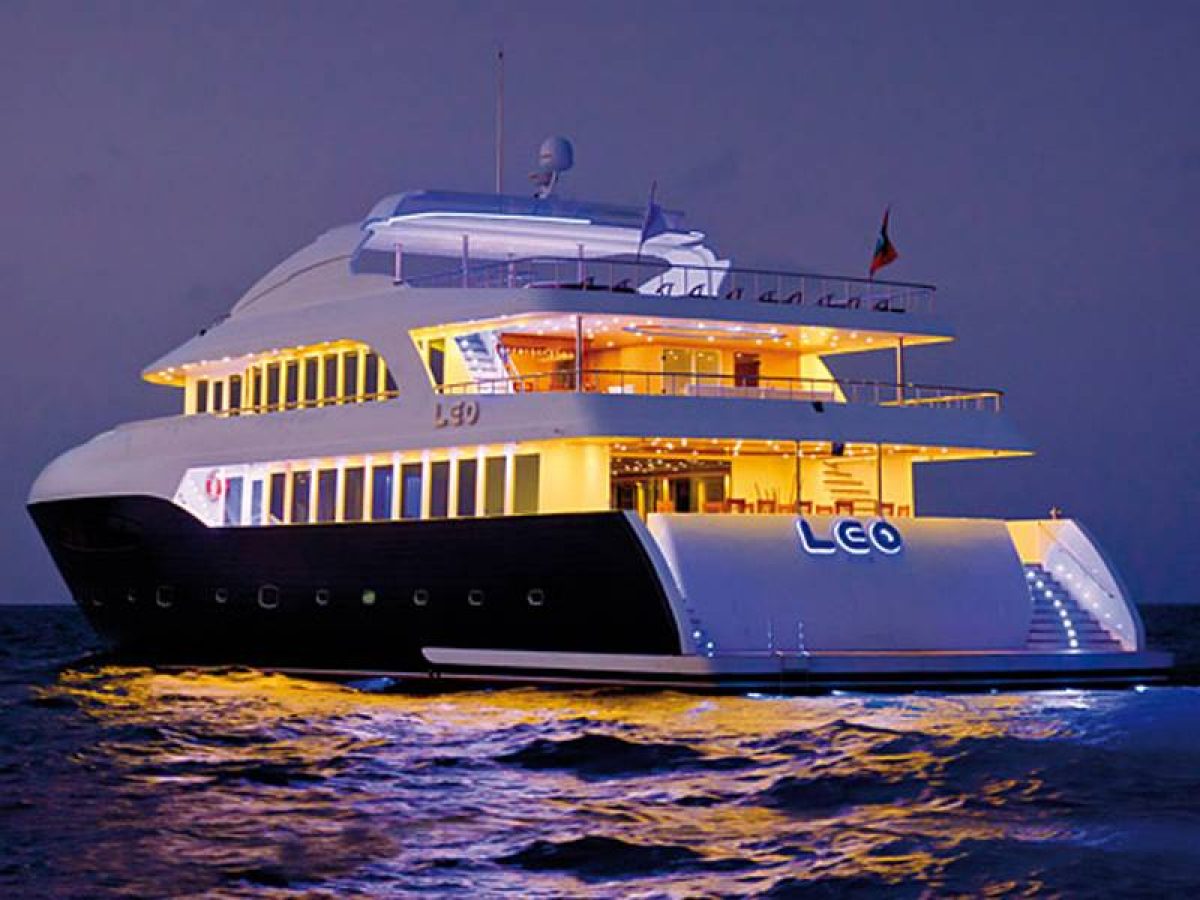 ---
Carpe Novo
This new modern vessel, sister ship of Carpe Vita Explorer and Carpe Diem, is the newest member of the Explorer Ventures Fleet expanding our itinerary offerings to include longer trips to more remote areas in the Maldives. This new 22-passenger, 140-foot wooden-hull safari yacht, along with her 60-foot custom matching dhoni (dive tender), was built by one of the Maldives most accomplished boat builders. It provides guests with an exceptional yachting experience, hotel-style staterooms and unmatched open-air comfort!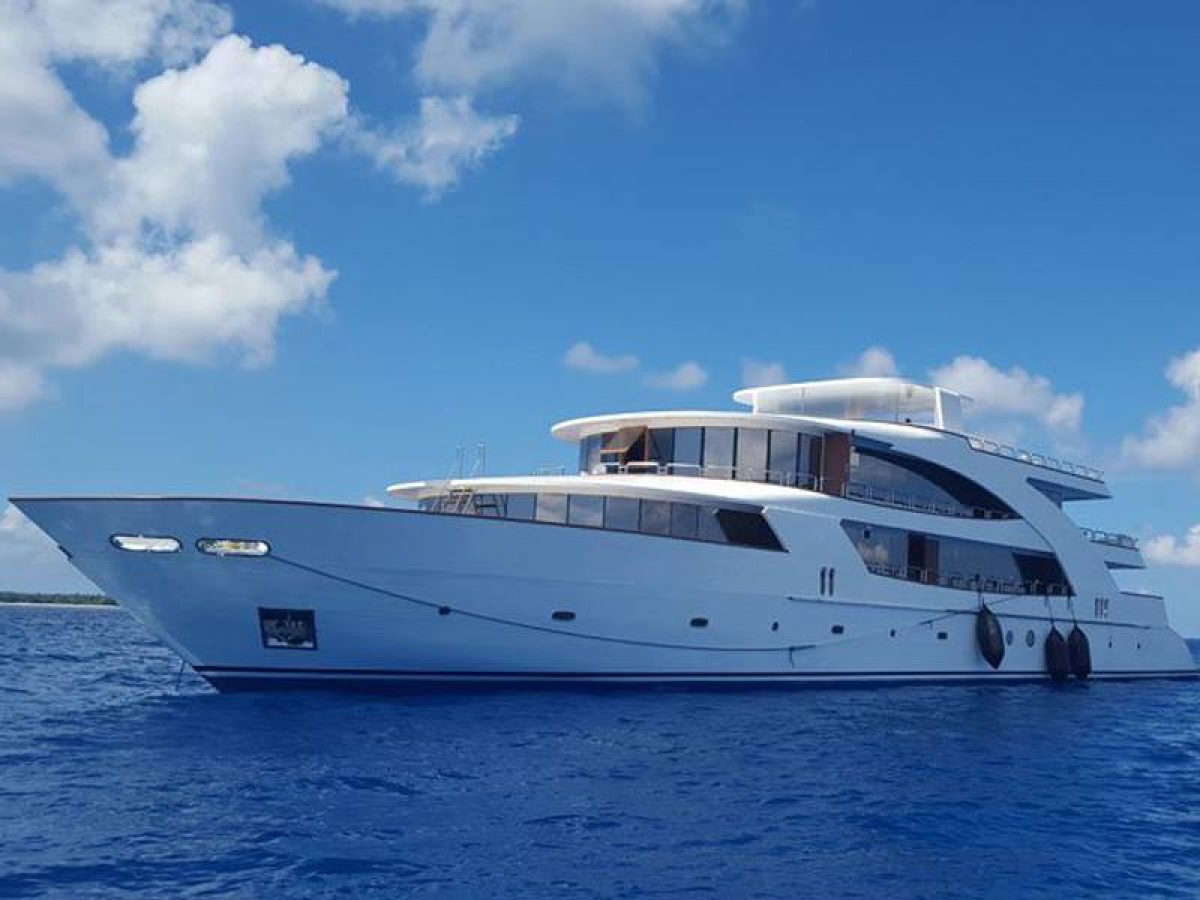 The Carpe Novo Explorer offers 11/10-night, 7-night and specialty itineraries which change depending on the season. Each offers a unique dive itinerary based on the seasons, current and pelagic migration patterns.
Staffed by a crew of 13, the Carpe Novo Explorer is ideally sized and equipped for divers. Three dives are conducted daily directly from a 60-foot dhoni, which is fully equipped with a bathroom, hot-water showers and air and nitrox compressors. The vessel is well-stocked with quality diving gear for those who choose not to bring all or some of their own. The crew, one of the most experience and qualified in the Maldives, is ready to take you on an adventure to one of the most amazing diving destinations in the world, whether you are a first-time or repeat visitor!
Carpe Novo Dive Packages Start at $2163 per person
Gallery: Carpe Novo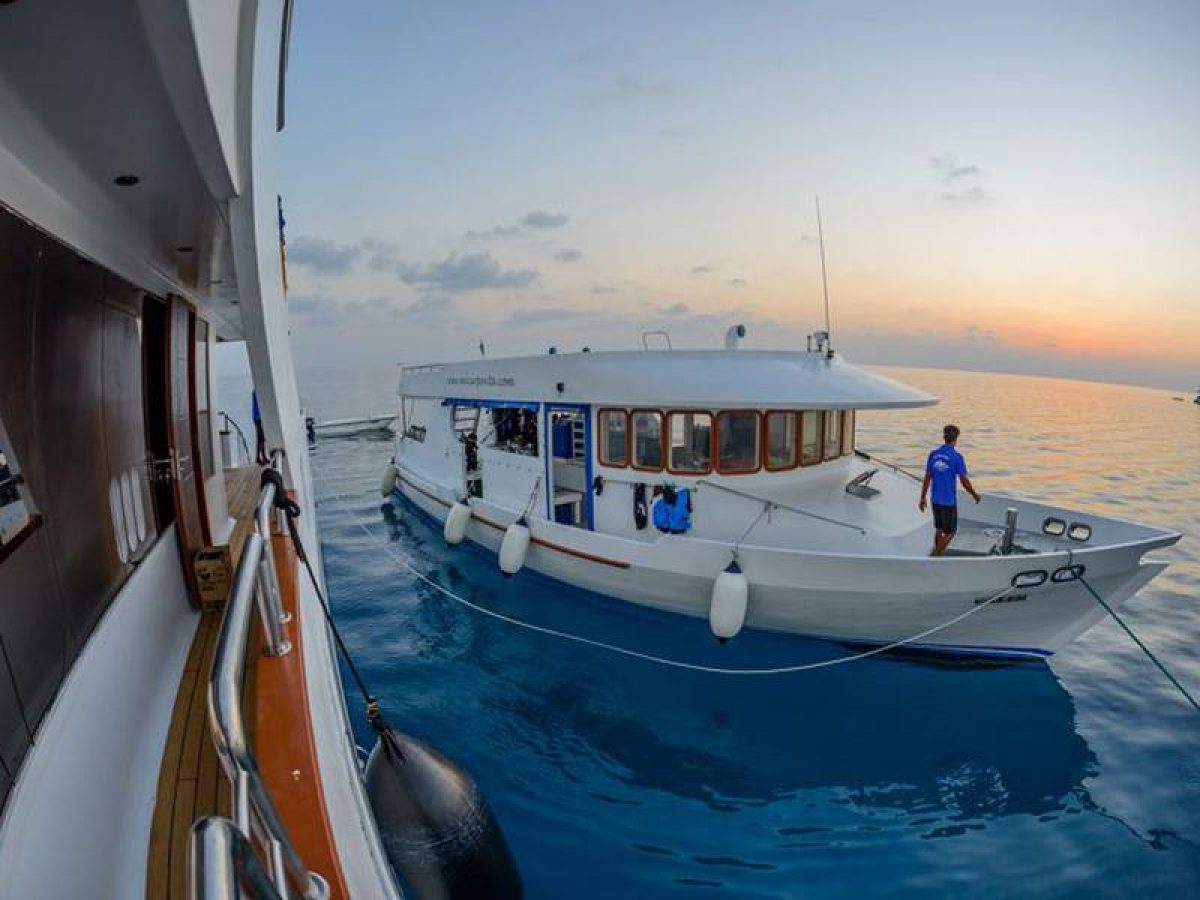 ---
Carpe Vita
The M/V Carpe Vita is a 20-passenger, 125 foot wooden-hull safari yacht, along with her 65-foot custom matching dhoni, providing guests with an exceptional and luxurious yachting experience, large, hotel-style staterooms, Jacuzzi and unmatched open-air comfort!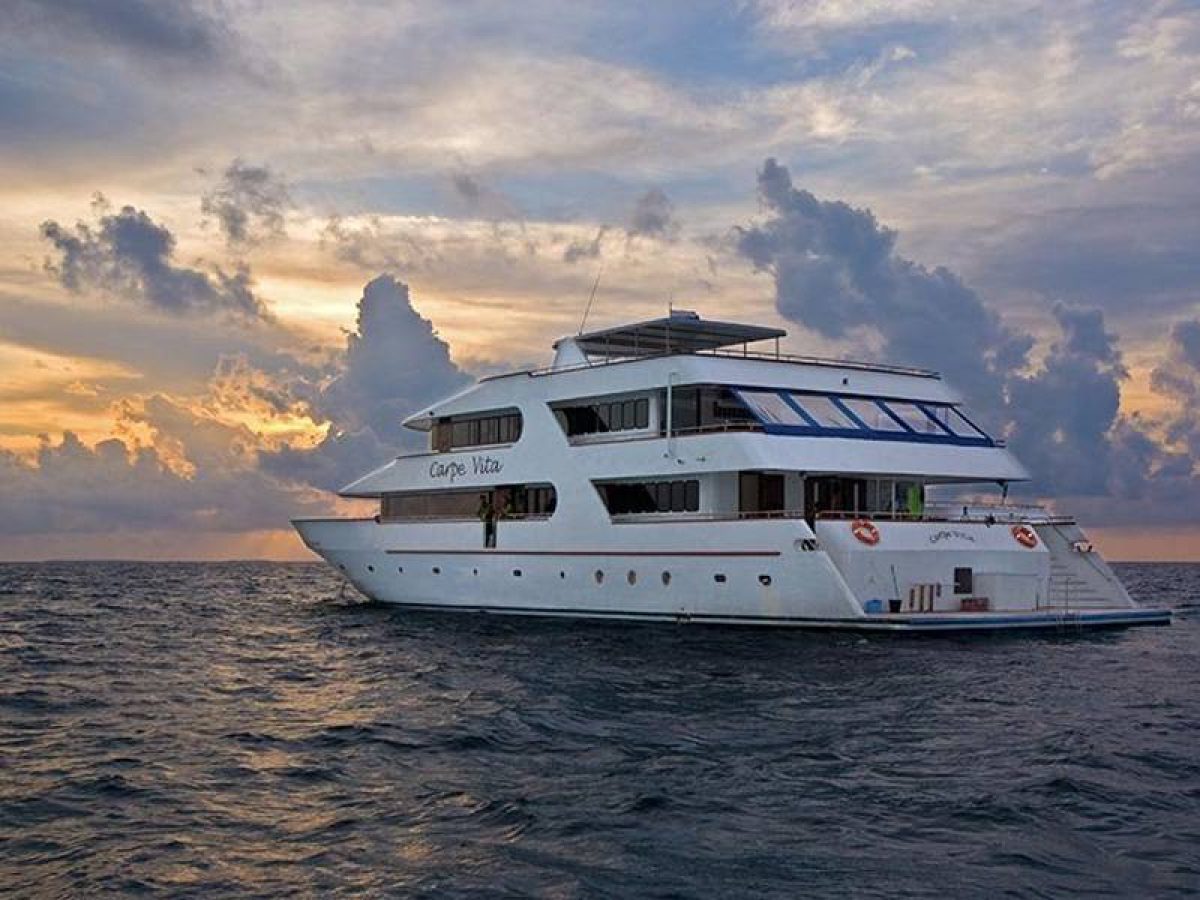 All 10 cabins offer a private bath and shower, separately controlled air-conditioning and plenty of storage space. The 2 upper deck cabins are very large with a king bed or double beds and study area; the 2 main deck cabins can accommodate 2 individual with 2 double beds or a couple in 1 queen; the 6 lower deck cabins offer a queen bed and a twin bed.
The Carpe Vita offers 10 night and 7 night itineraries which change depending on the season. Each offering a unique dive itinerary based on the seasons, current and pelagic migration patterns.
Staffed by a crew of 13, the Carpe Vita is ideally sized and equipped for divers. Four dives are conducted daily directly from a 65-foot Dhoni, which is fully equipped with a bathroom, hot-water showers and air and nitrox compressors. The dhoni is well-stocked with quality diving gear for each guest for those passing through the area as part of a longer trip; nonetheless, the crew's experience and qualifications are well suited for those traveling specifically to experience one of the most amazing diving destinations in the world!
Carpe Vita Dive Packages Start at $2320 per person
Gallery: Carpe Vita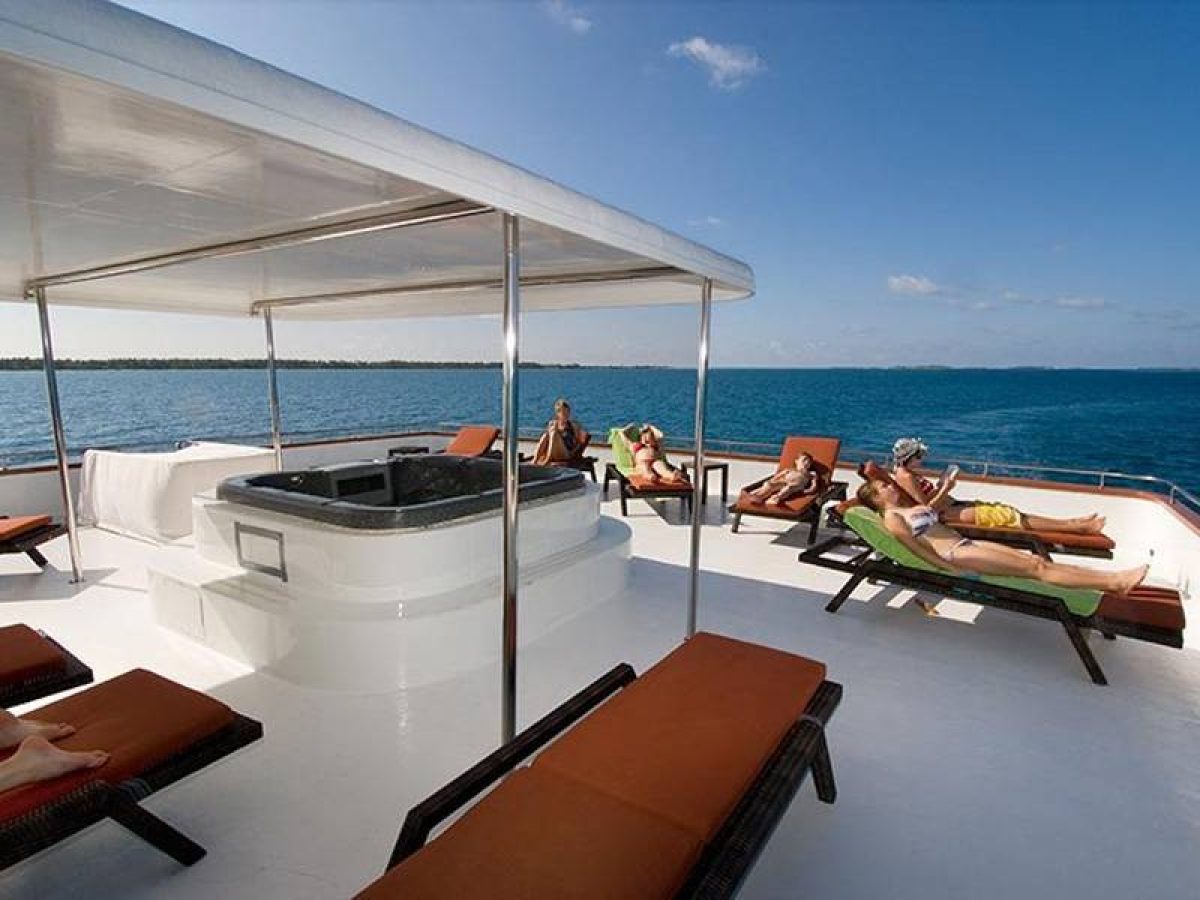 ---
Conte Max
When Conte Max (European Owner) was launched, back in 2004, the Maldives did not offer many boats of such comfort and standard as to represent an alternative to the islands' resorts also for those who did not engage in diving activities. With the launch of Conte Max the concept of a cruise combining the rejuvenating wellbeing of the Maldives' sea and scenery with the wellbeing of an on-board ayurvedic spa was born and in terms of Maldives cruises a totally new trend was established.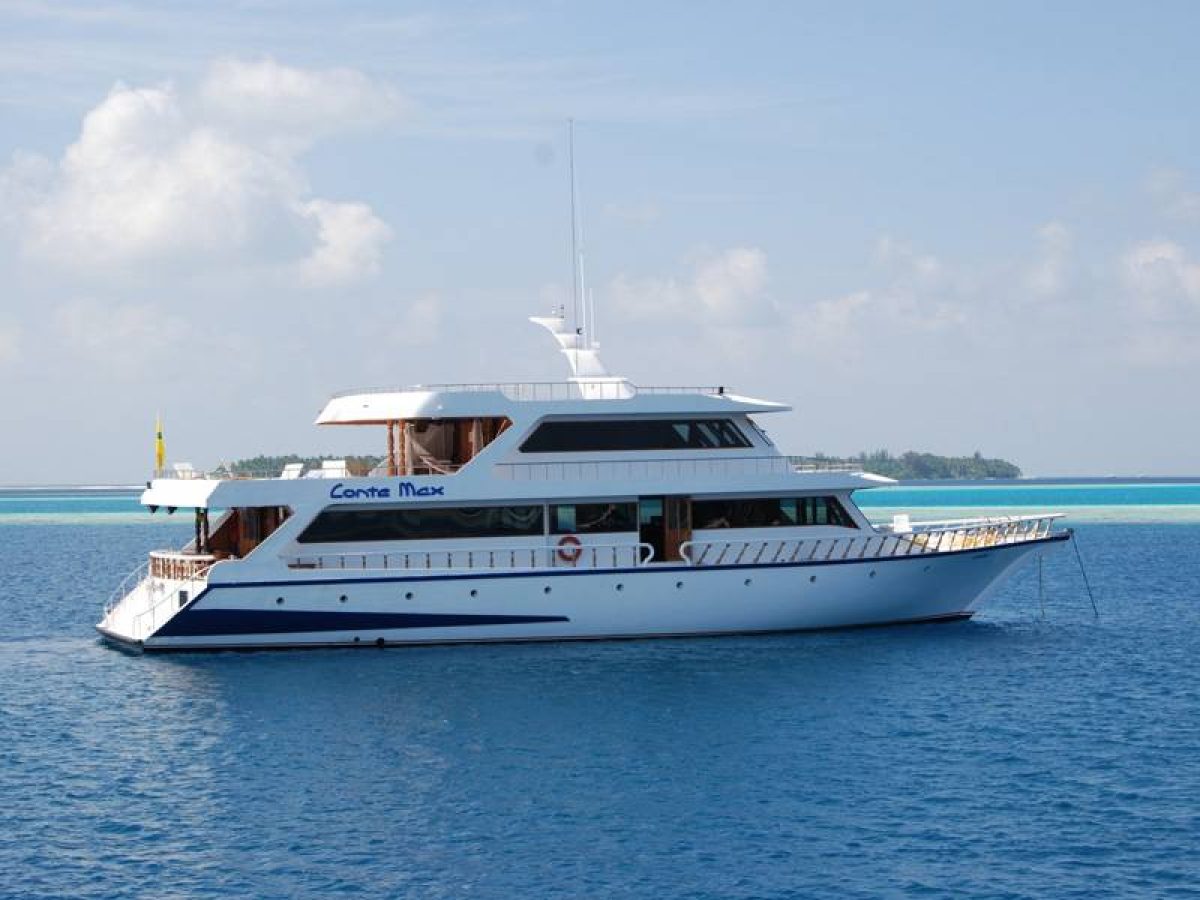 Thanks to its increasingly refined cuisine, its staff who has been 'growing up' with the boat and customer service class and attention to detail, Conte Max has become one of the best-known and best-loved boats among those who for years have not been able to do without regular visits to the Maldives to discover with us what these islands have to offer, both above and below the sea surface.
Cabins: 8 large cabins, namely: 1 suite (second deck) with one queen size bed and one single bed, 4 triples with one double bed and one single bed, 3 twin bed cabins. All cabins feature independently adjustable air conditioning and bathroom with shower cabin. There are no bunk beds.
The vessle has both an outdoor dining area (in the aft part of the first deck) and indoor area which can be used in case of rain. The meals are served at the table and the menus include dishes from the Italian-international and Maldivian cuisine, mainly prepared with fresh fish, although our chefs are always ready to satisfy any of our guests' specific requirements. Once a week a buffet of traditional Maldivian dishes is prepared.
The indoor saloon has a bar offering a wide choice of soft drinks and spirits and a TV-DVD-Stereo area furnished with comfortable rattan sofas . All the furniture inside the yacht is made of valuable Maldivian wood, which lend the place a unique and particular feel. Recharging area 220v electricity.
The communal open-air spaces are on three decks and offer areas furnished with sun loungers, sun mats and deck chairs. The decks allow guests to enjoy the breathtaking Maldivian scenery, both when sailing and while relaxing when the yacht is moored in the lagoons for the night.
Conte Max Dive Packages Start at $2100 per person
Gallery: Conte Max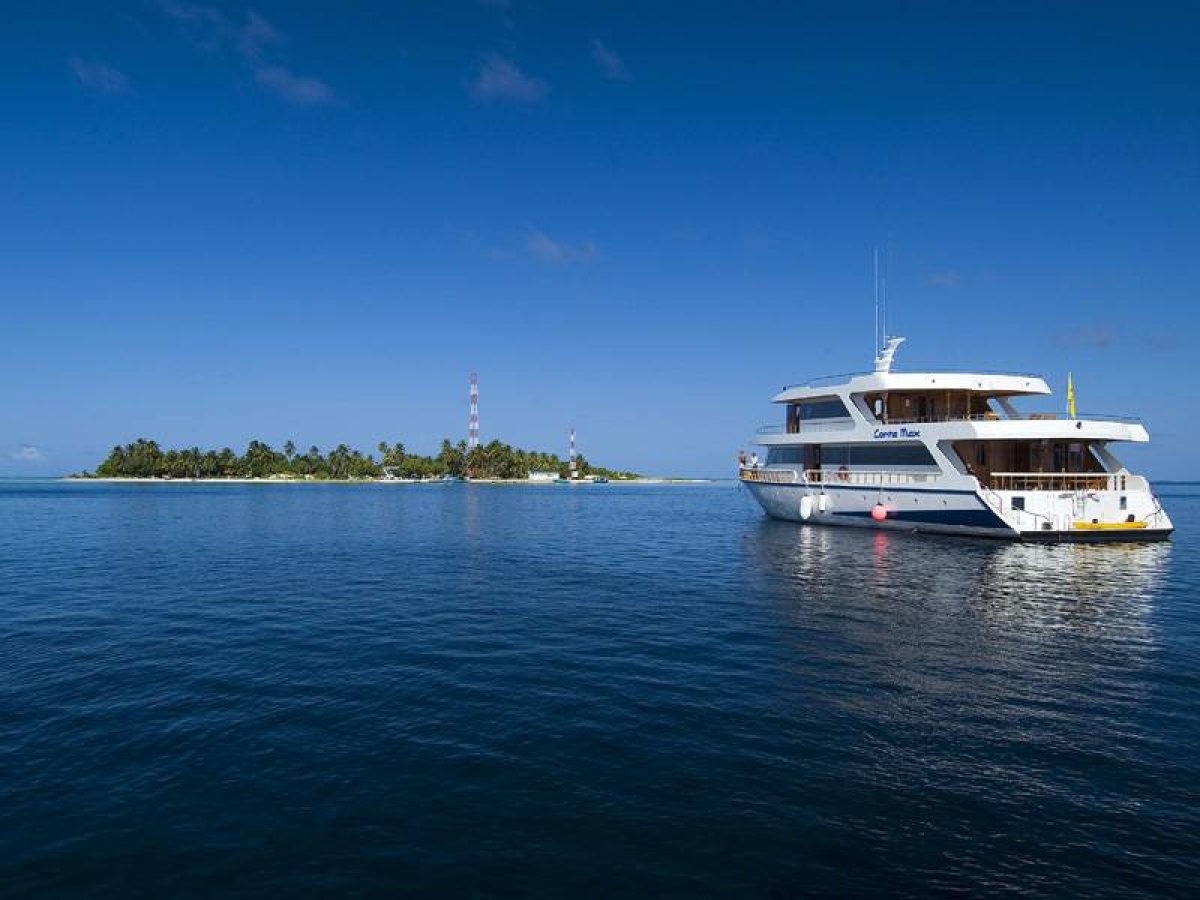 ---
Duke of York
To truly experience the Maldives, you need to be mobile. There are just too many islands and atolls, dive sites, and beautiful places to see. Instead of being stationary at one resort, why not board a luxurious vessel that travels around to these incredible spots?! In between dives, and overnight while you sleep, the yacht will travel great distances, ensuring something different and unique the next time you jump in the water. What could be better? … doing it in style!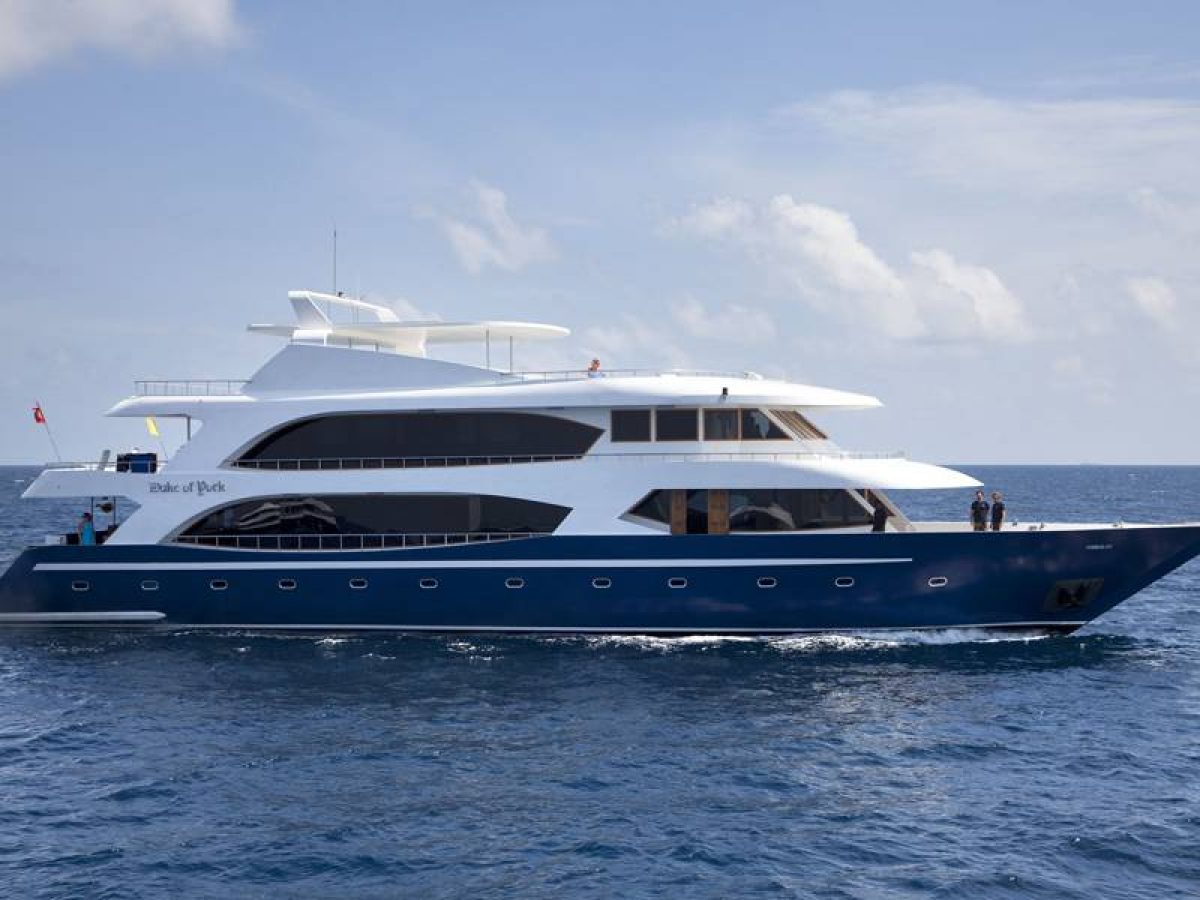 Luxury Yachts Maldives – Duke of York (European Owner), is one of the top yachts in all of the Maldives. Besides being a gorgeous transport, its amenities and features are second to none. Their incredible staff, top notch dive masters, and comfortable lounge areas and decks will be sure to perfectly blend an adventurous vacation mixed with rest and relaxation.
Sophisticated and exclusive, the DUKE OF YORK was built and launched in the Maldives in 2010. Thanks to high design standards, combining the skills of local naval architects and engineers, and quality standards, this yacht is the ideal solution for a fantastic sea adventure at the Maldives that is also a holiday dedicated to wellbeing and relaxation in a comfortable environment.
The 36-metre long and 11-metre wide DUKE OF YORK boasts 4 levels with indoor parquet flooring and teak on the main deck and is accompanied by a comfortable dhoni used for diving, snorkelling and fishing activities and to land on strips of sand and deserted islands. As well as the more traditional diving techniques we are now able to offer the first diving cruises to the Maldives with REBREATHER !!!
Duke of York Dive Packages Start at $2300 per person
Gallery: Duke of York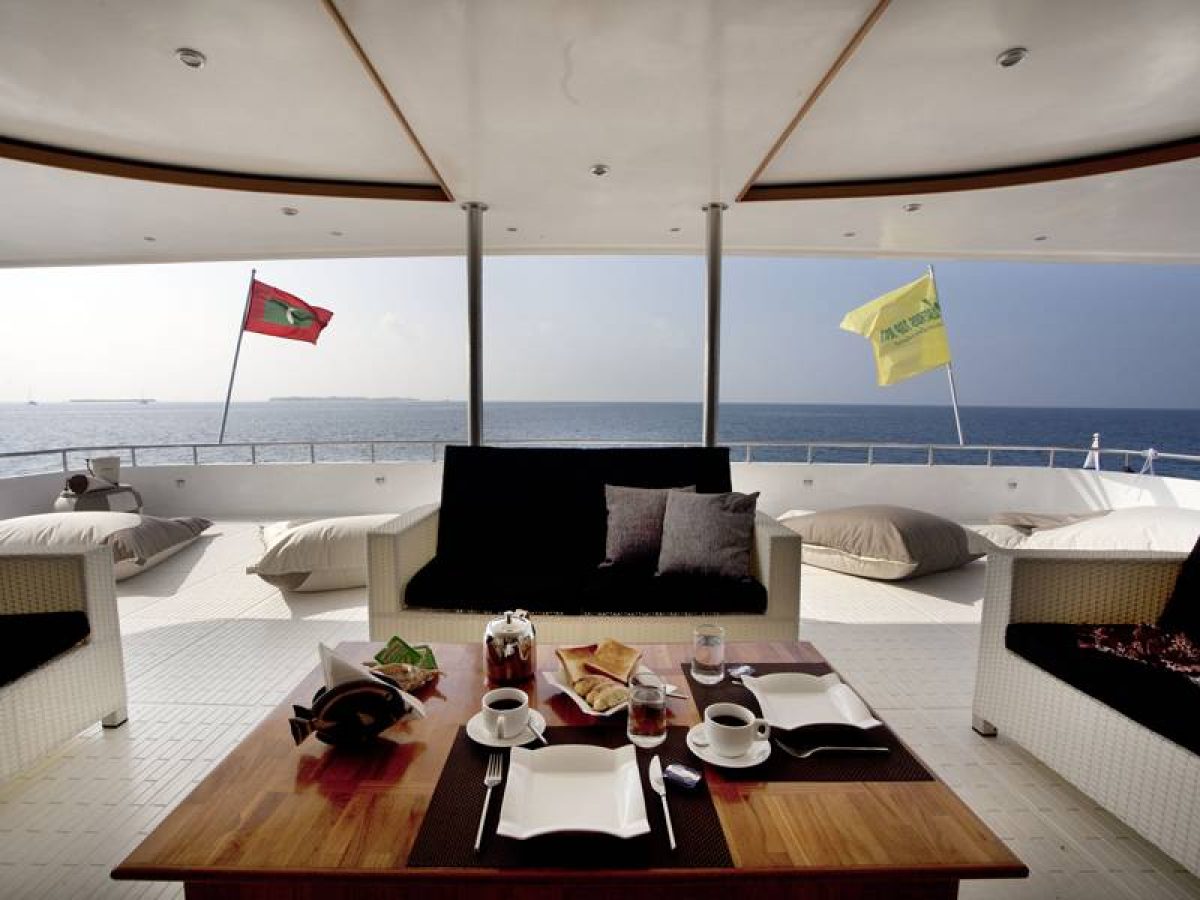 ---
Orion
A typical holiday vacation in the Maldives is for a week or ten days. Any less than that and one misses out on the fun and action. Most will be staying at one resort but why limit yourself when you can hop on a cruiser and explore many different islands. Grab a tan, swim in warm waters and explore the underworld of island life as we take you on a journey beyond your wildest dreams. On board MV ORION, brings paradise to your doorstep.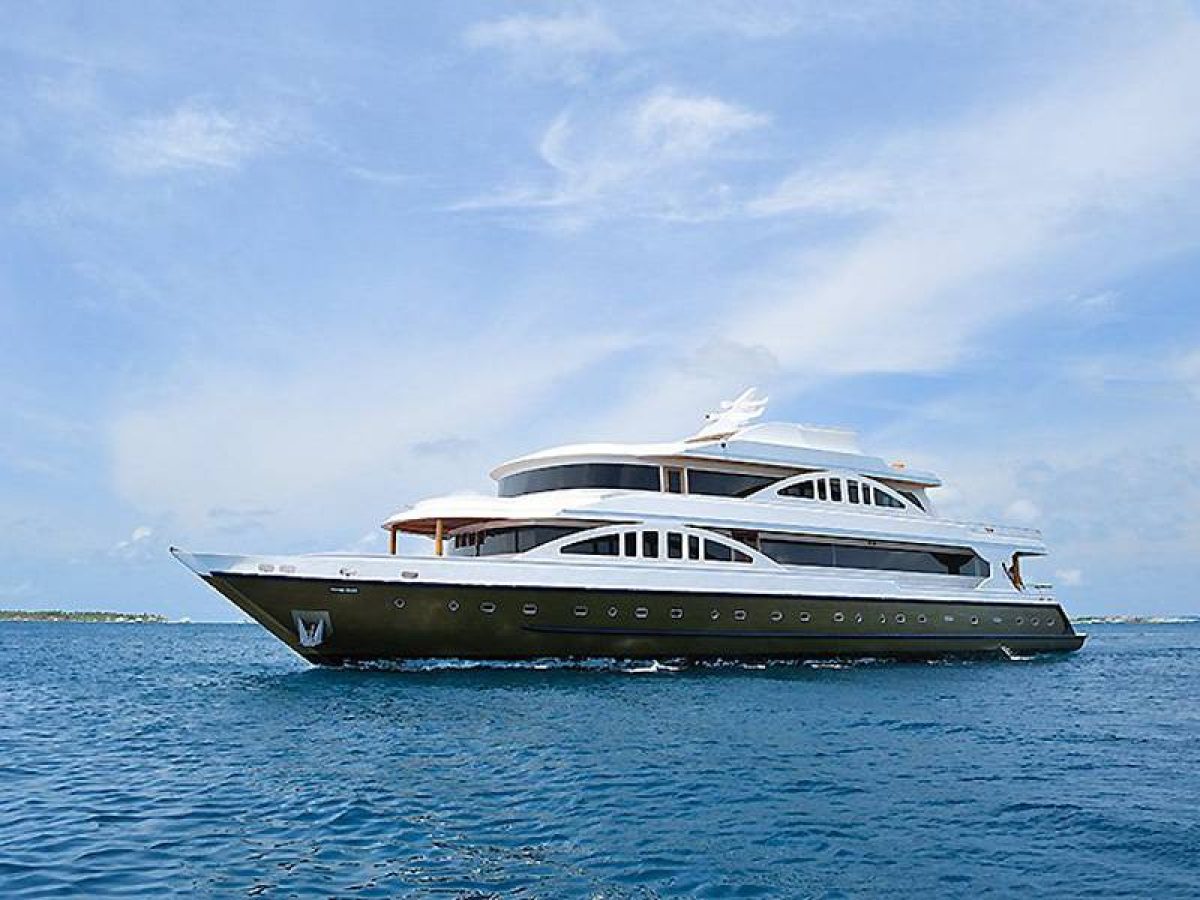 On a typical trip, the Orion anchors at night and cruises only for a few hours during the day, but this is enough to discover real cast-away desert islands, unblemished inhabited islands and remarkable dive spots.
Passengers are usually a good international mix of young and old, divers and non-divers, and a house-party atmosphere swiftly develops. This is helped by the lack of formality in dress code that preaches nothing more than shorts by day and casual outfits at night.
Meals on board ORION are buffets with breakfast cooked to order, lunch and dinner with soup, salad, fruits and a choice of main courses. Catered special dishes can also be arranged on request. Currently there is Indonesian and Sri Lankan chefs onboard.
MV Orion Dive Packages Start at $2117 per person
Gallery: Orion