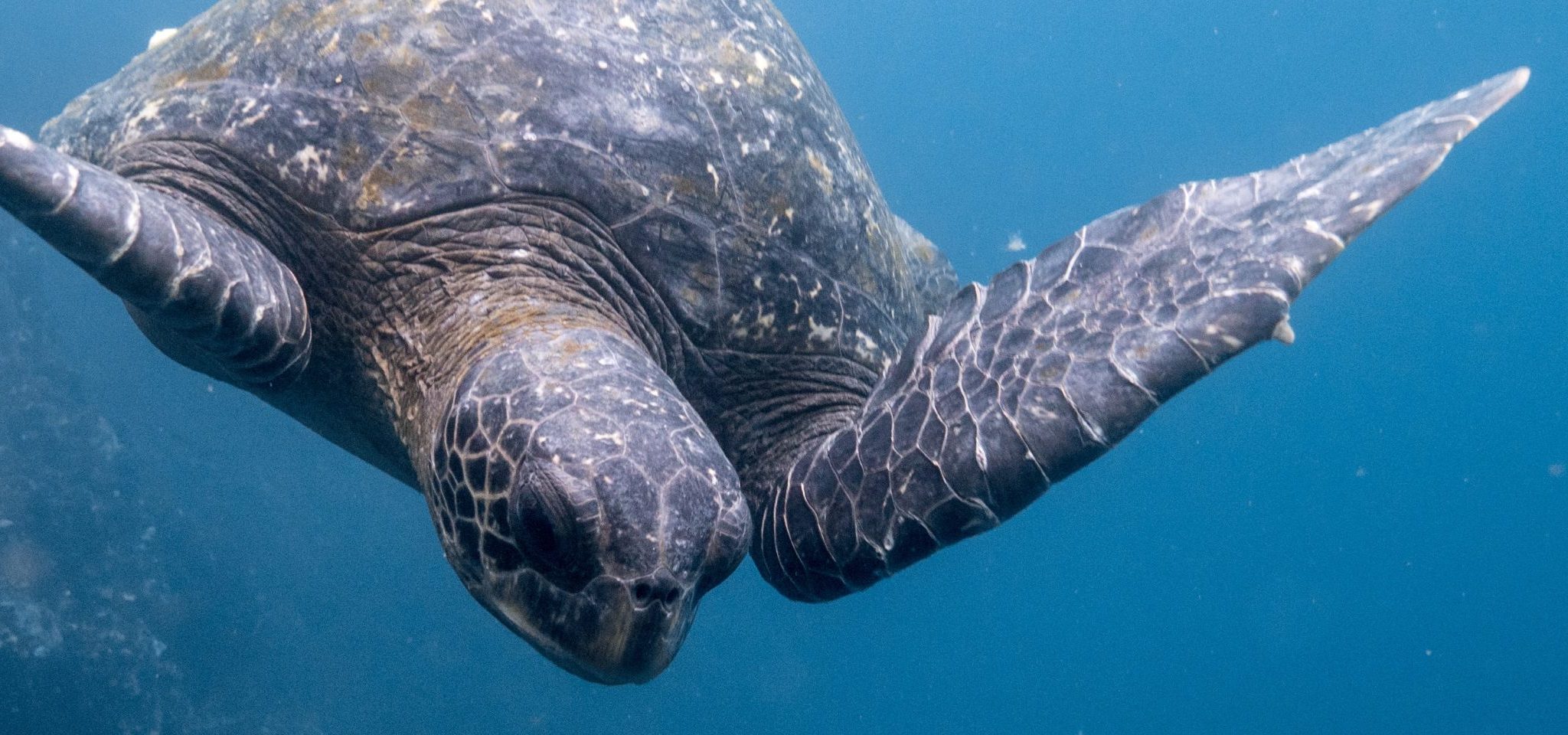 Galapagos
Scuba Diving in the Galapagos Islands
Maybe you've fantasized for years about diving here. Maybe you've dived here once before and your experience so far exceeded your wildest expectations that you want to return, or introduce it to a fellow diver – or divers – yet to visit. These Equator-straddling Pacific islands – part of Ecuador – are unique in the world for the proliferation of its underwater life and the diversity and singularity of its animals living on its rocky, isolated terrain, undisturbed by humans.
Galapagos Islands National Park is synonymous with naturalist Charles Darwin, who centuries ago came here to catalog species and became overwhelmed by what he found. Pictures of colonies of blue footed boobies bobbing along and iguanas slinking across the volcanic landscape are etched in the collective consciousness of adventurers. To divers, these islands conjure up iconic images of whale sharks, schooling hammerhead sharks and manta rays.
A journey by live-aboard boat is the only way to experience this unforgettable dive destination, but don't worry, as these operators provide opportunities to go ashore for quality time to interact with animals there. A tour before and after your Galapagos Islands experience, of your Ecuadoran gateway city – either Guayaquil, or Quito – is not to be missed, either. Scuba Travel Ventures is partnered with two leading Galapagos Islands live-aboard companies, Aggressor Fleet and Explorer Ventures, both of which offer dive packages you'll treasure for a lifetime.
Highlights of the trip include the far-flung islands of Wolf and Darwin. Those islands boasts schooling hammerheads, Galapagos sharks, eagle rays, turtles, dolphins and seals, with Darwin offering the best chance to see whale sharks, depending on the time of year. Isabela Island is known for both its giant manta ray encounters off Cabo Marshall and macrolife sightings at Cousin's Rock, and its giant tortoises on land. San Cristobal Island's shores are home to wild iguanas and sea lions, Santa Cruz Island features sharks and rays and Mosquera Island offers sharks, rays and tropical fish.
Galapagos Liveaboards
We recommend two liveaboards in the Red Sea: Humboldt Explorer and SkyDivEncounters.
Humboldt Explorer
The wonders of the Galapagos diving experience will be with you for a lifetime. Few will have the opportunity of diving some of the most remote and pristine seas in the world. No other place on Earth boasts such a variety of sea and land life. Your seven nights and eight days will be filled with memories to last a lifetime – thrilling dives, exotic vistas – and these will be only a small part of your experience. Our Galapagos National Park guides have a wealth of knowledge about these unique volcanic islands and are ready to share their experience with every guest, as well as provide you with the customer service and all of the amenities for which the Explorer Ventures Fleet is known.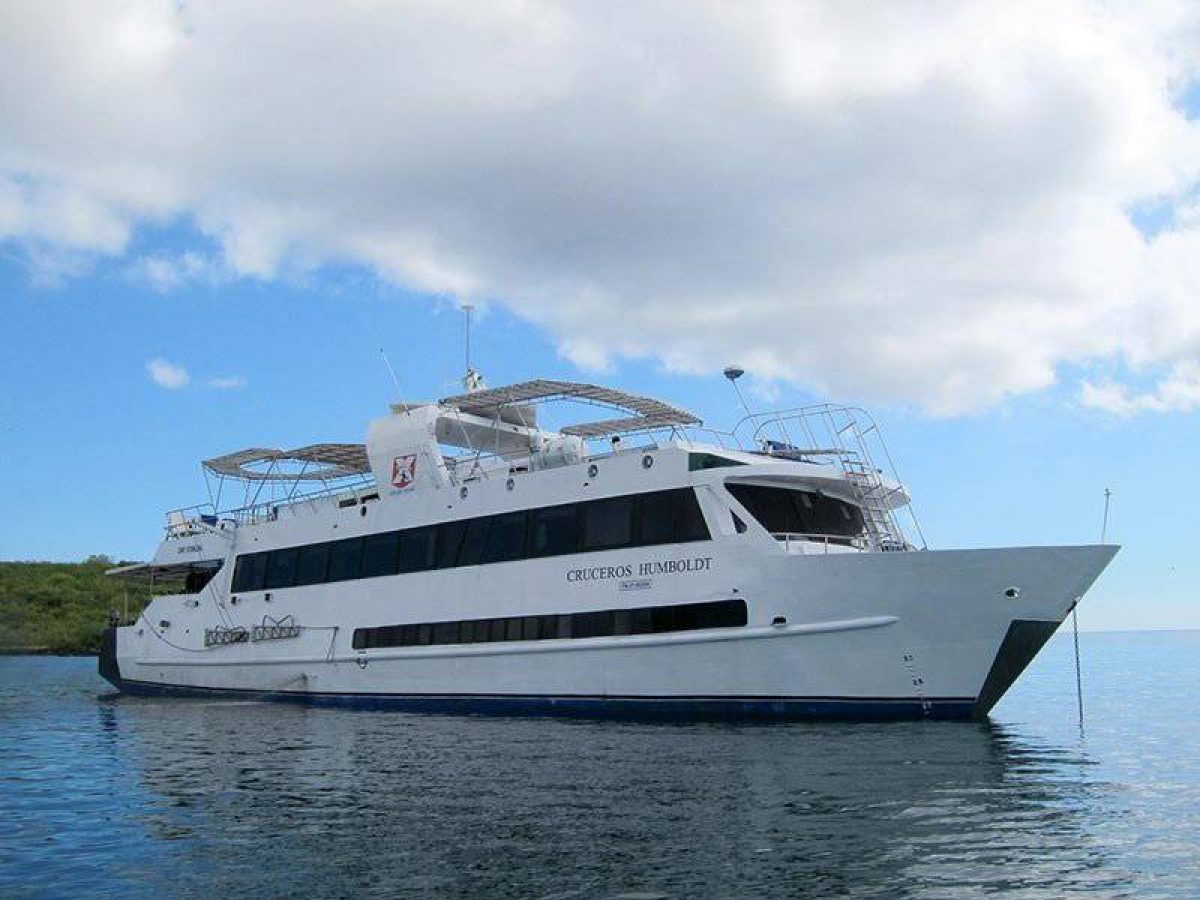 Diving the Galapagos can be challenging, but the rewards are great – schooling hammerheads, Galapagos sharks, whale sharks, mantas and myriad other pelages frequent these waters. Nature's bounty is not confined to the waters, of course – Charles Darwin's work concentrated largely on the rare terrestrial ecosystems, which abound with flora and fauna unique to the archipelago.
The Humboldt Explorer, which began construction in August 2009 is now providing guests with exceptional amenities. All cabins are air-conditioned and have private bath and showers, an ocean view, flat screen televisions and can be arranged to provide 2 twin beds or one large bed depending on guest needs. A partially covered sundeck with jacuzzi and ample seating areas, a salon including a lounge area, a spacious dive deck with a large camera table are just some of the features.
Humboldt Explorer Dive Packages Start at $4795 per person
Gallery: Humboldt Explorer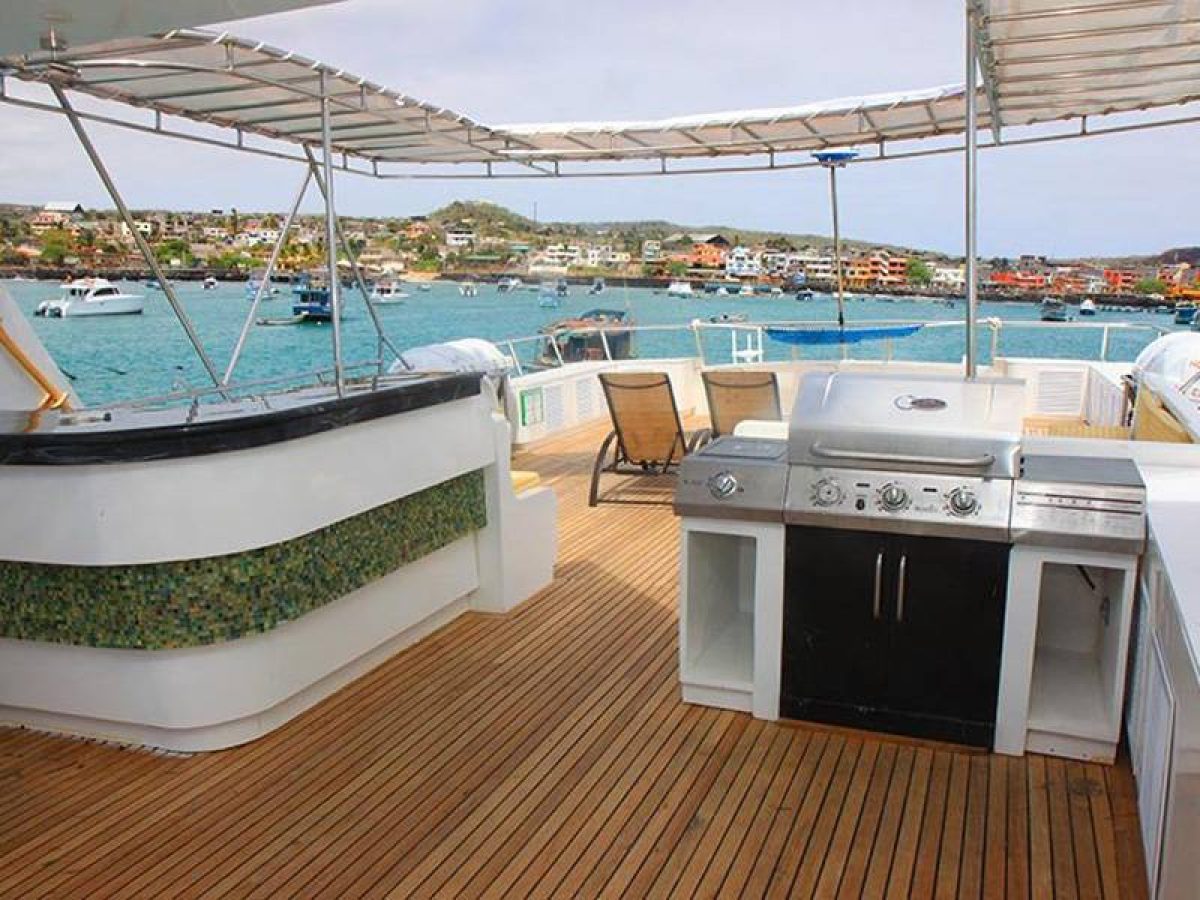 ---
Sky DivEncounters
While diving the "central islands" on your Galapagos Sky cruise you will experience the diversity of Galapagos diving. Besides our resident mantas, sharks, and whale sharks, this is also the time to photograph little Galapagos invertebrates in vibrant color as well as keep an eye out for mola molas.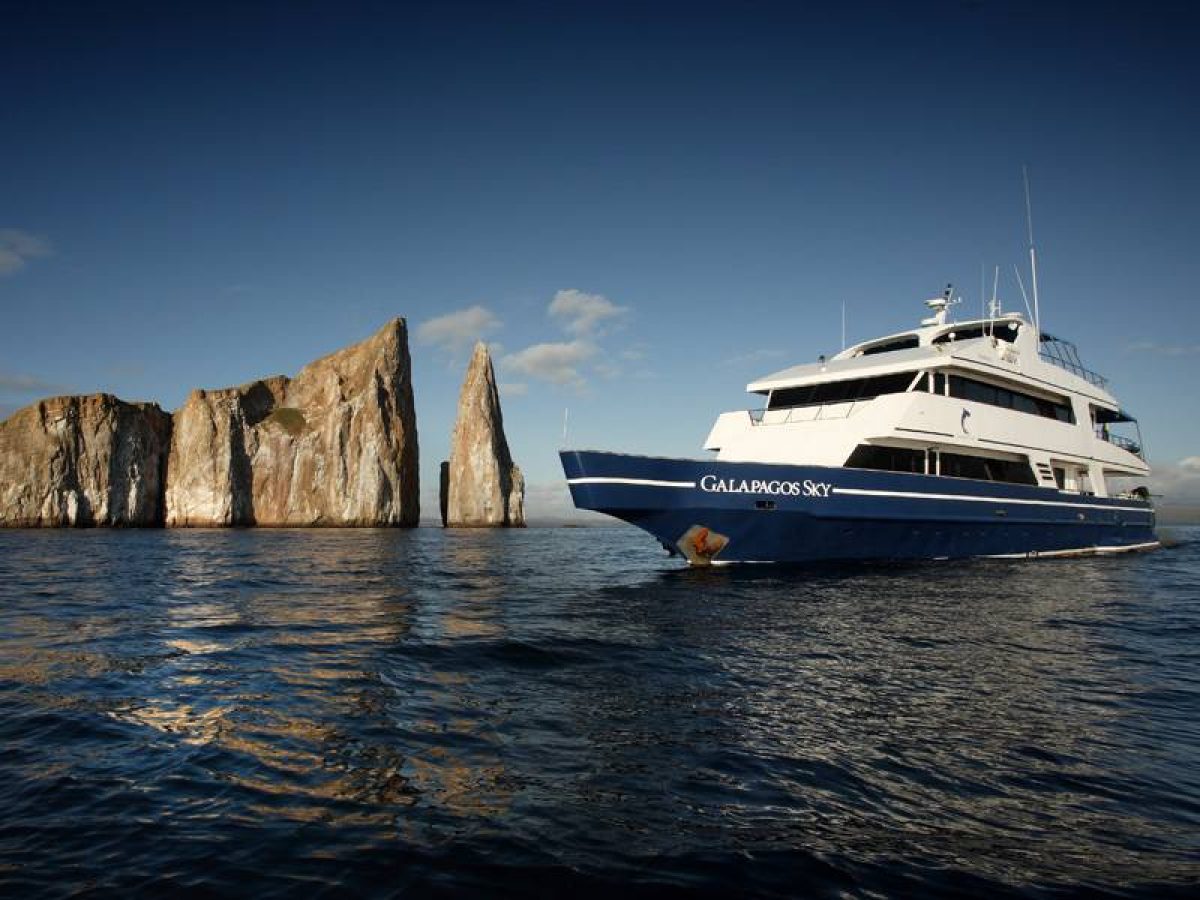 During your time in the central islands, you'll also walk in the steps of Charles Darwin, with 1 guided land excursion on the island of Santa Cruz. You will visit the Highlands in search of the Galapagos Turtles in their natural habitat and also explore the lava tubes. The second land experience you will enjoy will occur on Sunday morning at the Interpretation center in San Cristobal before your return flight to Ecuador.
As on any live-aboard or diving adventure – Itineraries may be changed due to current or pending weather conditions or at the Captain's discretion for your safety. Itineraries can also be changed at the discretion of the Galapagos National Park who administer cruise itineraries.
The luxury live-aboard M/V Galapagos Sky is a 100 ft. (33m) state-of-the-art live-aboard diving yacht exploring the fabled waters of the Galapagos Islands.
Designed by DivEncounters President Peter Hughes and current owner Santiago Dunn in the year 2000, and launched in 2001 – "Sky" hosts 16 passengers in 8 luxury cabins.
Built to exceed any/all international safety standards, Sky is not only your live-aboard dive platform to the undersea wonders of Galapagos – but also has the crew, chefs, and amenities for you to enjoy five-star service during your entire trip.
Accommodations include eight private en-suite cabins with two twin or one king size bed options. Each cabin features a private head/shower, mirrored cabinet and wardrobe, bathrobes, hairdryer and biodegradable, marine safe toiletries.
Deluxe Stateroom cabins 5-8 are located on the Dolphin deck and have two twin beds, private facilities, Port light view, mirrored cabinet, wardrobe, bathrobes, hairdryer, bio-degradable toiletries, fresh towels daily, air conditioning and volume controls.
Gallery: Sky DivEncounters