INDONESIAN JAMU: NATURAL IMMUNE BOOSTER & ANTI-INFLAMMATORY
Jamu is a traditional Indonesian herbal drink that is known for its anti-inflammatory properties and immune-boosting benefits. Almost every household in North Sulawesi has its own Jamu recipe and there are many variations. Almost all Jamu recipes contain some of the same basic ingredients, including ginger, turmeric (fresh is preferred but the powder can also be used), lime juice, honey to sweeten and tamarind paste is also used to give an extra kick.
Optional ingredients that may also be added, according to taste, are cinnamon,lemongrass, lemon juice instead of lime juice and coconut water may even be used as a substitute to a mineral water base.
The anti-inflammatory benefits of turmeric (provided by anti-oxidant called curcumin)are more readily absorbed by your body if you (1) Heat the turmeric, (2) Combine it with quercet in rich foods such as onions, peppers or capers, (3) Add a little fat (try coconut oil) or some black pepper. Jamu is not traditionally made with these ingredients but by opting for one of these, you're likely to experience greater benefits.
Jamu boasts more than just anti-inflammatory properties; turmeric is also known to rejuvenate and repair liver cells; ginger has reported anti-cancer benefits; tamarindaids digestion and turmeric, ginger, and tamarind all have blood purification properties. Coconut water is known as a cure-all in Indonesia and it contains essential electrolytes for rehydration.
As COVID-19 continues to spread globally and claim the lives of the elderly and those with poor health and/or compromised immune systems it is now more important than ever to take positive steps to boost your immune defenses. In North Sulawesi, as the local economy continues to suffer, the ingredients required to maket his traditional version, all grow locally in the rich highlands.
Jamu is simple to make and you can experiment with the ratios of ingredients to suit your tastes. Here's one of our favorite recipes to start with…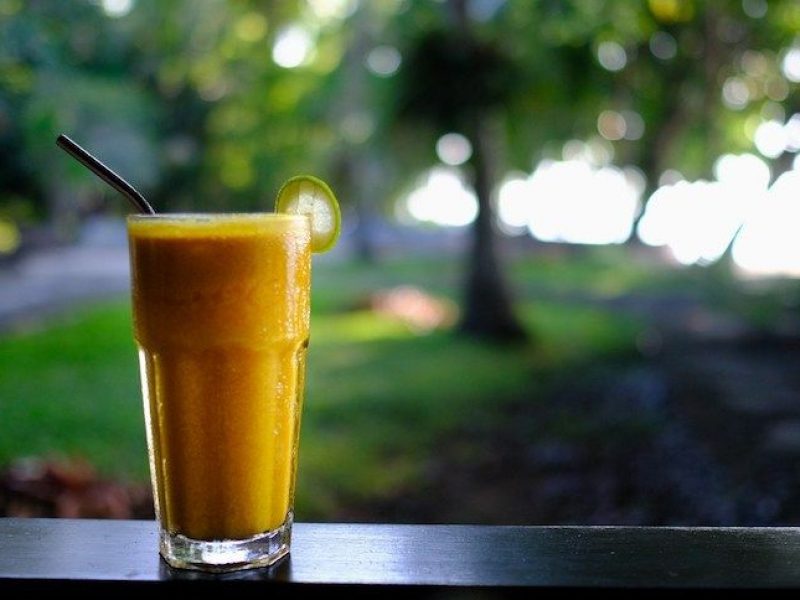 MUREX RESORT's TRADITIONAL JAMU RECIPE
Prep Time: 5 minutes
Cook Time: 25 minutes
Yield: 6 cups
Ingredients:
5 oz fresh turmeric (powder is possible if fresh is not)
5 oz fresh ginger
 cups water (may be substituted with coconut water)
3 Tbsp honey
1 lime, juiced
1 1/2 Tbsp Tamarind paste
Pinch of black pepper or coconut oil (this is not in traditional but makes the anti-inflammatory benefits of turmeric more available)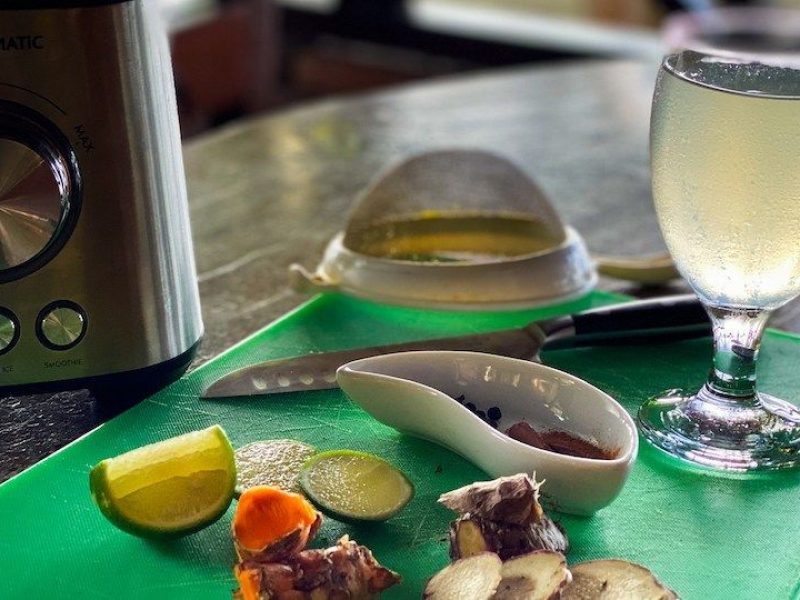 Instructions:
Slice rinsed ginger and turmeric (leave the skin on).
Add water, ginger, and turmeric to a large stockpot.
Bring to a boil (covered).
Reduce heat and simmer for 25 mins.
Transfer to a blender and add honey, lime and tamarind paste
Blend it!
Strain it!
Drink hot or allow it to cool and chill in fridge
Notes:
Your Jamu will keep in fridge for 5-6 days in a bottle. Shake the bottle gently before using.
Be careful, turmeric stains clothing. Wear an apron and clean up immediately.
If your jamu is too spicy, reduce the amount of fresh ginger accordingly
Don't have tamarind paste? This can be overcome by using a little extra lime juice instead.
If you don't have limes or if you prefer lemon juice, this can be substituted.