Divers usually experience a thermocline as an unexpected and often unwelcome cold rush at depth. But British dive gear manufacturer Fourth Element gives the word new meaning with its Thermocline line of naturally buoyant wetsuits, which are perfect for warm water diving.

Fourth Element may be an unfamiliar brand to some American divers, but the company has been in business for 11 years, making drysuit undergarments, hoods, gloves, boots and neutrally buoyant wetsuits. A combination of thoughtful design, high quality materials, expert manufacturing and practical function are the hallmark of the company's products.
The Thermocline neutrally buoyant wetsuit represents an evolution in thermal protection, using state of the art materials to maximize performance without compromising comfort. The Thermocline gives the equivalent protection of a 2mm wetsuit, but weighs only a little more than 2 lbs. Thermocline also provides a real solution for people who suffer from neoprene allergies by eliminating contact between the skin and the wetsuit. The suit's light weight makes it easy to pack, dries quickly between dives and is machine washable.
Recently, we at Scuba Travel Ventures carefully checked out several Fourth Element products at dive industry trade shows this spring. We liked what we saw — and so did the divers visiting the company's booth. In fact, we liked Fourth Element gear so much, we bought some for ourselves.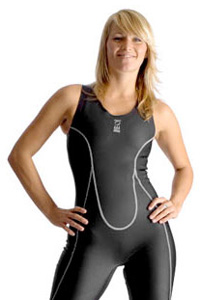 Fourth Element always wants to get feedback from customers and visitors to their site. If you want to make comments, ask questions or give suggestions to the Fourth Element team, send an email to its East Coast Sales Manager Warren Miller, at warren@fourthelement.com.