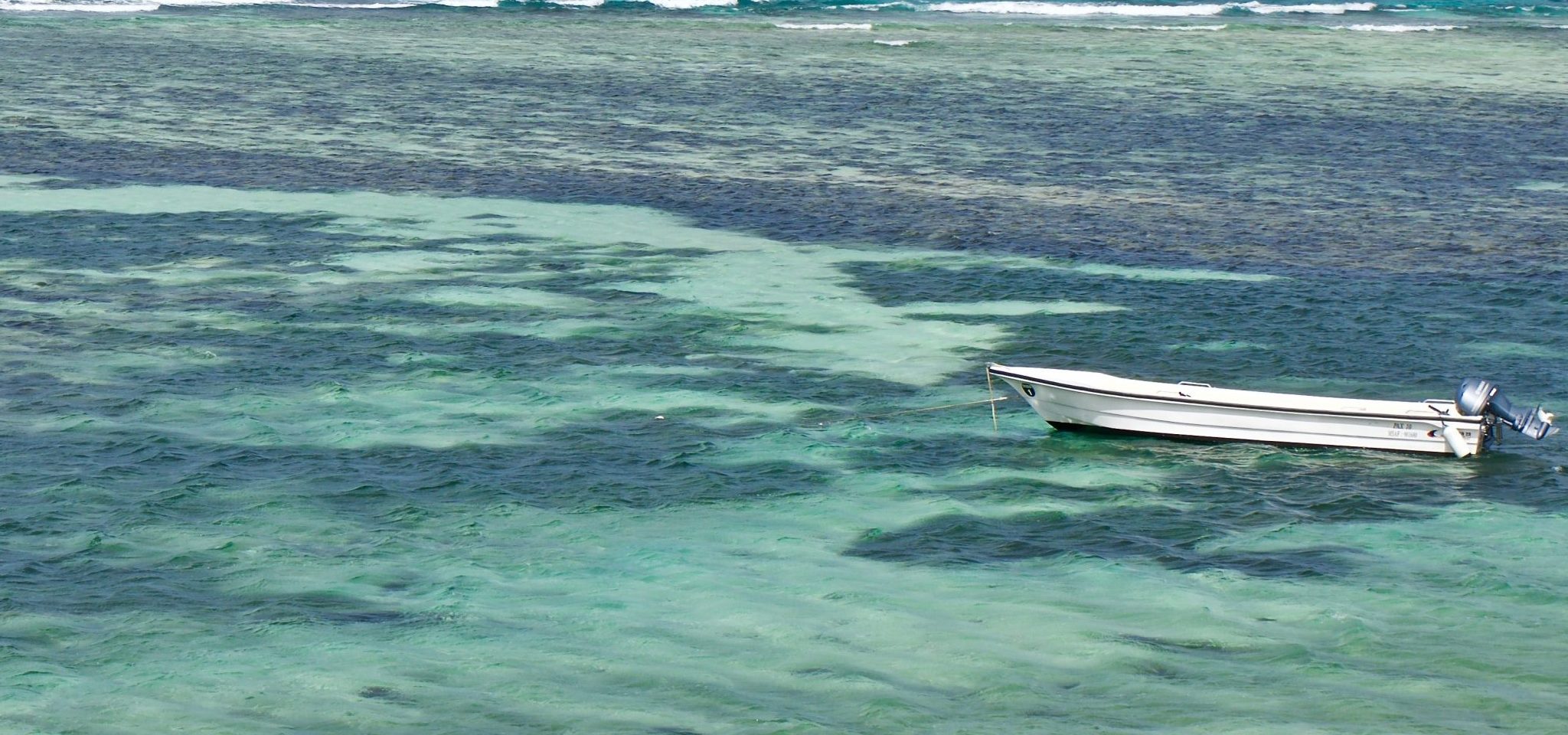 Papua New Guinea
Scuba Diving in Papua New Guinea
Think of this country – the largest in Melanesia, in the Southwest Pacific – and tribal masks are likely to be among the first images your mind conjures up. That's because these artifacts have been made there, then, sold and exhibited everywhere else from national museums to art stalls at your local weekend farmers' market. Papua New Guinea has thousands of kin groups and – although English is its official language – an equal number of tongues. It is one of the few remaining countries on the planet that in some rural areas, traditional ancient ways of life still thrive, undisturbed by outsiders.
"PNG" as it's commonly called, has been independent since 1975. While it has a modern and developed capital city, Port Moresby, there are a good number of outlying areas and islands which retain their rustic and rugged nature. The country's resistance to overdevelop some coastal areas means spectacular and pristine diving in the heart of the Coral Triangle – the area whose apex is the Philippines, whose sides and base also include Malaysia and Indonesia and is categorized by scientists as having the world's most diverse marine biological life.
Dive operators based in Port Moresby make runs out to Bootless Bay to explore bommies and wrecks and make muck dives for small critters. From Madang, a two-hour flight north of the capital, land-based resorts' dive vessels venture out to small nearby islands for wrecks and gorgeous reefs populated by barracudas and sharks. In Alotau, a two-hour flight southeast of Port Moresby, live-aboard boats make journeys into breathtaking Milne Bay, on the Coral Sea.
Even farther east from the capital, there's more incredible diving to be done off the islands of New Ireland and New Britain. New Ireland features World War II wrecks and pelagics, while colorful reefs line the north and south coasts of New Britain. Live-aboards on that island depart from the cities of Rabaul, Hoskins and Kimbe. But it's the southern side of New Britain that tempts wide-angle photographers with sites full of schooling barracuda and jacks and macro photographers with cleaning stations and seamounts.
No doubt, PNG is a photographer's dream, both underwater and on land. That's why you won't want to miss shore excursions from your resort or live-aboard boat to traditional rural village markets, World War II battle sites and other locations. Scuba Travel Ventures will find the right resort and live-aboard accommodations for you in Papua New Guinea that will help you have an unforgettable experience here.
Dive Resorts in Papua New Guinea
We recommend four dive resorts in Papua New Guinea:
Walindi Plantation Resort
Lissenung Island Resort
Picture a small private island with a white sandy beach, tall palm trees, beautiful flowers, magnificent sunsets and traditional bungalows. Surrounding this island are some of the most colorful reefs with the best fish life this planet has to offer… Welcome to Lissenung Island Resort.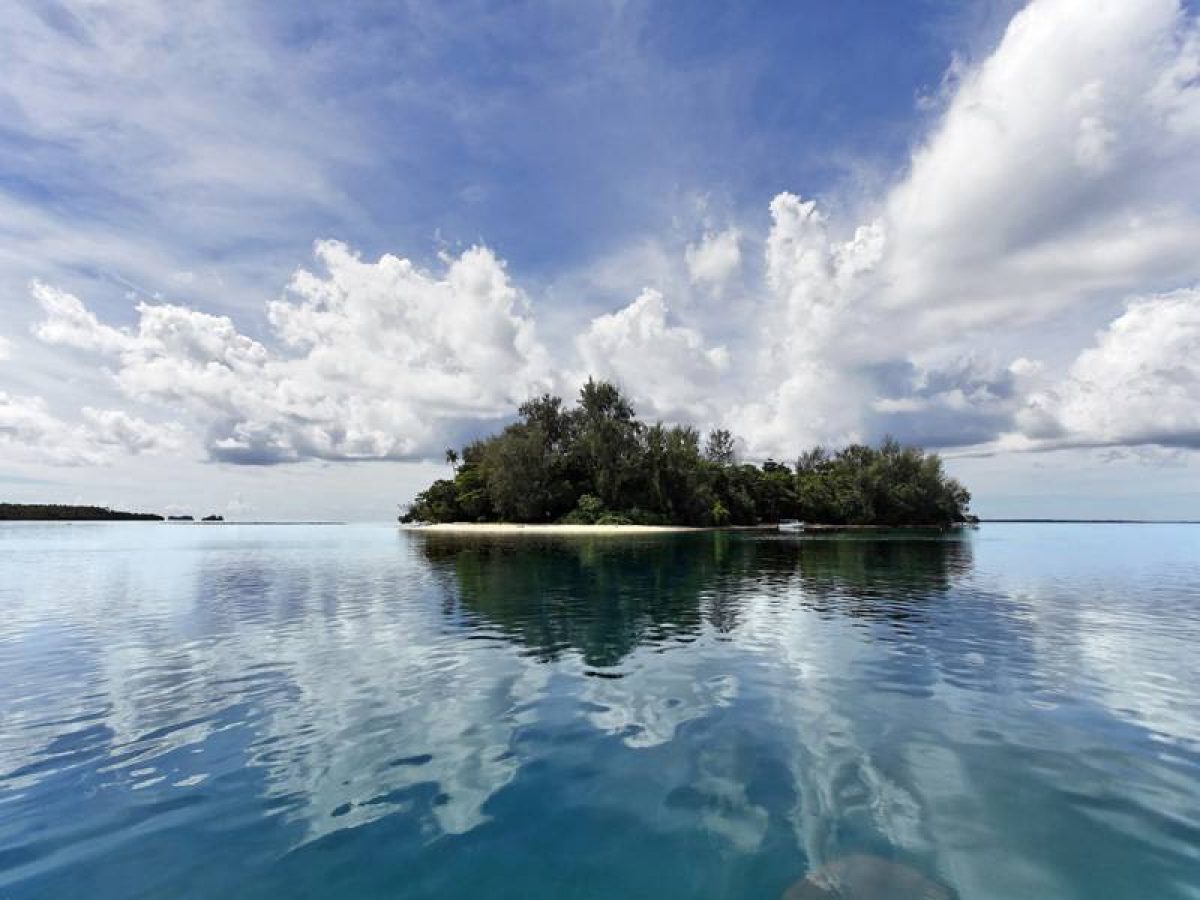 Lissenung Island Resort is a 20-minute boat ride from Kavieng, the capital of New Ireland Province. Seven ocean-front rooms (six with private facilities) in three duplex and one single bungalows, furnished with hardwood floors and spacious verandahs, are spread out over the island. Other than a handful of local staff, you won't see another soul, and you can easily circumnavigate the island in about 10 – 15 minutes.
Deckchairs and a bottle of wine on the beach at sunset time are the perfect way to end an exciting day of diving. A minimum age limit of 12 years for our guests ensures a relaxed and tranquil atmosphere. With a maximum of 14 guests, personal service is guaranteed and your holiday truly exclusive!
All buildings are built in the traditional style, with thatched roofs and walls made from woven bamboo. They blend in with their surroundings and are very eco-friendly. The local building materials are surprisingly strong and withstand even the strongest rainstorms. Local artifacts complete the picture and give the buildings that great PNG atmosphere. Just about every carving you see here is for sale, most of them being endemic to New Ireland.
Many of the ingredients used in the kitchen come from the local market in Kavieng or are bought from locals. The staff buys fresh fruit such as pineapple, bananas, star fruit as well as all of our seafood from these people. Some vegetables and fruit are even grown in their own small veggie garden on the island. But wherever the food comes from, you can't get it fresher and more organic than this!
There is so much to see in these waters if one looks beyond the pelagics and keeps an open mind about the diving on offer. After all, Papua New Guinea's oceans are part of the Coral Triangle and have one of the largest bio-diverse reefs in the world! Daily boat trips to the outer reefs, drop offs and wrecks with a maximum of three dives per day are offered. We usually start at 8.30am with 2 morning dives and return to the island for lunch. In the afternoon, you can either go out for a third boat dive, relax on the island or do a shore dive on our fabulous house reef. For divers staying at Lissenung and booking boat dives in the morning, these shore dives are free of charge. With over 175 different species of fish, this is a nice little added bonus! Our house reef is also the spot to do night dives, with another whole bunch of different fish, molluscs and crustaceans coming out to play and feed. Water temperature in this area ranges from 28 – 30 degrees Celsius (83 – 87F) all year round and underwater visibility from 20 – 40m (60 – 120ft) on most dives.
The resort's three dive boats will have you at any of our dive sites within 20 – 30 minutes. The larger dive boat "Andiamo" is a 26ft fiberglass boat with twin 140HP 4-stroke Suzuki outboard engines and can comfortably carry 10 divers, 2 dive guides and the skipper. There are also two smaller dive boats, "Raven" and "Carola". Raven is a 24ft fiberglass boat with a single 140HP 4-stroke Suzuki outboard engine and can comfortably carry 6 – 8 divers. Carola is a 23ft fiberglass boat with a single 115HP outbaord engine and we take 4 – 6 divers on this boat. With a canopy, equipment boxes, tank racks and a ladder, these boats are perfectly designed for diving. A DAN oxygen unit for emergency situations is on board all boats and our dive staff are trained in its use.
The fully serviced dive shop includes two compressors (2 x 260l/m), 50 aluminium tanks (8, 9 & 11l) and 12 full sets of Scubapro-Uwatec rental equipment. PADI dive courses from Open Water right through to Divemaster are available, as well as a number of specialty courses.
Lissenung Island Dive Packages Start at $1999 per person
Gallery: Lissenung Island Resort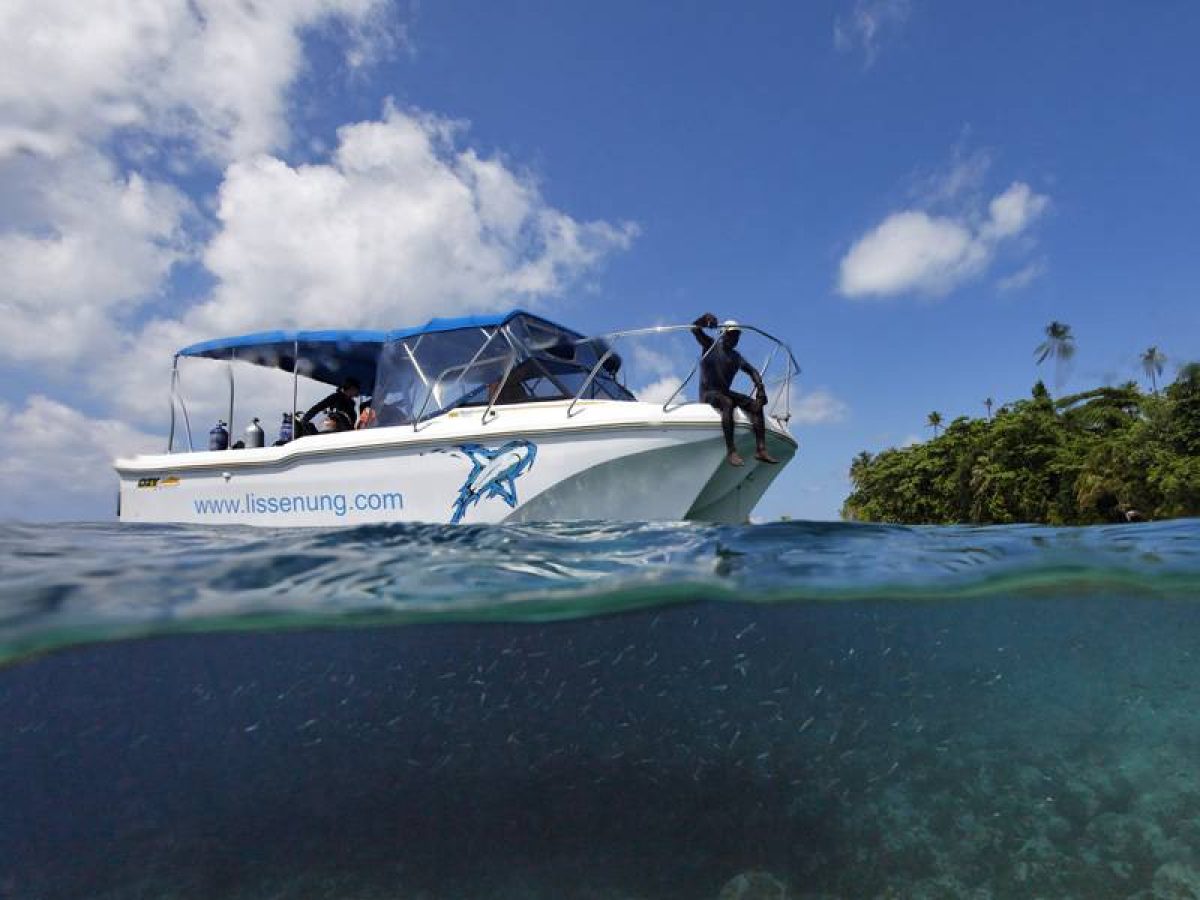 ---
Tawali Resort
Tucked away, only accessible by boat, sits what may be Papua New Guinea's best kept scuba diving secret – Tawali Resort. Located on a volcanic bluff overlooking the clear protected waters of Milne Bay, Tawali offers travelers a unique location to dive, relax and enjoy the unspoiled wonders of this magnificent part of the world. Learn what it really means to step back in time where the worries of the world fade and the magic of nature unfolds.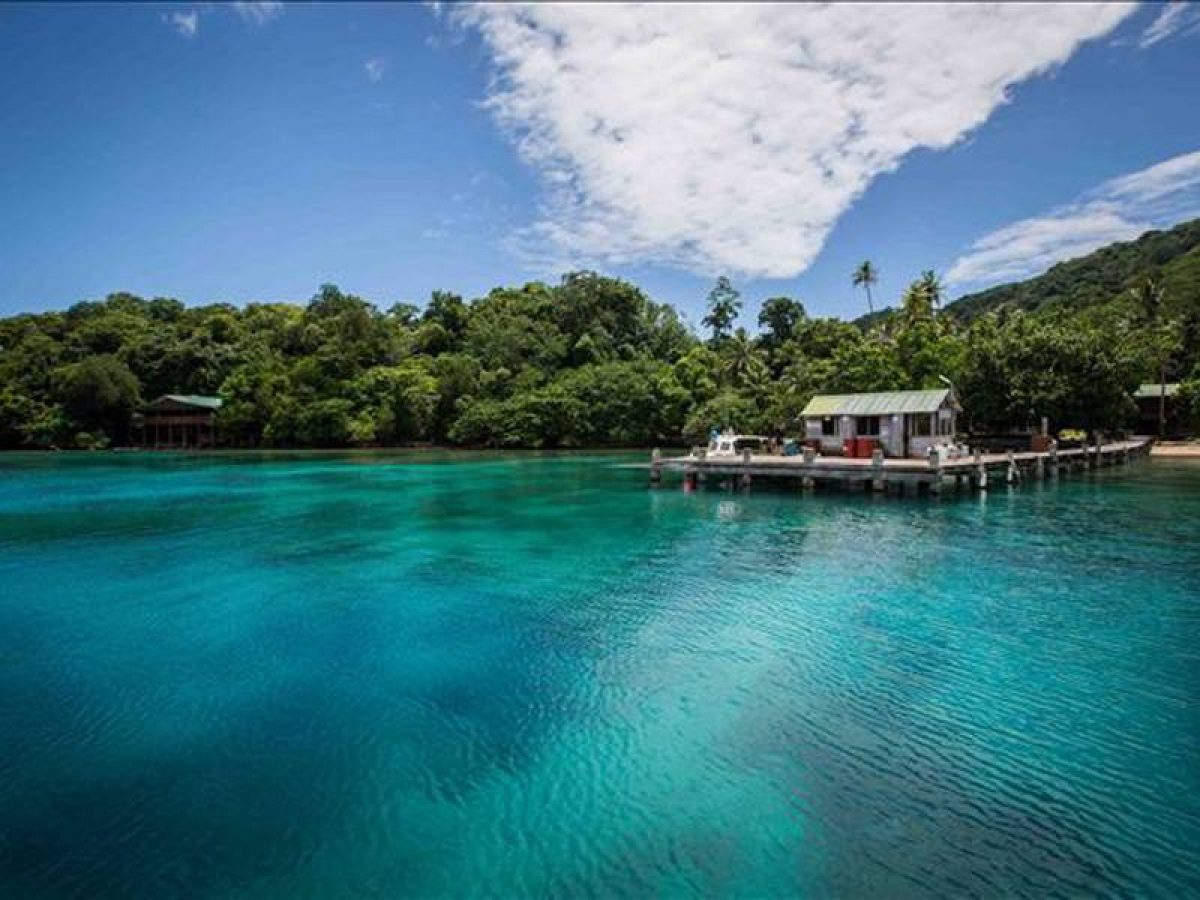 Covered walkways connect guest bungalows, which are complete with private balconies overlooking Hoia Bay. The air-conditioned bungalows are spacious with two queen beds and rosewood interiors that include desks, closets and lounge areas. Each room has a personal safe and coffee making facilities. Bathrooms are modern, completely tiled and have solar heated water.
The diving from Tawali resort is both amazing and convenient with the best diving of Milne Bay just minutes away. With tons of sea life, coral, walls, making PNG one of the top dive destinations in the world!
Tawali Resort Dive Packages Start at $2029 per person
Gallery: Tawali Resort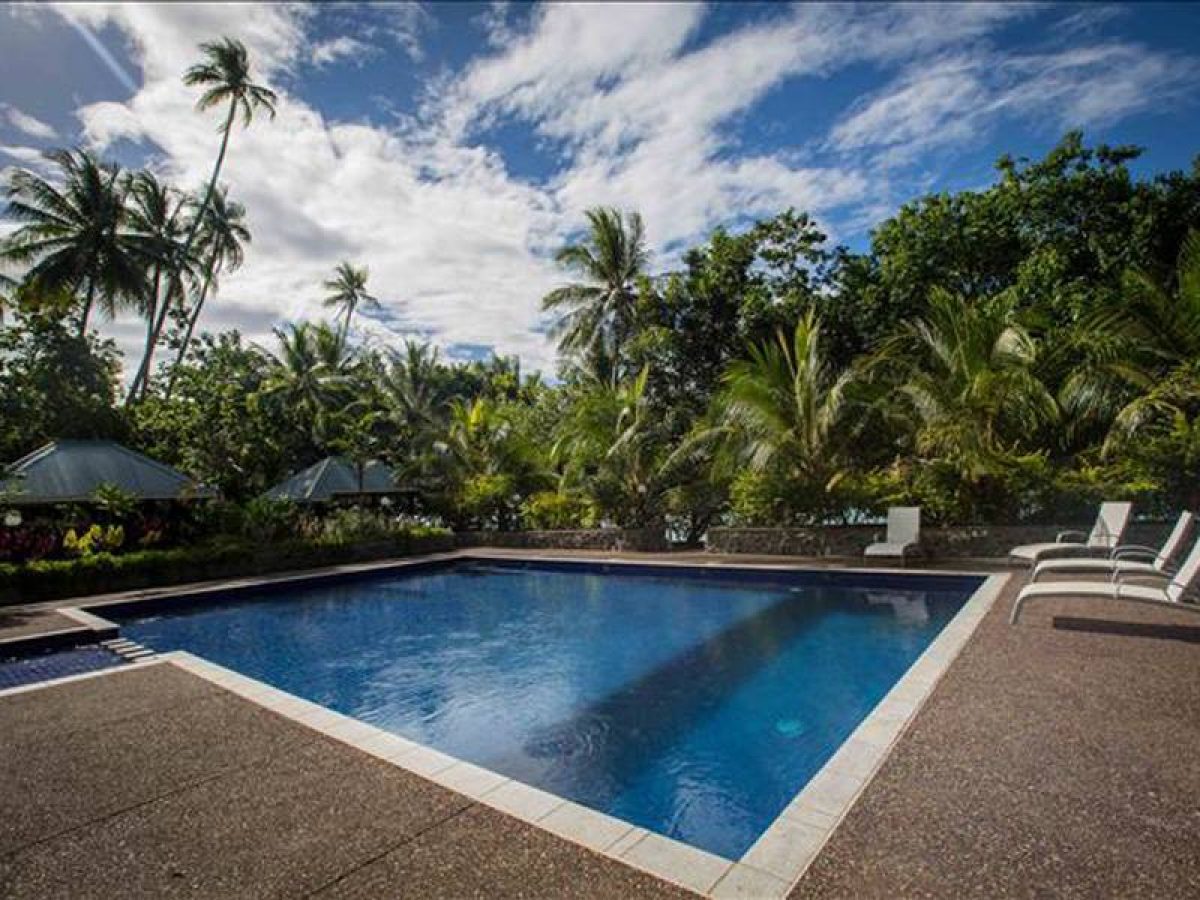 ---
Tufi Resort
TUFI Resort PNG is a personalised boutique resort nestled atop a breath-taking fjord, with 180º panoramic views of the sea, fjords and mountains. Tufi Resort is a place that makes the outside world and all its daily stress seem a million miles away. The Resort is perched on an amazing, cliff-top terrace overlooking Tufi Harbour.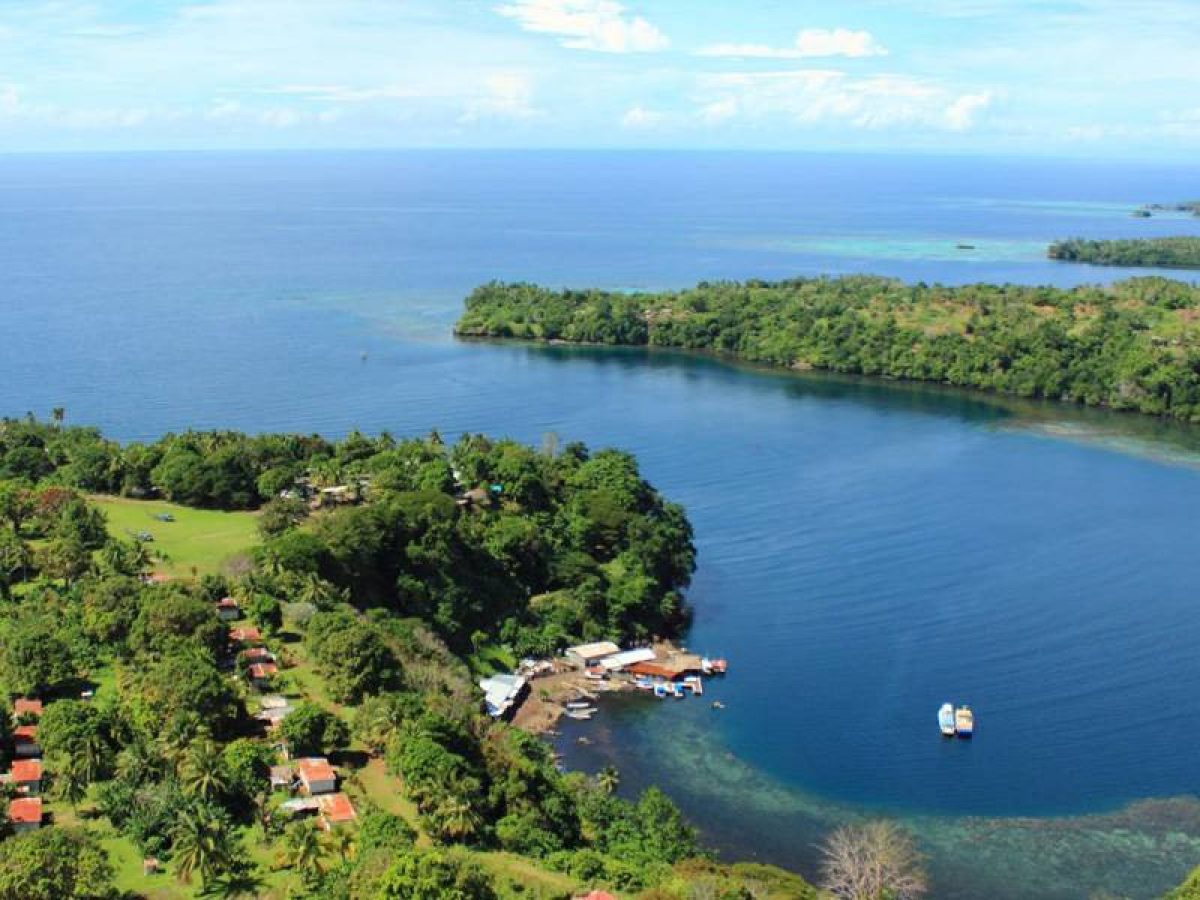 The deluxe bungalows have polished timber floors and the walls are lined with traditional woven material. All the creature comforts are available, including insect screens, 24 hour electricity, air-conditioning, hot water, bedroom with en suite, bar fridge, coffee and tea making facilities. Most bungalows have verandas overlooking the Coral Sea or Tufi fjord.
Amenities include BBQ and dining settings, in-ground pool with views of the fjord below. The main building is a remarkable design that incorporates the reception, gift shop, library, restaurant and alfresco bar… hello margaritas!
Activities include diving, fishing, bush and nature walks, snorkeling, canoeing, traditional outrigger safaris, kayaking, trekking, bird watching, beach BBQ and great cultural interaction in the village, where you can experience many activities like sago-making, net and spear works, tapa printing, face and body tattooing.
Enjoy constant visibility of 30 metres plus and water temperatures of 26°C to 29°C all year round. Dive the fjords, experience the unique macro world and check out the WW2 PT boat wrecks. Day or night, a wide variety of gobie, nudibranchs, Mandarin Fish, Ghost Pipe Fish, Pigmy Seahorse and a plethora of other fascinating creatures. A wonderful array of sponge and shelf corals that line the walls of the tropical rainforest fiord, a truly different dive environment. Dive the famous Dutch cargo ship the "S Jacob" or Blackjack – an intact B17 bomber – as specialty charter dives. Spectacular marine life in abundance: schooling barracuda and reef fish, hammerheads, reef sharks, manta rays, eagle rays, grouper and cruising palegic as well as soft and hard corals. A pristine environment unspoiled.
Tufi is a stress-free environment where the locals are warm and friendly. A place where you can be left alone or mix with guests and villagers. A place where you can relax, recharge and feel totally invigorated.
Tufi Resort Dive Packages Start at $2080 per person
Gallery: Tufi Resort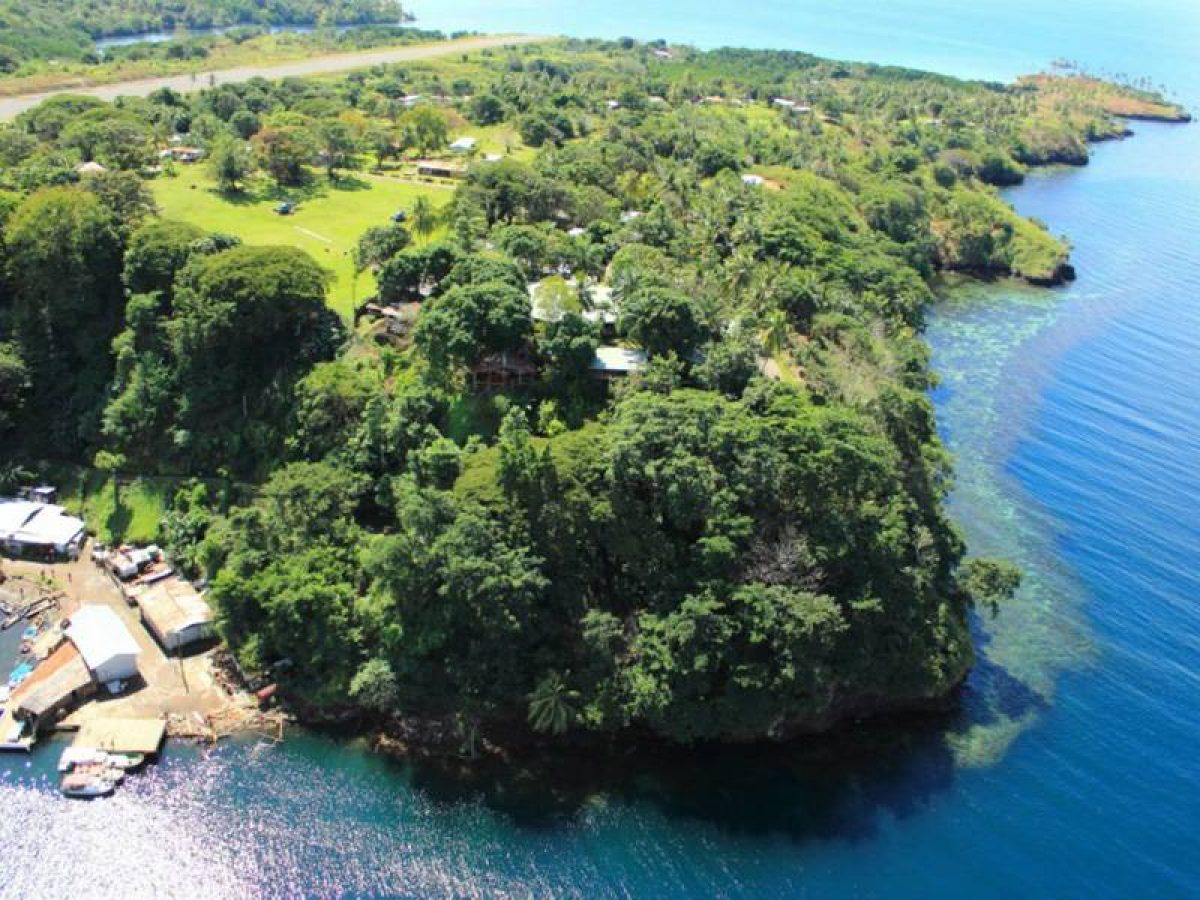 ---
Walindi Plantation Resort
Getting to Walindi Resort is a short flight from Port Moresby to Hoskins airport, West New Britain and looking out the window on your flight you will realise that this is going to be no ordinary vacation. Mountain ranges that top 14,000 feet divide the main island of New Britain. The deeper valleys remained isolated until early last century; the land you fly over is occupied by people who have 800 different languages and cultures that are just as diverse.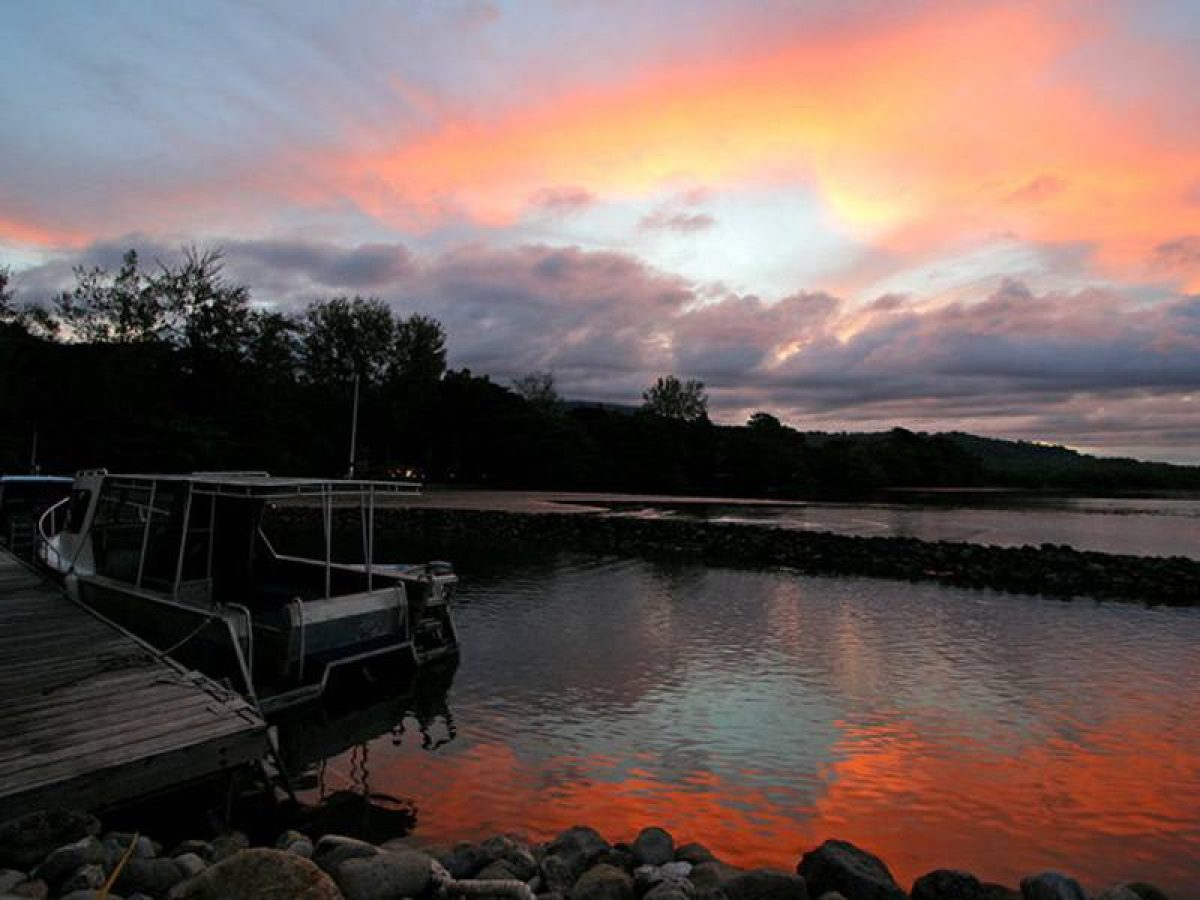 The central resort area is the hub of all resort activity, consisting of a reception lobby, Casuarina Restaurant and Planter's Bar, air-conditioned lounge and library with internet facilities for guest use, the Blue Taro Boutique, a swimming pool, sun deck and administration offices.
Personalised attention in an informal atmosphere is the essence of the Walindi Plantation Resort experience. Relaxing surroundings and friendly staff welcome you with a smile and genuine hospitality …. you will feel at home the moment you arrive.
With only 12 bungalows and eight Plantation House rooms, crowds and queues are not something you will find at Walindi. Accommodation is spread along the beach front, nestled in tropical rainforest gardens, ensuring privacy and seclusion when you want it. The central resort area, just a short stroll from your accommodation, is the social hub of Walindi. Meal times are a social gathering of guests and staff alike, a chance to share your individual experiences of the day.
Papua New Guinea is located in the coral triangle, the centre of marine biodiversity which has the highest diversity of tropical fish and coral in the world. The waters of New Britain are home to prolific and diverse marine creatures and corals. Pristine and colourful corals are home to a variety of fish, crustacean and invertebrate life. Many of the reefs have resident schools of barracuda, tuna and jacks. A range of shark species are regularly sighted, including hammerheads and silvertips, particularly on the offshore reefs.
Walindi Resort Dive Packages Start at $2020 per person
Gallery: Walindi Plantation Resort