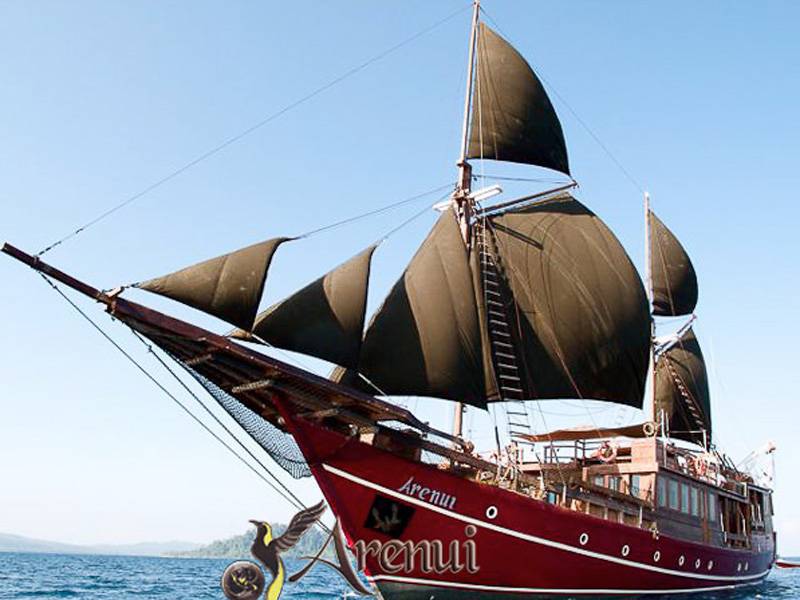 Indonesia Liveaboards
Best Liveaboards in Indonesia: Our Picks
We think the following dive resorts offer the best amenities and dive packages:
Arenui
Arenui liveaboard is a traditional Phinisi, Arenui liveaboarda classic Indonesian wooden sailing vessel, set to raise its anchors in June 2009 to begin its explorations of the majestic underwater world of the Indonesian archipelago.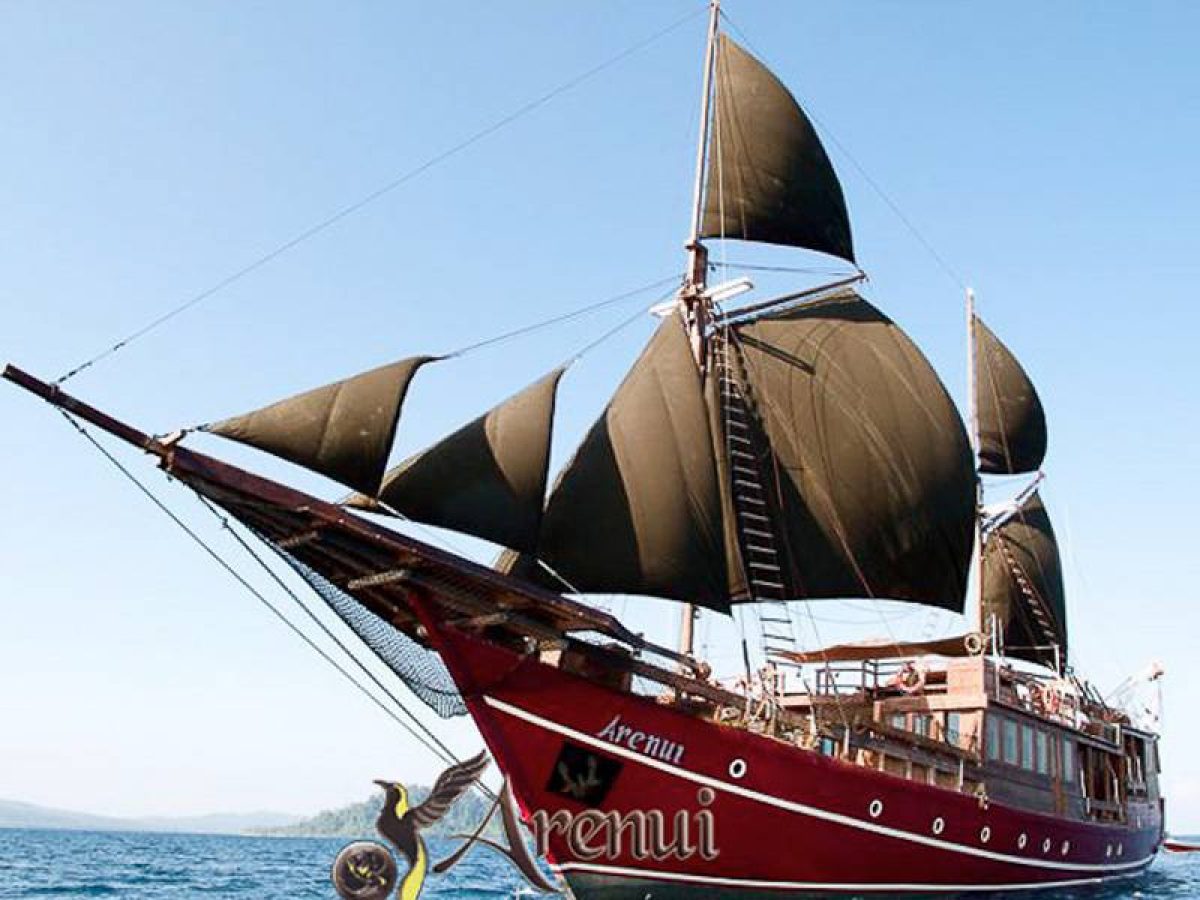 The underlying concept of the Arenui is to provide you with the convenience of a fully equipped dive liveaboard together with all the richness, artistic touches and comforts of a top-notch luxury boutique hotel. This is the only boutique hotel that Arenui liveaboard drops you off directly onto the best dive sites that Indonesia has to offer!
The same attention to detail was given in designing our cruise itineraries which include not only all of the usual popular diving sites in Indonesia, renowned worldwide for its biodiversity, but other world-class destinations which have Arenui liveaboard been overlooked so far by most recreational diving operators.
Their cruise programs include: Komodo, North and Central Sulawesi, Wakatobi and, for those looking for more unusual journeys, the New Frontiers of Raja Ampat, Maluku, Cenderawasih Bay, Alor, Flores and the Taka Bone Rate Atolls. Moreover, the dates of Arenui's cruises have been planned in such a way as to ensure the most favorable weather Arenui liveaboard conditions and the best sightings of marine life according to the destination.
They also offer unforgettable excursions to complete the ideal diving program and to make Arenui liveaboard sure that you also have the chance to enjoy the amazing sights available on land.
Arenui's motto, "The Boutique Liveaboard", simply expresses their vision of providing their guests with both the highest quality offerings in terms of diving and leisure activities as well as exquisite accommodations and facilities. We think you'll find it hard to dive any other way afterwards!
Arenui Dive Packages Start at $4560 per person
Gallery: Arenui
---
Coralia
Coralia is a dream come true for every nature enthusiast! Luxurious cabins, spacious decks with lots of relaxation areas, delicious food, and of course spectacular diving and snorkeling.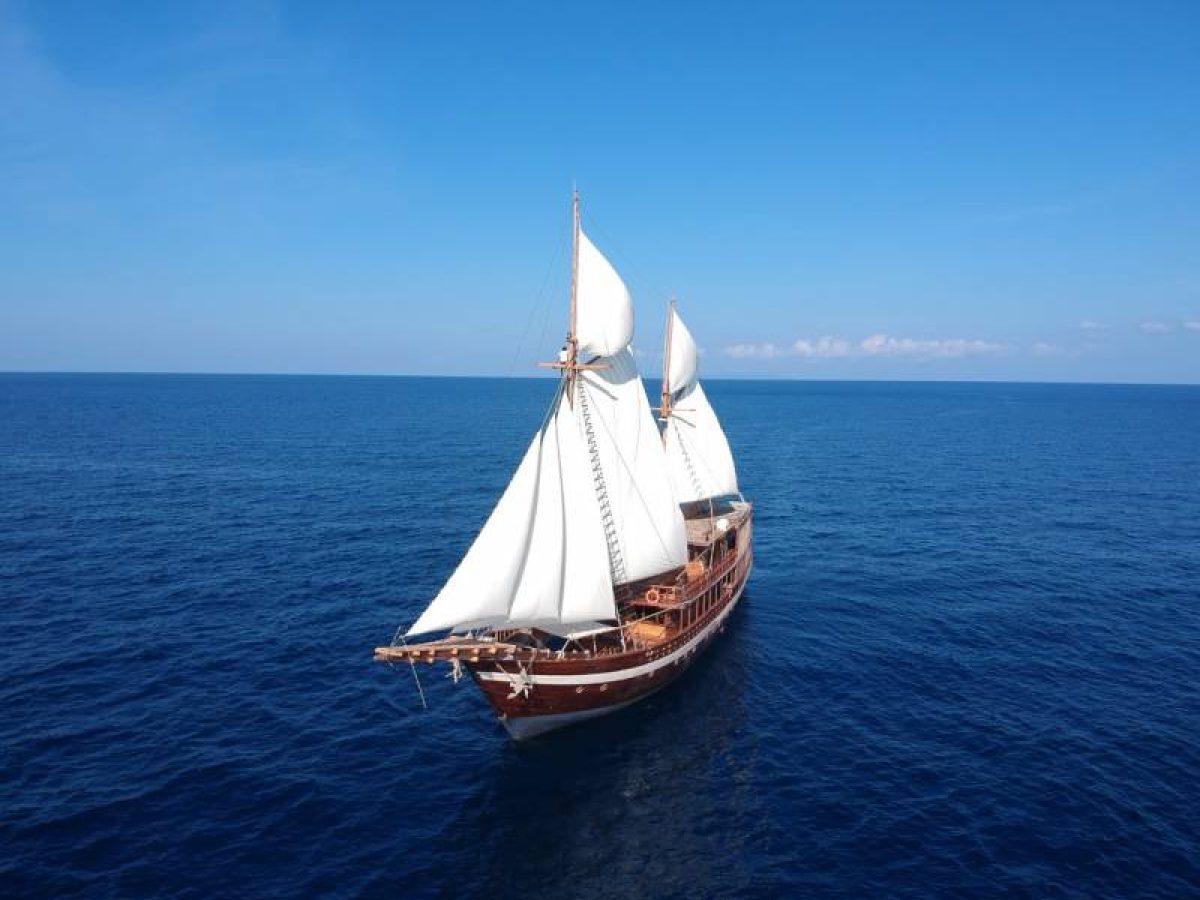 Aboard Coralia you will be well taken care of by the dedicated local crew, with a 1:1 staff-guest-ratio. Housekeeping will make up your cabin daily and also do a turn-down service in the evenings. Coralia's journeys are led by our very experienced cruise directors Debbie and Jerry, who have been leading liveaboard cruises all over Indonesia for more than 10 years.
Their eight spacious cabins offer modern comfort and style while incorporating traditional details. Each cabin is air-conditioned, non-smoking, and has a spacious private bathroom with warm freshwater showers, towels and hairdryer. Environmentally friendly, natural soap and shower amenities are provided free of charge. The four luxurious master cabins on the main and upper deck additionally feature each a private balcony, sun chair and outside sofa, where guests can indulge in the tropical scenery and never miss a sunrise or sunset.
Specifically built for dive cruises, Coralia is a diver's dream come true! The shaded dive deck has warm showers, a changing room, hangers, equipment storage and extra towels are provided for diving. Underwater photographers are well-catered for, with a dedicated air-conditioned camera room on the main deck, providing individual camera stations for charging, extra towels and lighting. The dive deck features a rinsing basket for cameras, as well as a camera table.
You'll dive in small groups with one dive guide accompanying four guests. The dive team consists of two experienced cruise directors who are also PADI instructors, and three PADI certified local dive guides. Detailed briefings are held in the dining area and equipment is set up by their lovely crew. The two tenders bring the divers to the best dive spots and after a quick current check by the guides, you can immerse yourself into Indonesia's abundant waters. After night dives we'll get you warmed up with some hot chocolate and warm towels. Nitrox is free of charge on Coralia!
Coralia Dive Packages Start at $3780 per person
Gallery: Coralia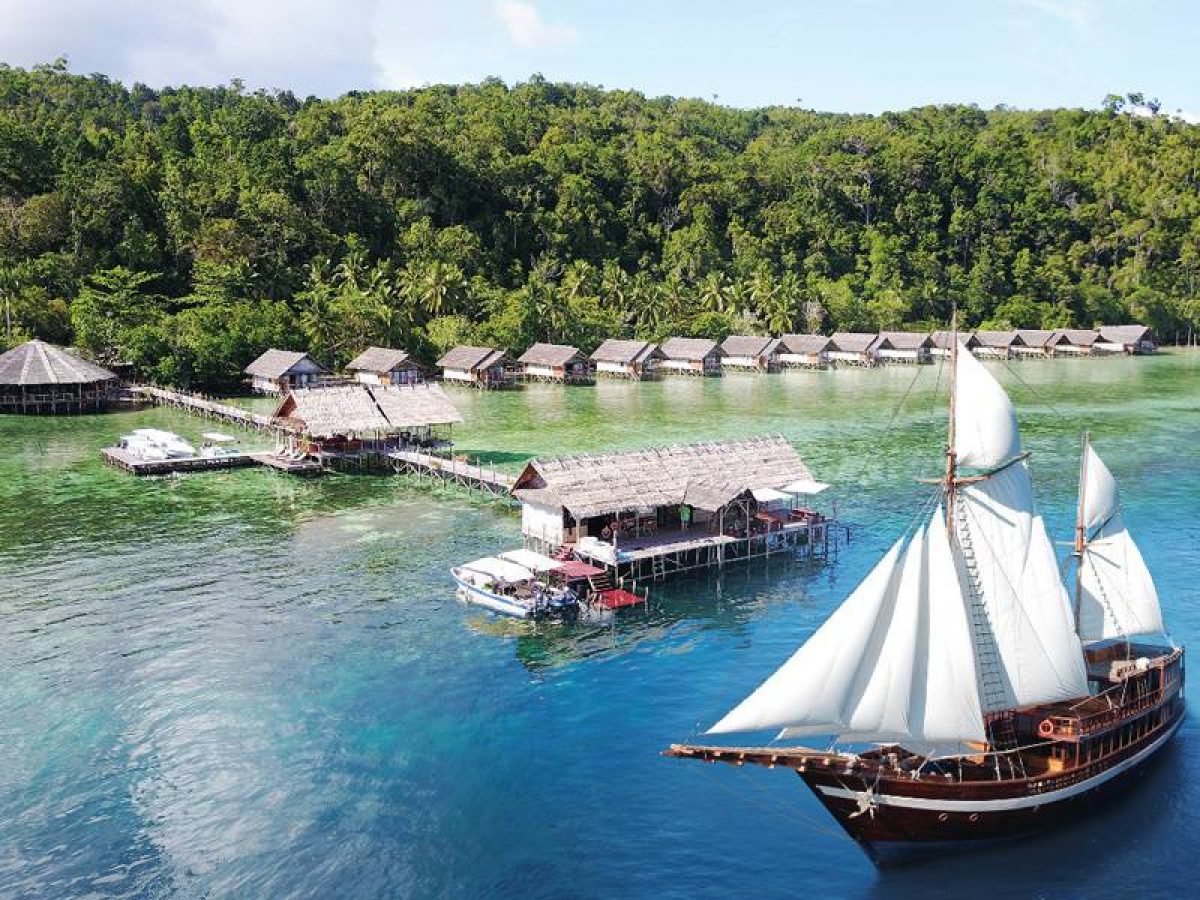 ---
Dewi Nusantara
Living aboard Dewi Nusantara is as close to a five star experience as is possible in the faraway corners of the Indonesian archipelago.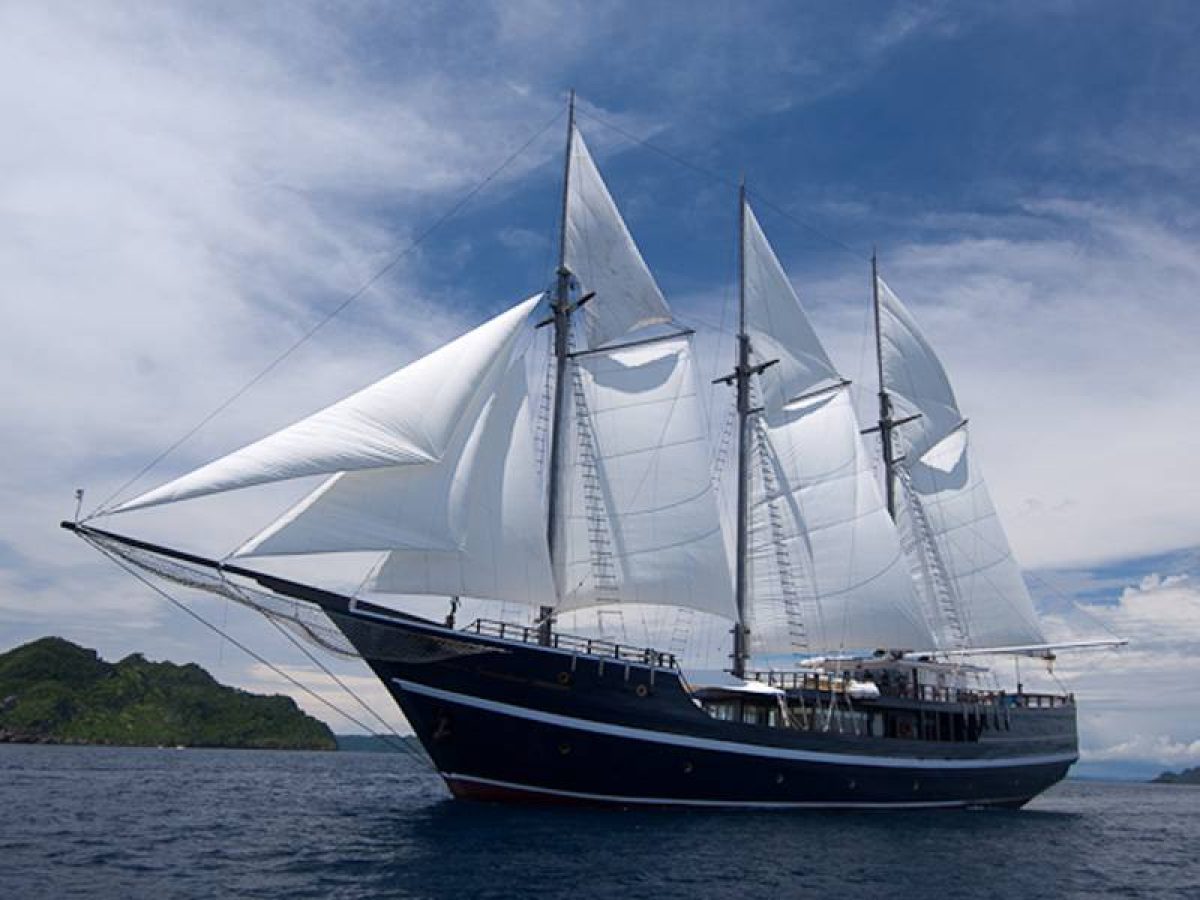 With an overall length of 57 meters, our three masted topsail schooner moves with a grace and stability that only larger sailing vessels can offer. 2000 square meters of sail are complemented by two 500 horsepower marine engines and two desalinators that each produce 5000 liters of fresh water per day. We purposely designed the Goddess of the Archipelago to be totally independent for long periods at sea while offering unparalleled comfort. There are eight spacious air-conditioned staterooms, that can be adapted to either twin or double use, each with its own en suite bathroom. The master and commanders' cabin aft is the size of a large hotel suite.
Gallery: Dewi Nusantara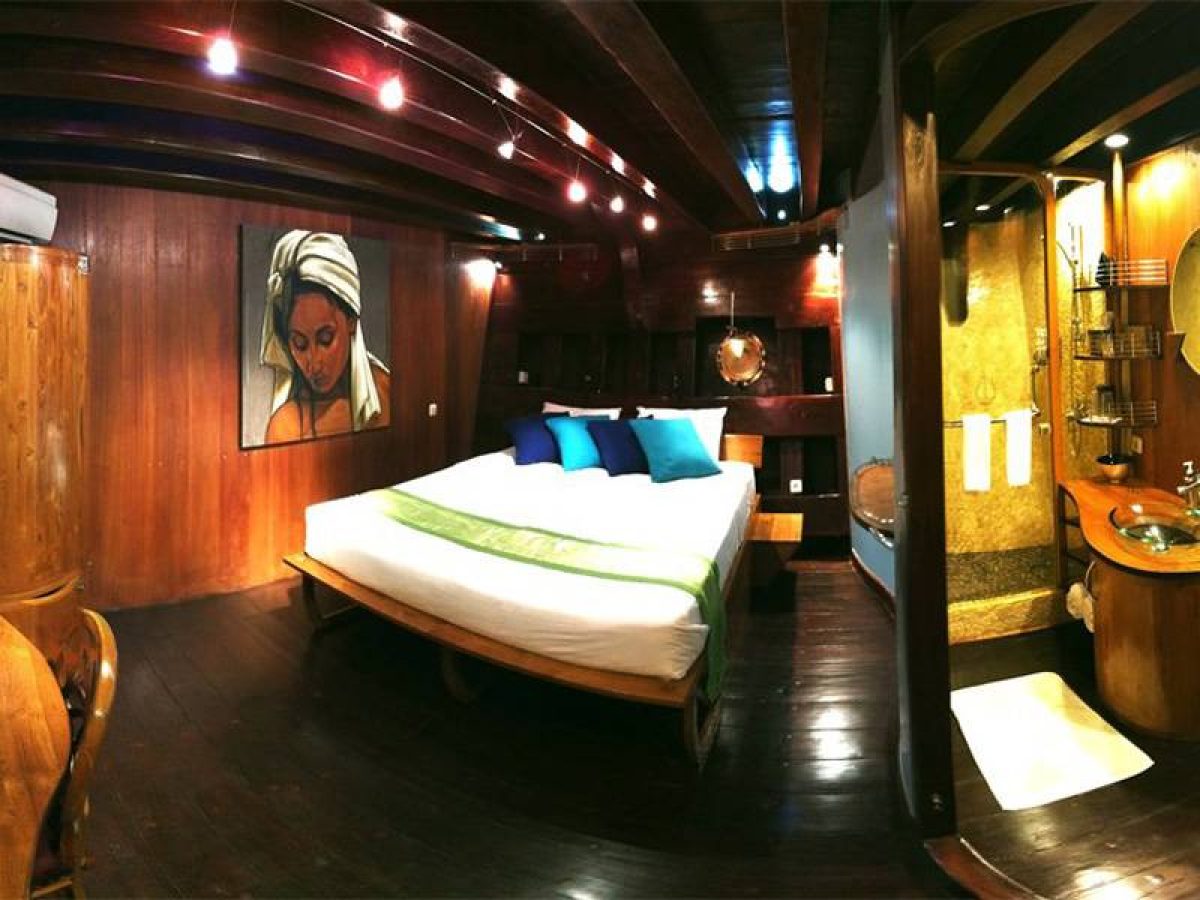 ---
Raja Manta
With a major makeover in 2016, the Raja Manta Explorer is a boat designed for divers, by divers. Offering exciting itineraries through Ambon, Banda, Sangalaki, Raja Ampat and other extended itineraries, the 37 meter (121 foot) vessel is stable, strong and reliable making it perfect for long range travel to the most desirable dive sites.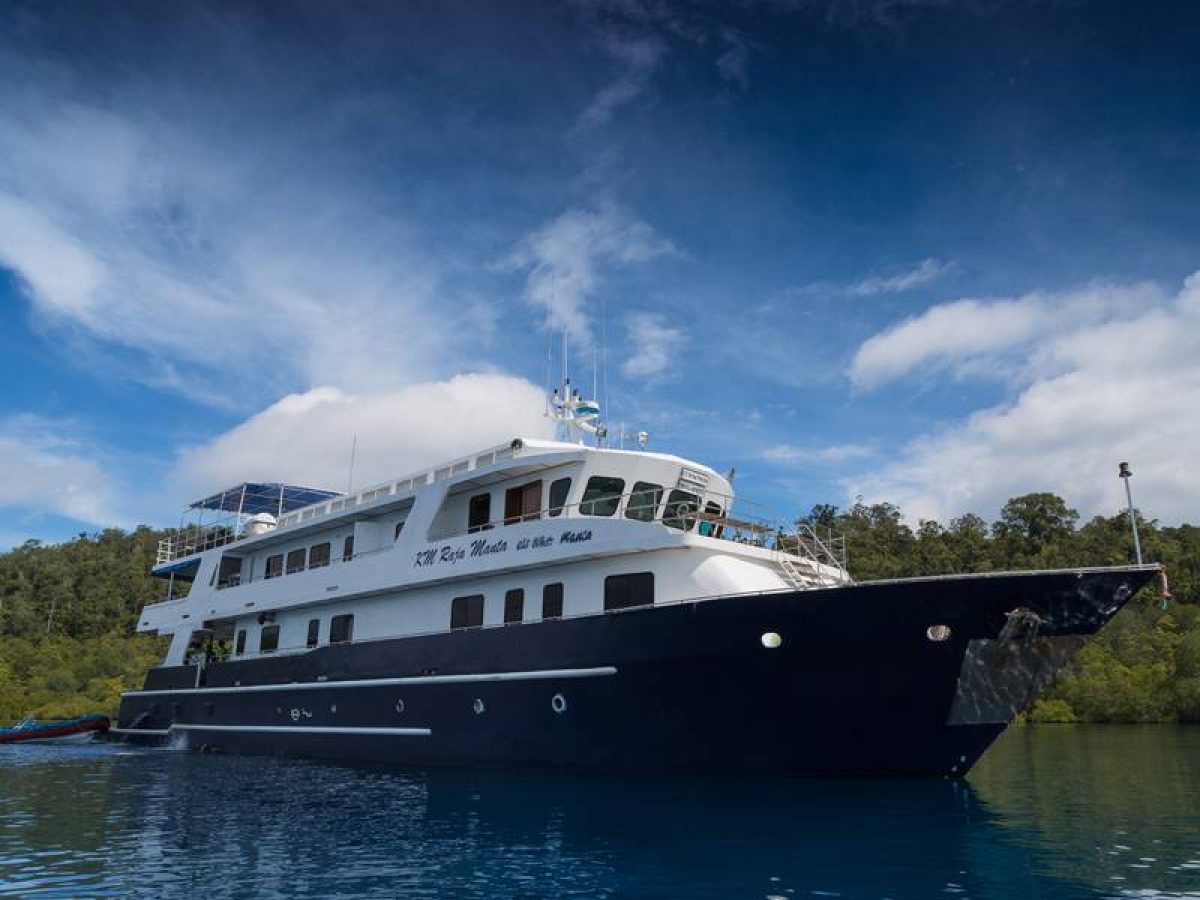 With 8 double & twin shared-bath ensuite cabins and 3 shared cabins with wash basins, the Raja Manta Explorer can comfortably accommodate up to 22 passengers. There is a large salon with a digital media center, sound system and widescreen plasma TV for your entertainment, an expansive sundeck that spans the length of the boat and a large outdoor dining area. A blend of Western and Asian cuisine awaits you after every dive. With up to 18 well-trained crew, excellent service above and below water are ensured.
There is an enormous dive deck with ample space for gearing up. Warm towels, hot drinks and fresh fruits are available after dives. The Captain and dive crew have years of experience in Indonesia including Komodo, Alor, Banda Sea and Raja Ampat. Diving is conducted in small groups. There is a full range of rental equipment available, all tanks have din and yoke fitting and larger tanks are available for those requiring a little extra air. Many of the boat crew are certified scuba divers and share a passion for the underwater world.
Raja Manta Dive Packages Start at $3000 per person
Gallery: Raja Manta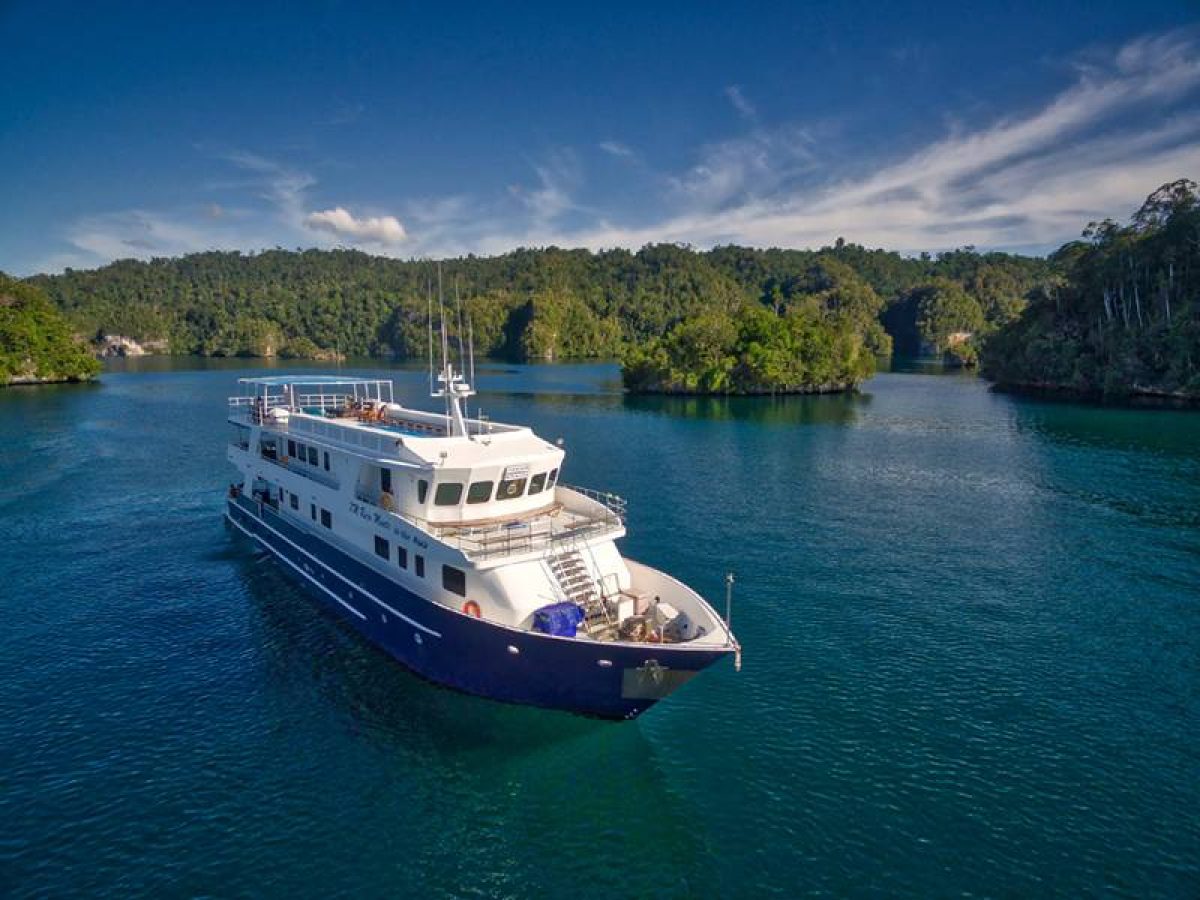 ---
Samambaia
Samambaia is a magnificent Phinisi, a traditional Indonesian wooden sailing vessel, built and designed to offer her guests the world's top-rated dive experience in Indonesia with absolute comfort, safety, and autonomy regardless of the remoteness of the dive site. Having had her maiden voyage on Nov 8, 2015, M/V Samambaia is the newest two-mast wooden Phinisi schooner to sail some of the most gorgeous diving areas of Indonesia. Climb aboard into sheer luxury and unparalleled comfort: their focus is the utter satisfaction of their guests.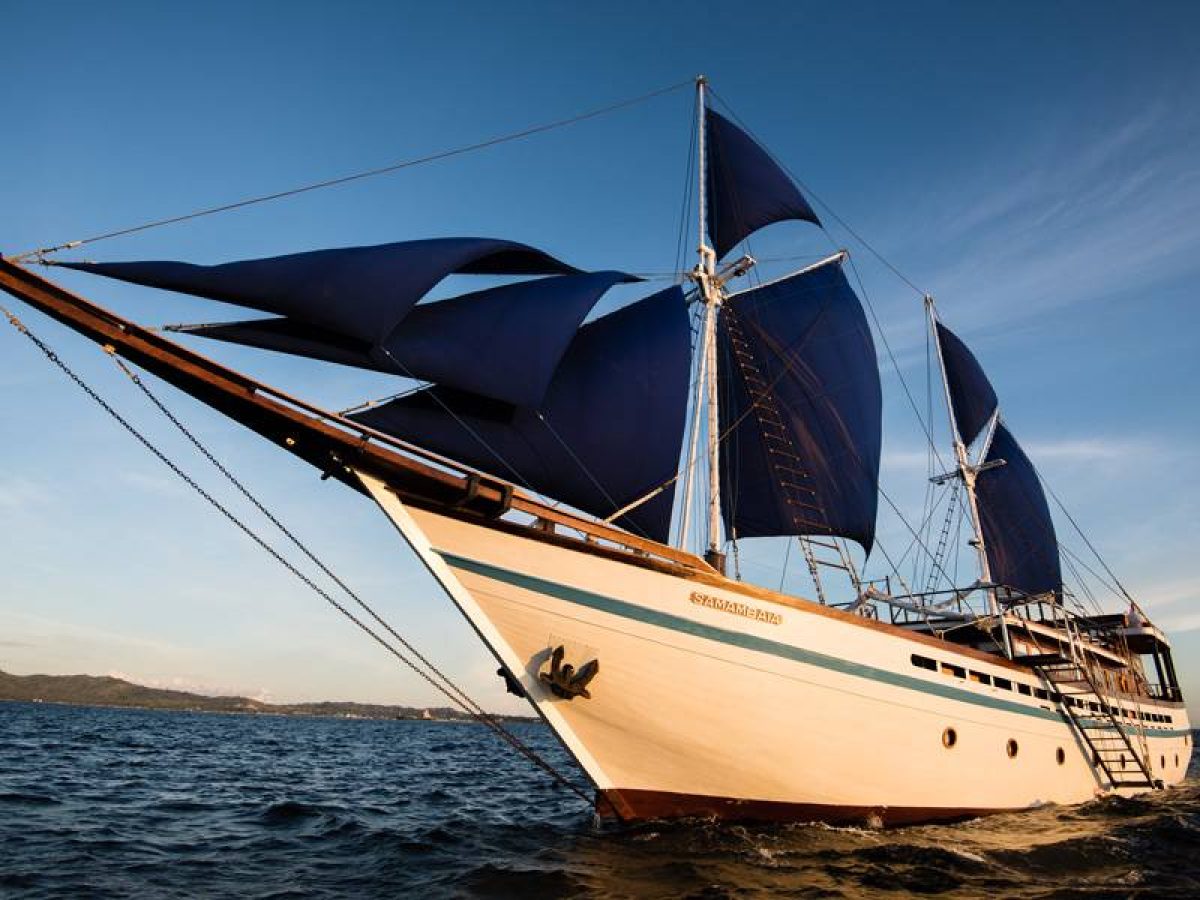 With an overall length of 40 meters (130 feet) and a beam of 9 meters (29 feet), and catering to only 14 guests, the Samambaia offers 7 tastefully decorated Staterooms: 2 Double Cabins, 2 Convertible Cabins (double or twin), and 2 Twin Cabins on the lower deck, plus a beautiful 160 sq.ft. Master Cabin with stunning 180° sea views on the main deck. Each Stateroom has a private en-suite bathroom, individually controlled AC, 220V European standard sockets that provide 24h electricity source.
On board the M/V Samambaia, the 18-to-22 experienced, professional, and friendly crew are always on hand in order to help create the unforgettable journey. Guests are catered to with delicious and varied international cuisine prepared every day with locally sourced ingredients by their chef and their galley includes fresh ice-cream and daily baked bread and pastries. For relaxation, guests can choose the shaded sundeck and soak in the spectacular Indonesian views in their comfortable loungers, or enjoy a relaxing massage from the on-board masseuse.
Divers and snorkelers alike will marvel at the underwater beauty of Indonesia, with unique cruises to Raja Ampat, Banda Sea, Alor, and Komodo. Whilst the Samambaia Yacht is new, their crew and dive guides have years of experience in the area. They offer an impressive divemaster/guide to customer ratio of 4-to-1 ensuring the best service underwater both in terms of safety and enjoyment. Especially designed for their guests dedicated to underwater photography, they provide a camera room with separate camera work stations with integrated 110v and 220v charging station to ensure you have the space necessary to take care of your camera gear. They also have a huge diving deck with two hot water showers at each side of the deck and 2 large rinse tanks with separate compartments each: the smaller one for your masks and the bigger ones for sensitive gear like cameras, computers, and torches.
The Samambaia has two 21-foot skiffs which serve as tender-boats, each one capable of swiftly transporting 8 divers to any dive site within an extended, safe radius of the mothership. The same crafts are used for ship-to-shore transfers and any other conceivable recreational or support related activities. All of their skiffs are powered by 40 HP twin-outboard motors.
Divers can not only enjoy spectacular day and night diving, but a range of activities during the surface intervals such as scenic rides through lagoons and coves, trekking, visits to secluded beaches, and whale watching. Last but not least, ALL of their nitrox is free, just like the beer! Additional surcharges apply to on-board massages, wine and spirits, rental gear, Harbor/Port Clearance fees, National Park fees, and exceptionally to fuel dependent on sudden fuel price increases.
7 night Dive Packages Start at $3010 per person
11 night Dive Packages Start at $4972 per person
Gallery: Samambaia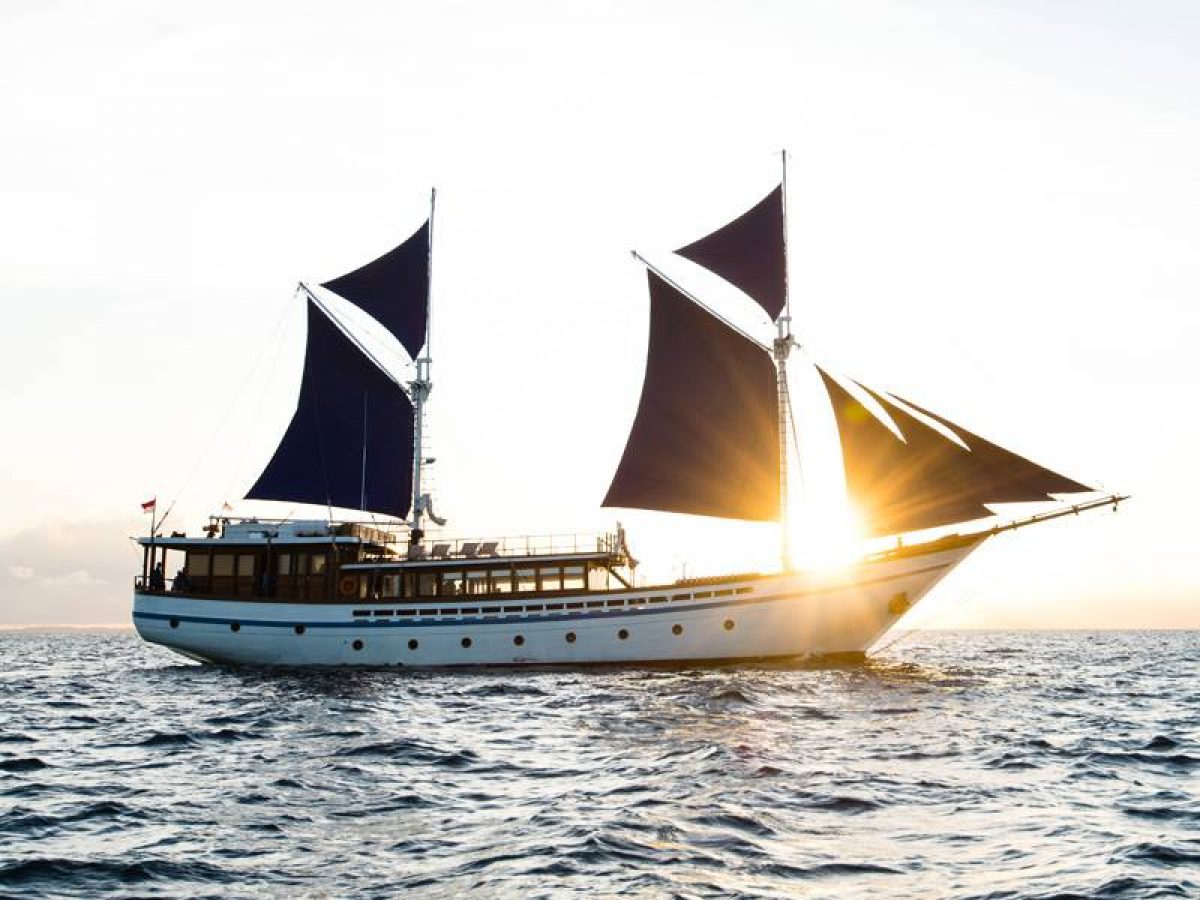 ---
SMY Ondina
Sailing aboard the S.M.Y. ONDINA you will have the opportunity to explore the most exotic and remote islands of Indonesia. You will be able to reach remote diving locations that just wouldn't be possible staying at a land based resort.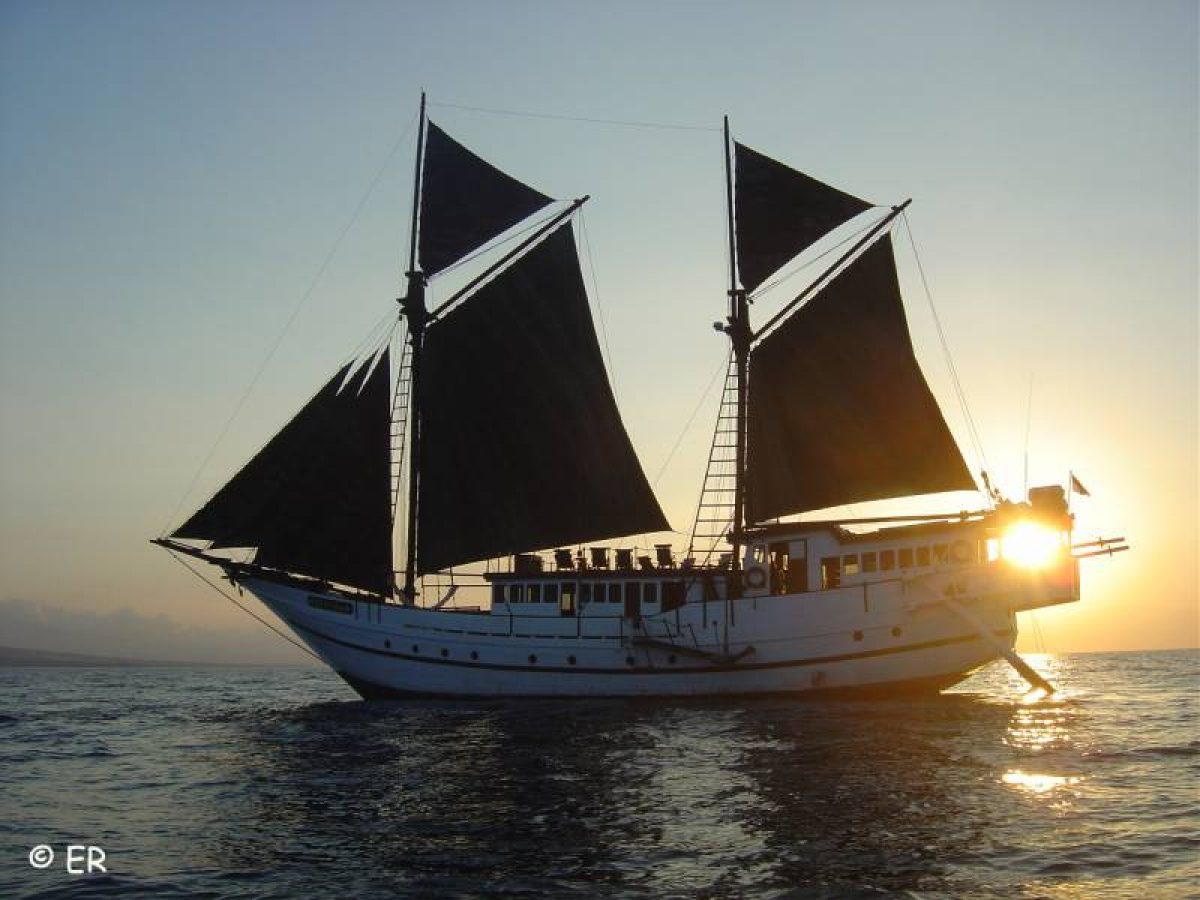 You will not embark one of those Luxury Cruises where everything is fixed to timing and planning, we offer you a more adventurous trip with lots of unexpected: Unexpected diving encounters, unexpected beautiful beaches, unexpected quiet and traditional villages, unexpected on-board service.
On board the SMY ONDINA you will have enough space to relax alone, or to share a nice chat sitting in the cool atmosphere of our a/c dinning room or enjoy a full moon evening from a comfortable hammock on our spacious sun deck before taking a rest in your a/c cabin. The ship holds a total of 16 guests. They have double and triple rooms.
In the unlikely event you don't feel like diving, swimming or snorkeling, we can arrange a walk through isolated forests, along desert beaches or in the undisturbed villages we will come across during our sail.
With many different routes around Rajah Ampat, Lembeh Strait, Komodo, Bali, you are sure to find the perfect fit for you!
Ondina Dive Packages Start at $2035 per person
Gallery: SMY Ondina