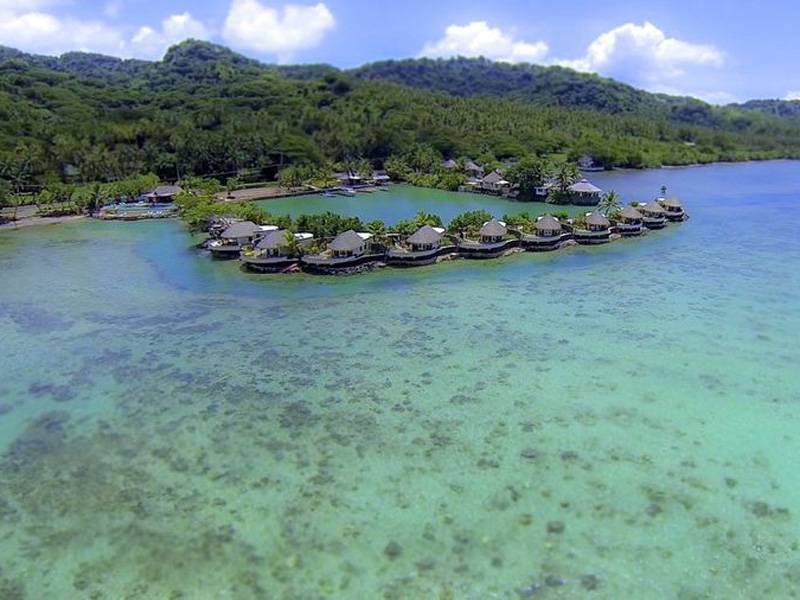 Fiji Dive Resorts
Best Dive Resorts in Fiji: Our Picks
Beqa Lagoon Resort
In the heart of the South Pacific, beneath Southern skies, lies the island paradise of Fiji. If you travel to recreate, enjoy fine food, if you are looking for romance, or simply want to relax in a tropical paradise, Beqa Lagoon Resort is what you're looking for.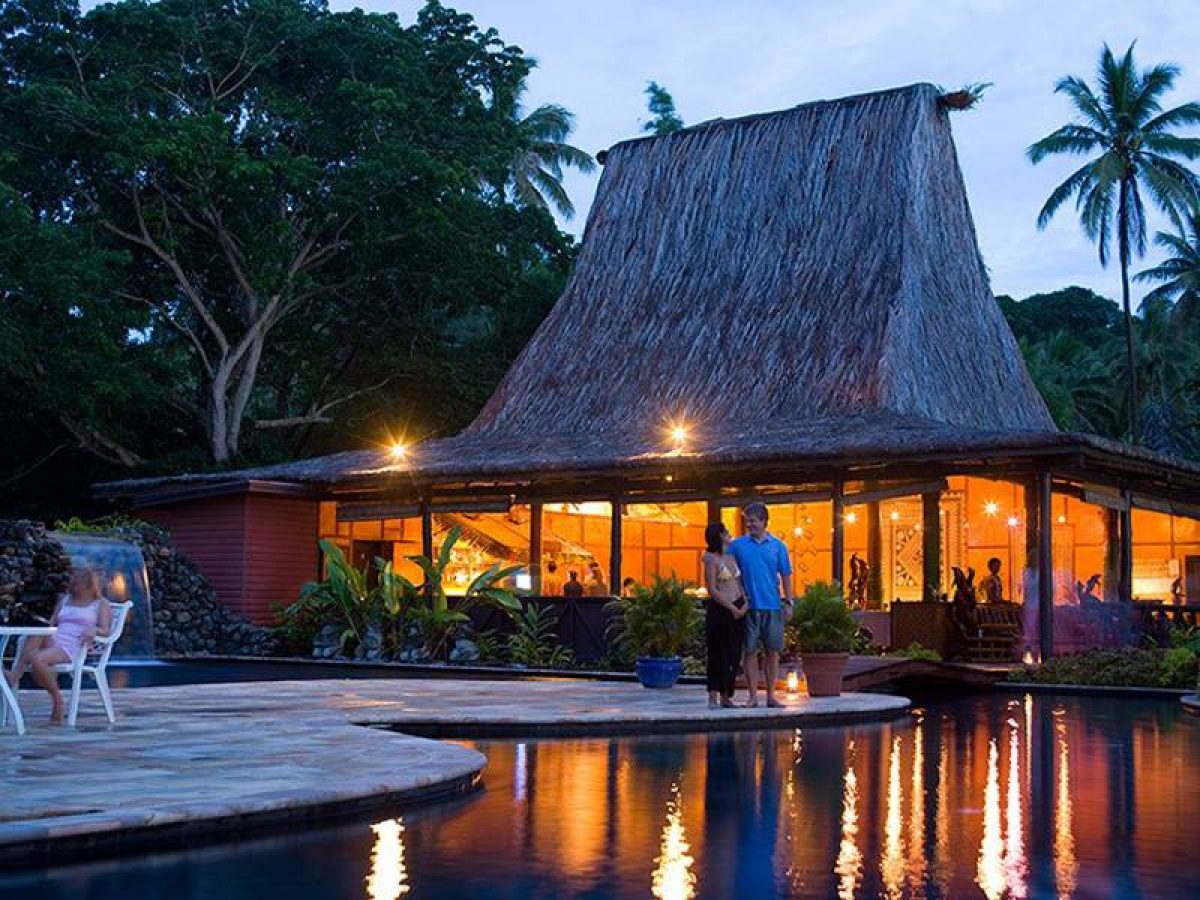 Their intimate resort features 25 deluxe, private air-conditioned villas(called bures) spread out beneath the lush tropical landscape. Each of these generously sized mini-suites are beautifully appointed with traditional island dècor.
12 stunning beachfront bures grace the shoreline, each with their own private courtyard, large sundeck and cool plunge pool. One of the beachfront bures is designated as our honeymoon bure featuring premium ocean view, upgraded contemporary interior and even a romantic outdoor shower.
6 charming bures surround our koi pond and 3 very private bures are tucked away in the garden.
For families or groups we suggest one of our 4 comfortable and spacious two-bedroom bures. Each of these are about 1,000 square feet with 2 private bedrooms and a large living and dining room area. Enjoy soothing ocean views from your private patio or balcony.
Surrounded by over 190 miles of spectacular coral, Beqa Lagoon is one of the world's largest barrier reefs. Dving these calm protected waters is like exploring another world. The water is clear and warm, visibility is typically over 100ft, currents are generally mild and the water temperature stays a fairly constant 80 degrees. Many of the most spectacular dive sights are only a few minutes from shore and if you stayed long enough, you could explore over 100 different sights.
Beqa Lagoon Dive Packages Start at $1799 per person
Gallery: Beqa Lagoon Resort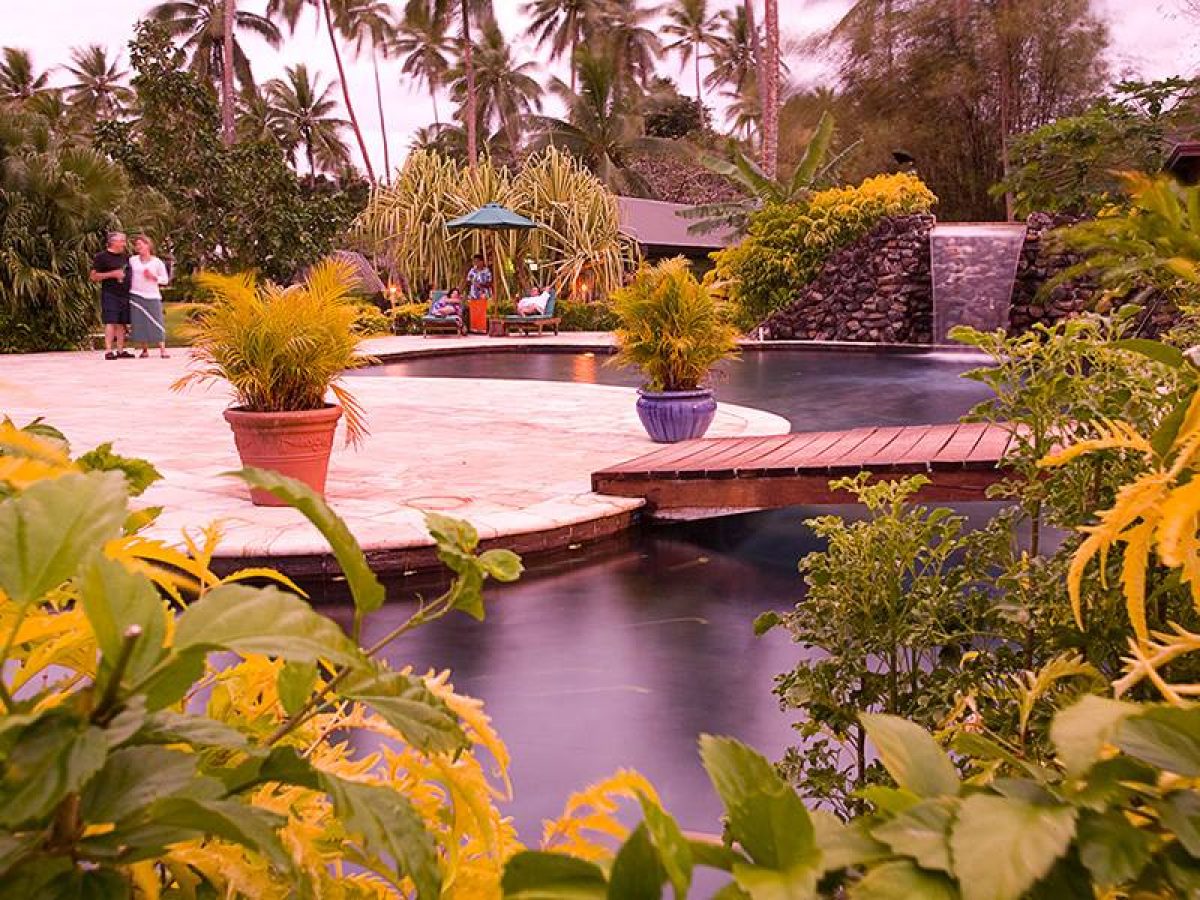 ---
Garden Island Resort
Award-winning Garden Island Resort is known for its excellent diving, professional and friendly dive operation, ocean front rooms with excellent views, wonderful staff and gorgeous lush tropical surroundings.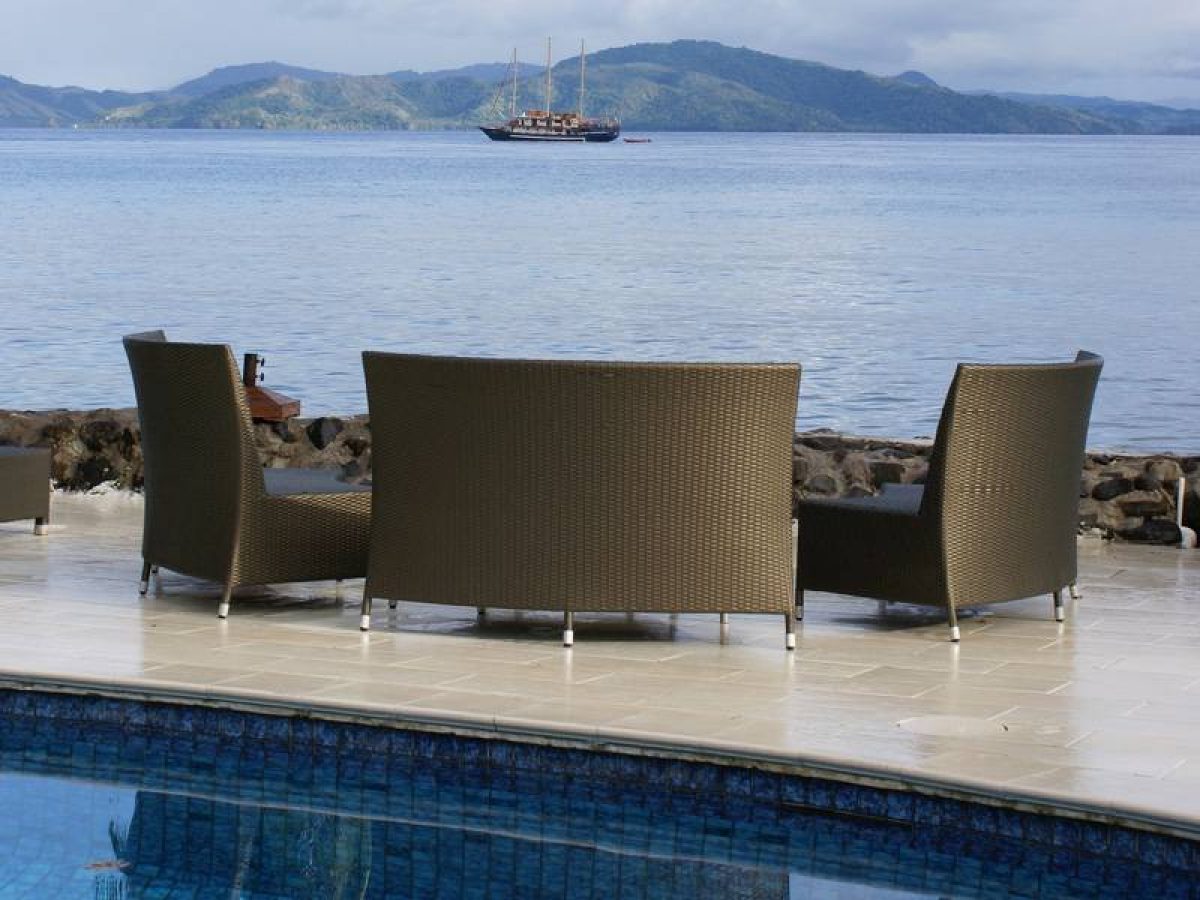 This property boasts 30 modern Ocean View guest-rooms; 15 first floor (upstairs) Ocean View rooms with four of these rooms inter-connecting, making it ideal for families. 15 larger Ocean View Garden guest-rooms each with private outdoor Spa. All are equipped with the essential amenities to ensure your utmost comfort and are located right on the water's edge giving you sunning views over the straits and to the nearby islands.
Rooms are spacious and comfortable, and feature either a private patio or balcony. Each room is air conditioned, and is equipped with a private ensuite bathroom, flat screen TV, internet access, mini-refrigerator, telephone and coffee/tea making facilities.
The Drodrolagi restaurant features fine local and international cuisine with fresh local seafood, produce, meats and poultry. The menu also offers at least one vegetarian main course at each meal. The restaurant overlooks the pool and the Somosomo Strait and is open for breakfast, lunch and dinner.
The Tagimoucia bar is open from midday until late and is well stocked offering a wide range of soft drinks, alcoholic beverages and cocktails. Nightly local acoustic entertainment is provided by the Garden Island Resort Band.
Garden Island Dive Packages Start at $1444 per person
Gallery: Garden Island Resort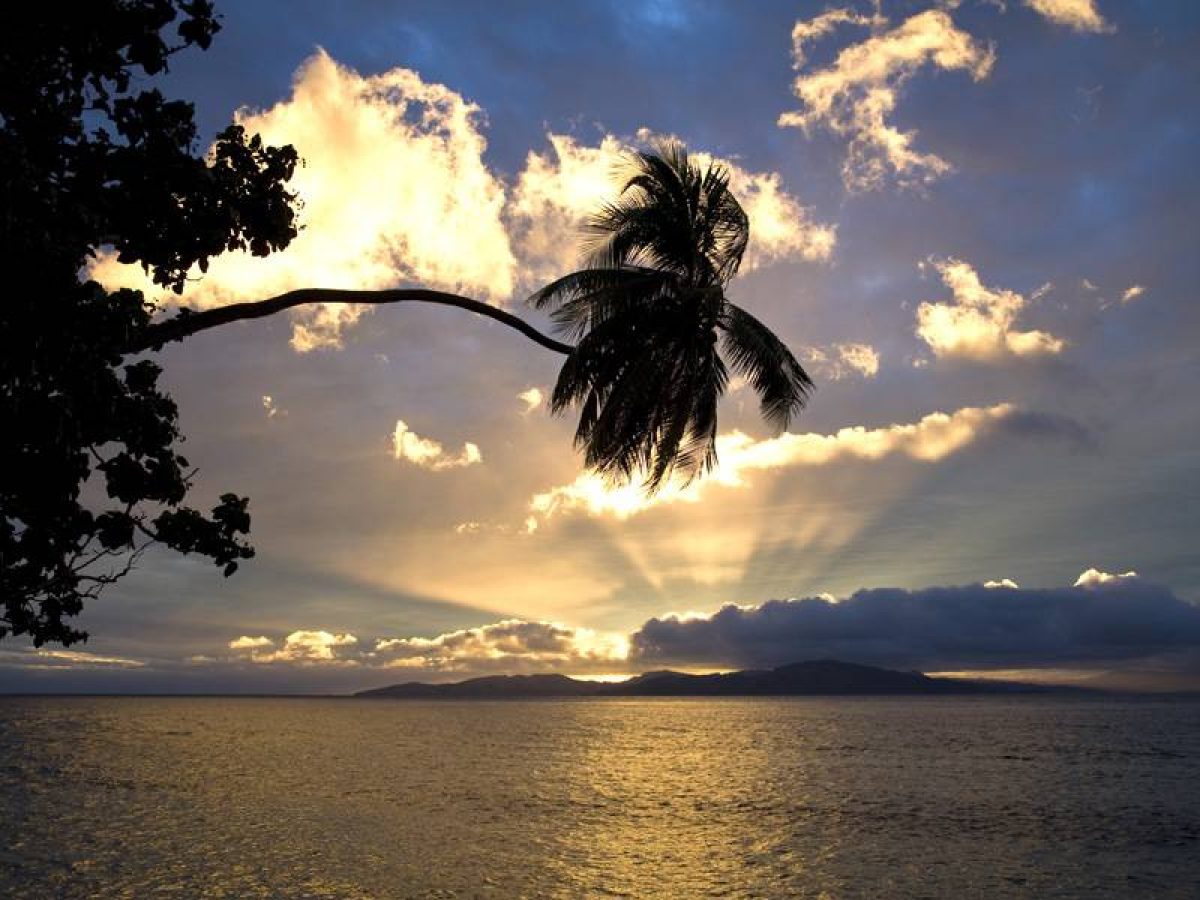 ---
Koro Sun Resort
The northern, unspoiled location on the island of Vanua Levu offers a luxury resort setting, the genuine warmth and friendliness of the Fijian people, a perfect slice of fine Fijian dining and lush tropical surroundings with warm, crystal clear waters.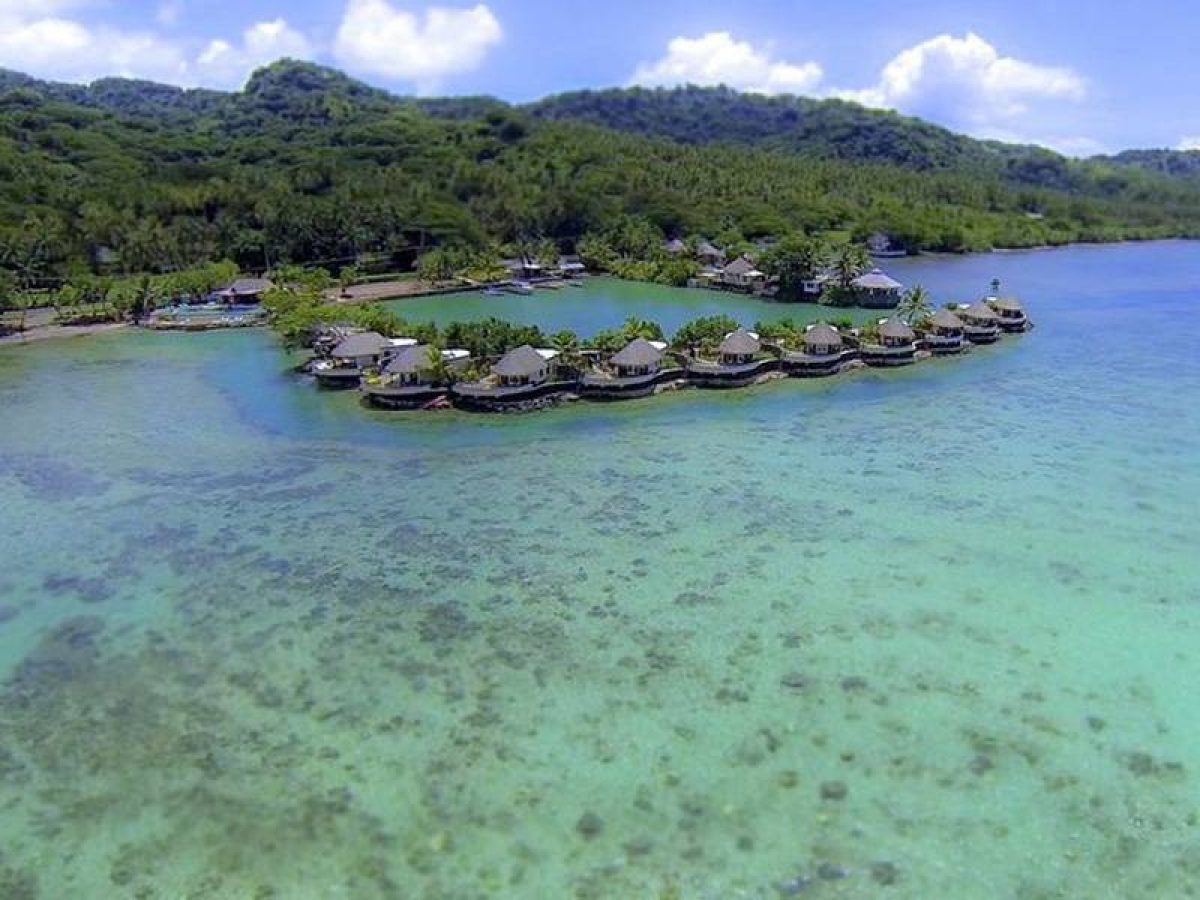 Revitalize, refresh, relax and renew. A native Fijian experience awaits you at the Koro Sun Resort. Born of a nature lover's dream, the resort springs forth from a magnificent coconut plantation encircled by lavish rainforests that give way to soft sands. The 150 acres of Fiji hideaway resort property offer guests a welcome respite from the busy world and the opportunity to enjoy an authentic Fiji adventure.
Koro Sun Resort & Rainforest Spa offers a native Fijian experience, the best Fiji adventures and the finest accommodations and amenities available in the world of Fiji island vacations. Our 24 enchanting bures offer private and exclusive accommodations with air-conditioning, in addition to breathtaking views of the Pacific Ocean and the majestic Fiji island reefs. Your stay in a charming bure is highlighted with the amenities of our all-inclusive resort from the traditionally prepared and presented gourmet feasts to the meticulous attention you receive from the dedicated staff, you'll experience true Fijian culture at the Koro Sun Resort. All non-motorized water sport activities are included, making the world outside yours to discover. Alcoholic beverages are not included in our rate, but complimentary tea and coffee are available at any time.
Their experienced Koro Sun Resort staff will help you start your Fiji adventures off on the right foot. You'll love exploring the many acres of beautiful rainforests in search of wildlife, gorgeous natural waterfalls and lush native plants. The waters surrounding our Fiji island resort are perfect for snorkeling, Fiji sea kayaking and even enjoying a Fiji diving adventure. Golfers will fall in love with the 9-hole course that winds through the Koro Sun Resort grounds, where even chasing a little white ball can feel like paradise. For such a long list of Koro Sun adventures, a stay will allow you to fully explore your options.
Koro Sun Dive Packages Start at $1815 per person
Gallery: Koro Sun Resort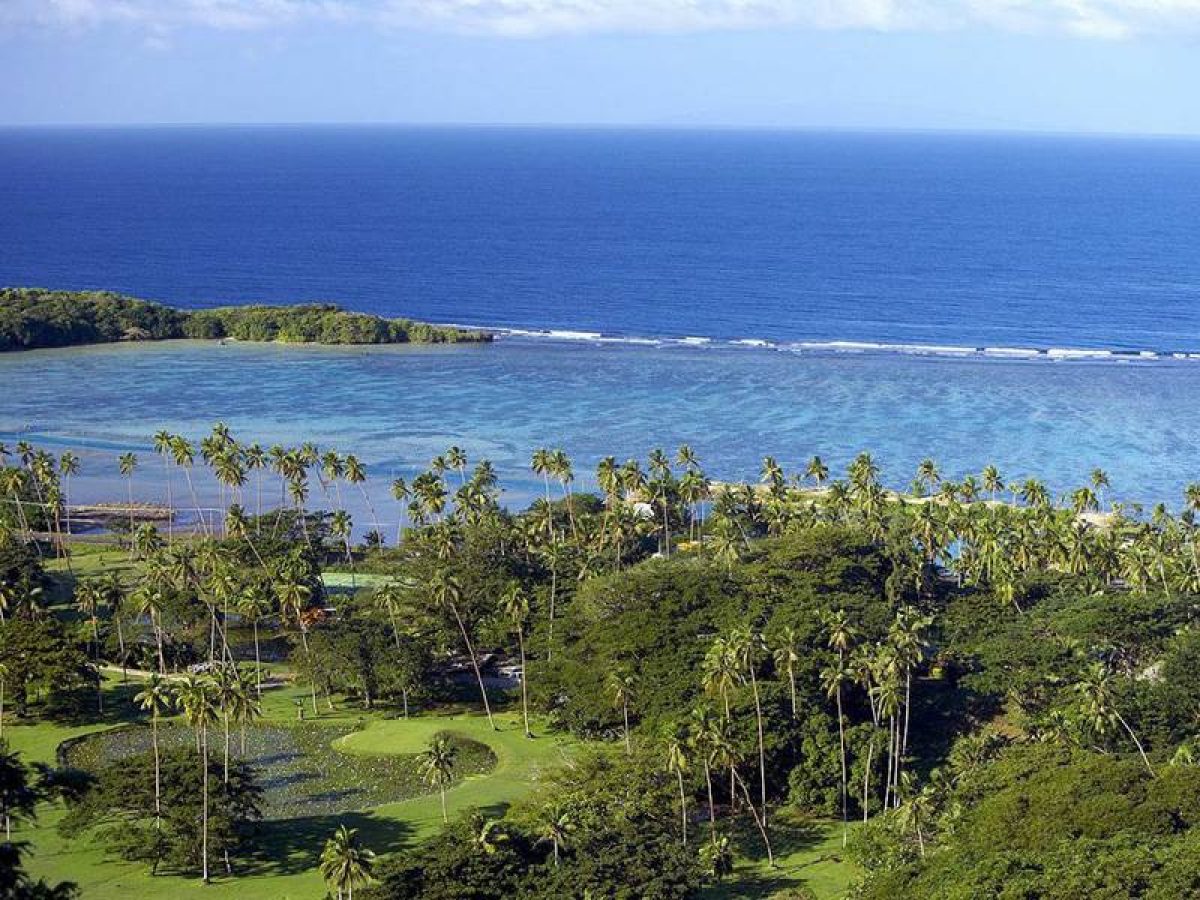 ---
Lalati Resort & Spa
Toss out your troubles, kick off your shoes, and prepare to be swept away. If this pristine location doesn't take your breath away, the warm and welcoming staff and sumptuous cuisine surely will. Lalati is a casual Fiji beach resort. So wrap yourself in a sulu, sip a fresh tropical fruit smoothie, and grab your personal piece of paradise. You'll find Lalati Resort & Spa is more than just a resort. It's imagination come to life. A place where inspiration meets exultation. And a totally authentic, fresh and natural Fiji experience.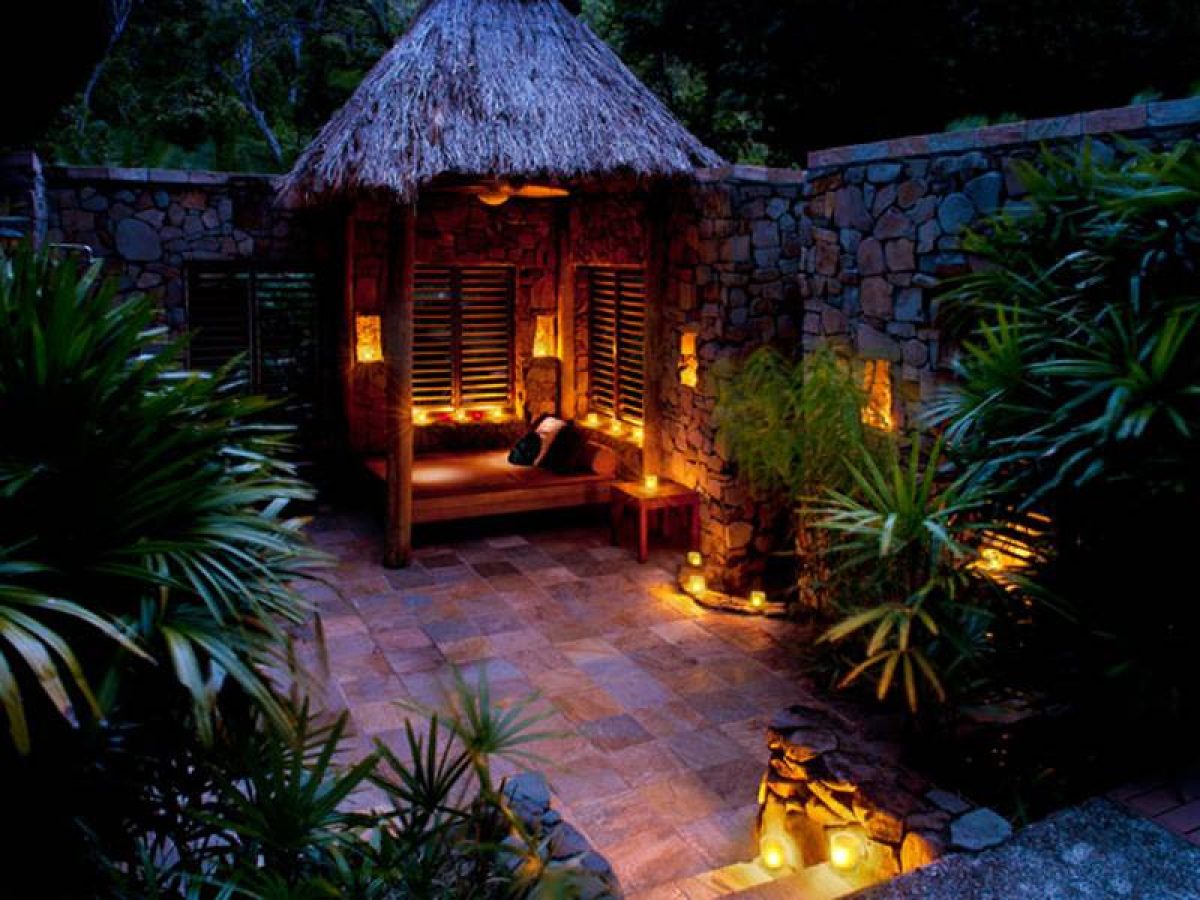 Along with being one of the best dive destinations in the world, Lalati is famous for their romantic, luxurious villas and cottages. Honeymoon suites, beachfront luxury suites, and garden view suites, are available with a long list of amenities.
Meals are served in our lofty, chiefly-style open air bure. Join other diners at a group table, and share stories of adventures experienced and sights seen. Or dine at a private, candlelit table for two, for a truly personal and romantic affair. You'll be treated to all encompassing views of the bay, sea and outlying islands for a picturesque, pure Fiji culinary event.
Beqa Lagoon diving is captivating. Surrounded by one of the world's largest barrier reefs, it pops up on lists all over – including the top 10 dive destinations in the world, and one of the "1,000 Places to See Before You Die." Surrounded by over 190 miles of hard and soft coral reefs, this amazing living aquarium delights both novice and seasoned diver alike.
Visibility lies between 60-100 feet, with warm tropical water temperatures a consistent 79ºF/26ºC year round. Your divemasters grew up in and around the waters of Beqa Lagoon, and delight in sharing their underwater world with you. Your expert dive guides typical Fijian warmth and delightful humor, combined with Lalati's intimate size, epitomizes the personalized experience you get on each and every dive trip.
Lalati Dive Packages Start at $1775 per person
Gallery: Lalati Resort & Spa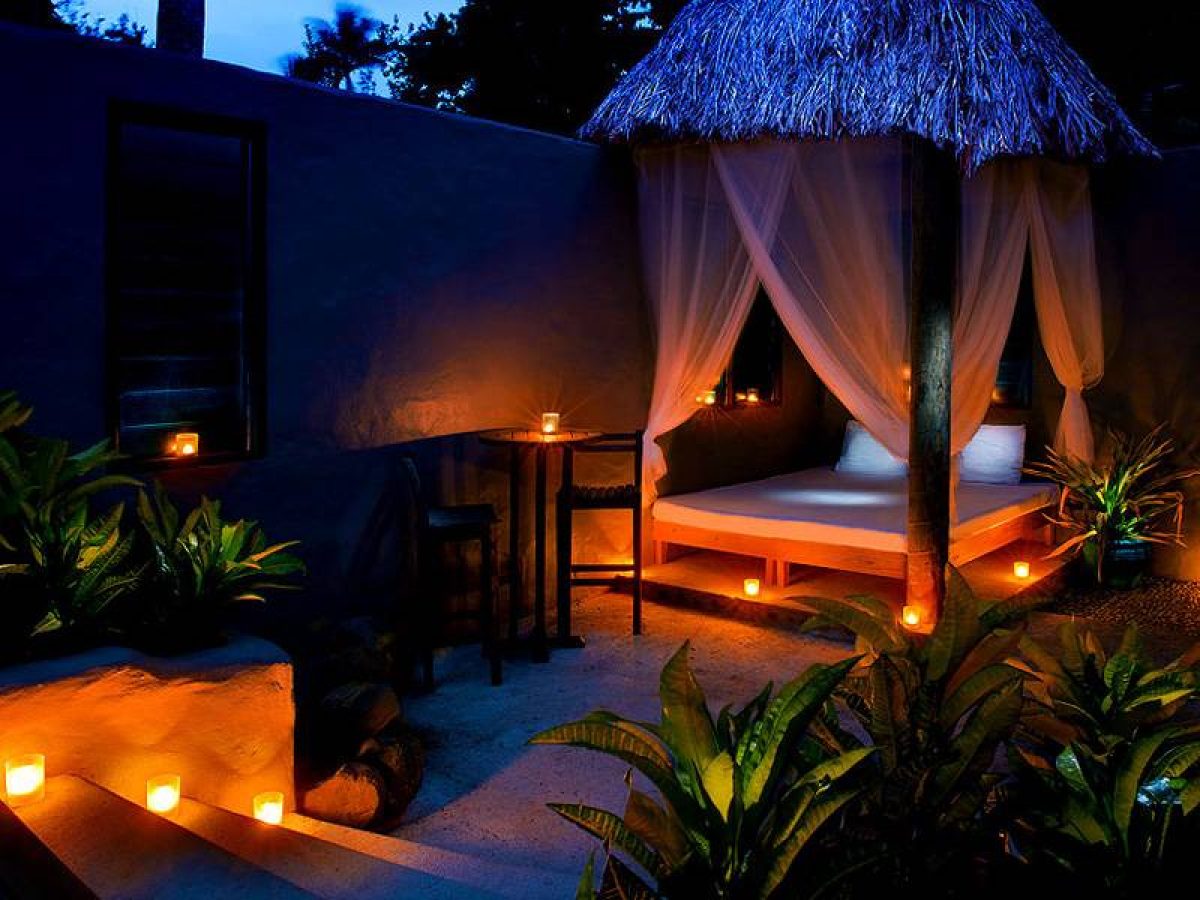 ---
Matangi Private Island Resort
Unsurpassed beauty! Matangi boasts virgin tropical rainforest and white sand beaches, surrounded by crystal clear waters and fringing coral reefs.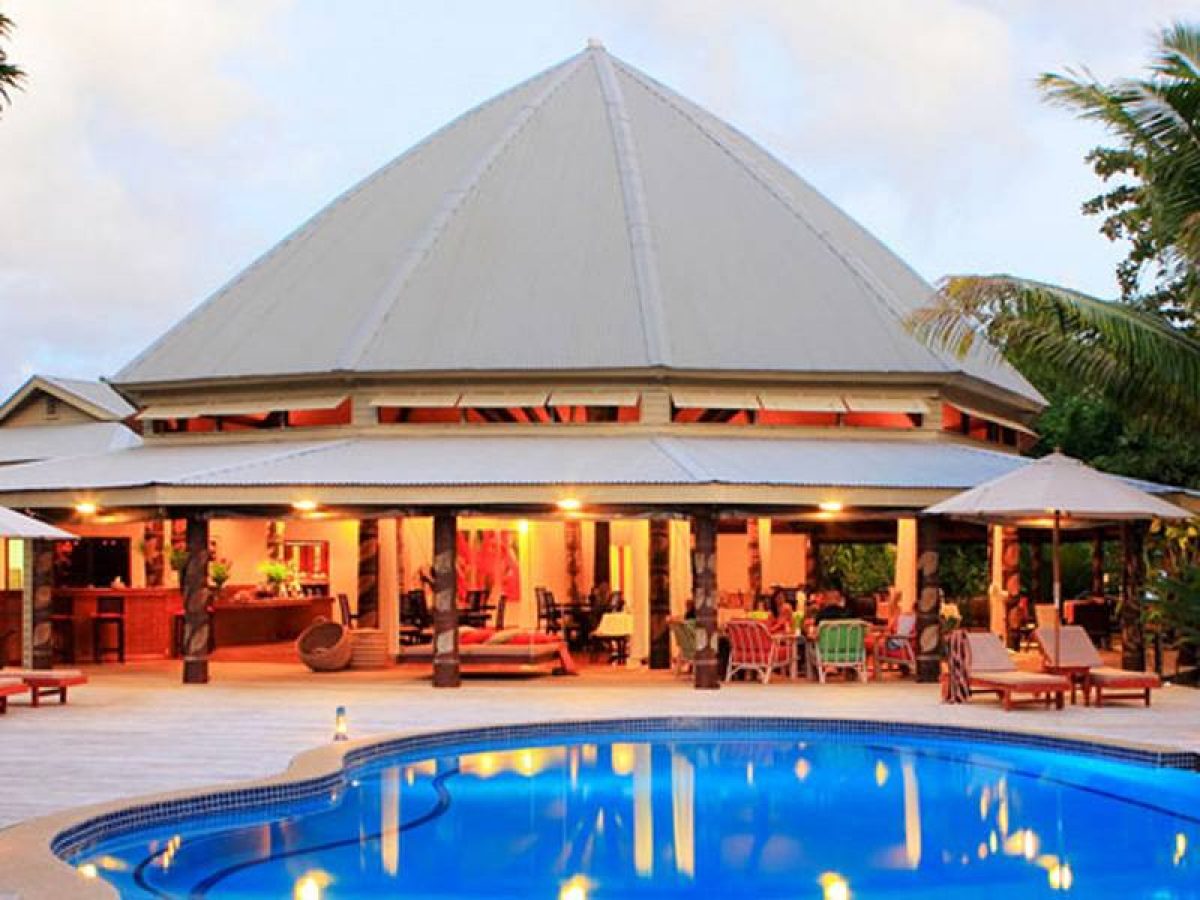 Authentic buses offer a touch of island flair with all modern conveniences. The extensive use of lava rock, bamboo, and local timbers provide a harmonious balance between nature and contemporary elegance.
Matangi is the most centrally located of all Fiji's northern island resorts to the exceptional scuba diving Fiji sites that Fiji is famous for. Within a 20-mile radius of Matangi Island are countless dive sites including the world famous Great White Wall and Noel's Wall. To ensure the best diving experience, dive sites are chosen according to daily tidal movements and prevailing weather conditions.
Scuba diving at Matangi is both diverse and exciting. Numerous off-shore reefs, spectacular coral formations including multitudes of hard and soft corals and plummeting walls provide a unique habitat for a rich and vibrant marine life.
At Matangi Private Island Resort, you are treated to the real essence of Fiji. You'll uncover the tranquility of an intimate hideaway on our exclusive privately owned 240-acre unique horseshoe-shaped Fiji island paradise; Matangi Island is the perfect Fiji island resort for your holiday, wedding or honeymoon.
Matangi Island Dive Packages Start at $2312 per person
Gallery: Matangi Private Island Resort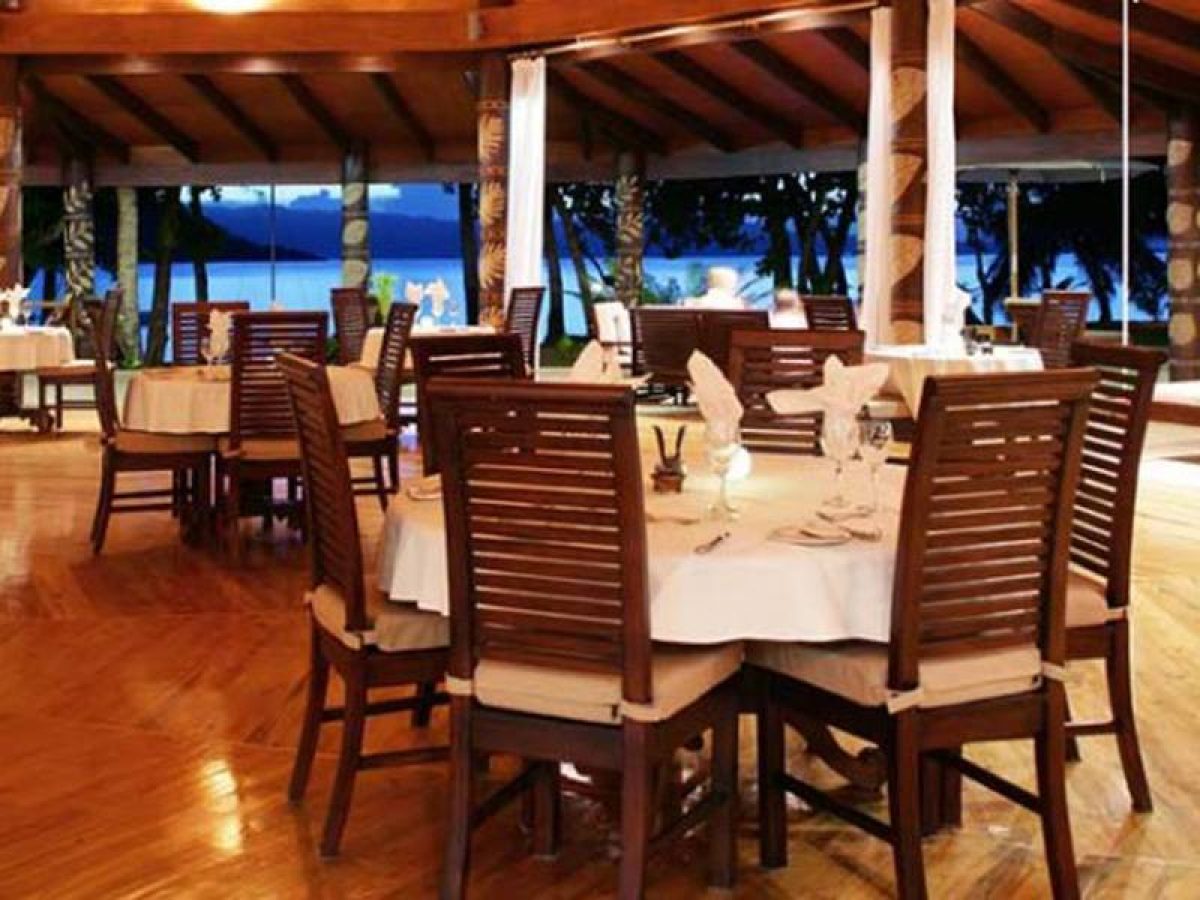 ---
Matava – Fiji… Untouched
Images of this stunning adventure resort ought to accompany the dictionary entry of the word "hideaway." Just imagine a dive vacation on an isolated, beautiful tropical island where you're just a short boat ride away from one of the world's most marvelous reefs.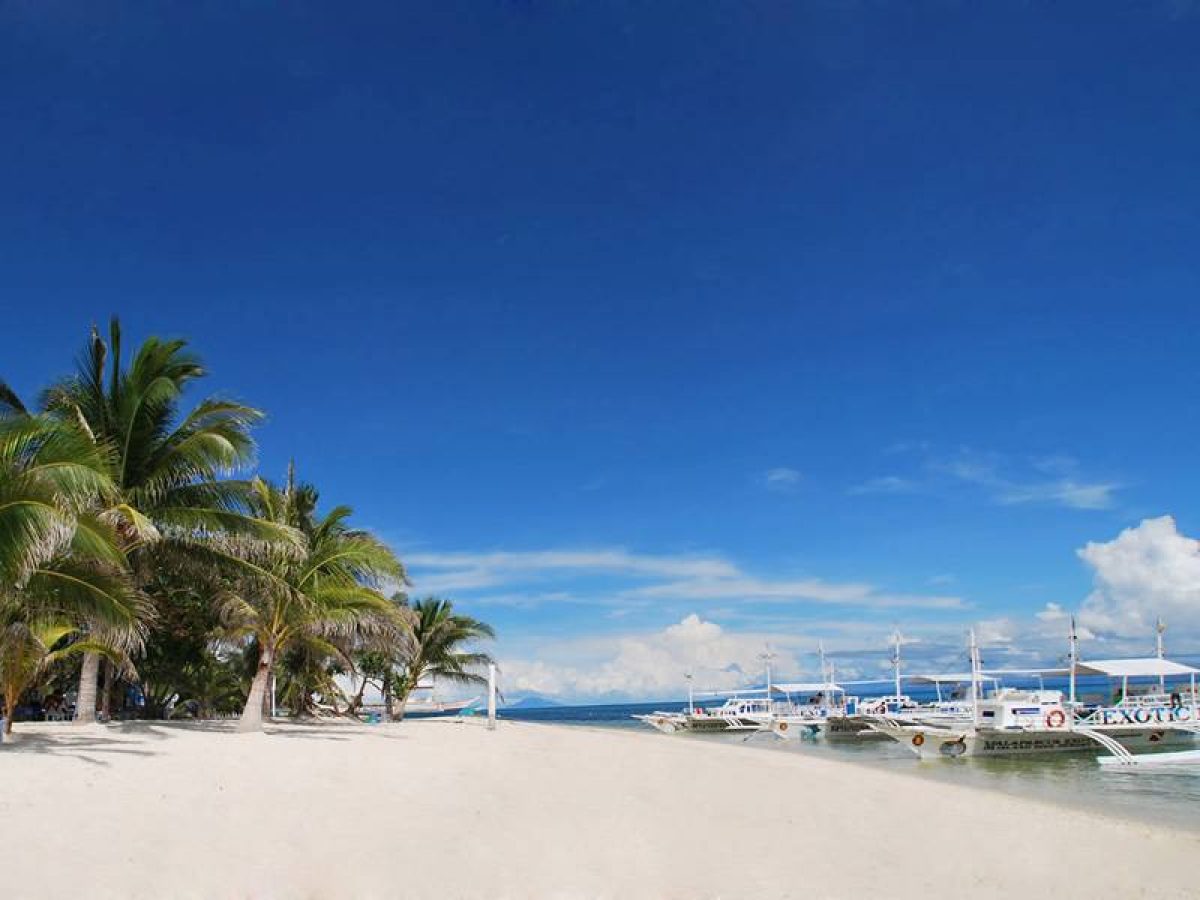 You spend your nights in a "bure," the traditional, eye-catching traditional Fijian thatched roof home, in the heart of a rainforest, with views of the sparkling blue ocean.
Welcome to Matava, Fiji's leading adventures resort, on Kadavu — one of the country's most spectacular islands. Matava is a PADI-certified dive resort, bordering the Great Astrolabe Reef, where unforgettable dive adventures await.
When you want to take a break from going deep, play shallow by snorkeling, kayaking, surfing or fishing. You can also choose to be a landlubber by hiking, bird-watching, visiting traditional Fijian villages or simply relaxing in your new home away from home.
And the best part? Your style won't be cramped in any way. Matava welcomes only 22 guests at any given time, so you can enjoy true privacy in your ideal dive hideaway.
Gallery: Matava – Fiji… Untouched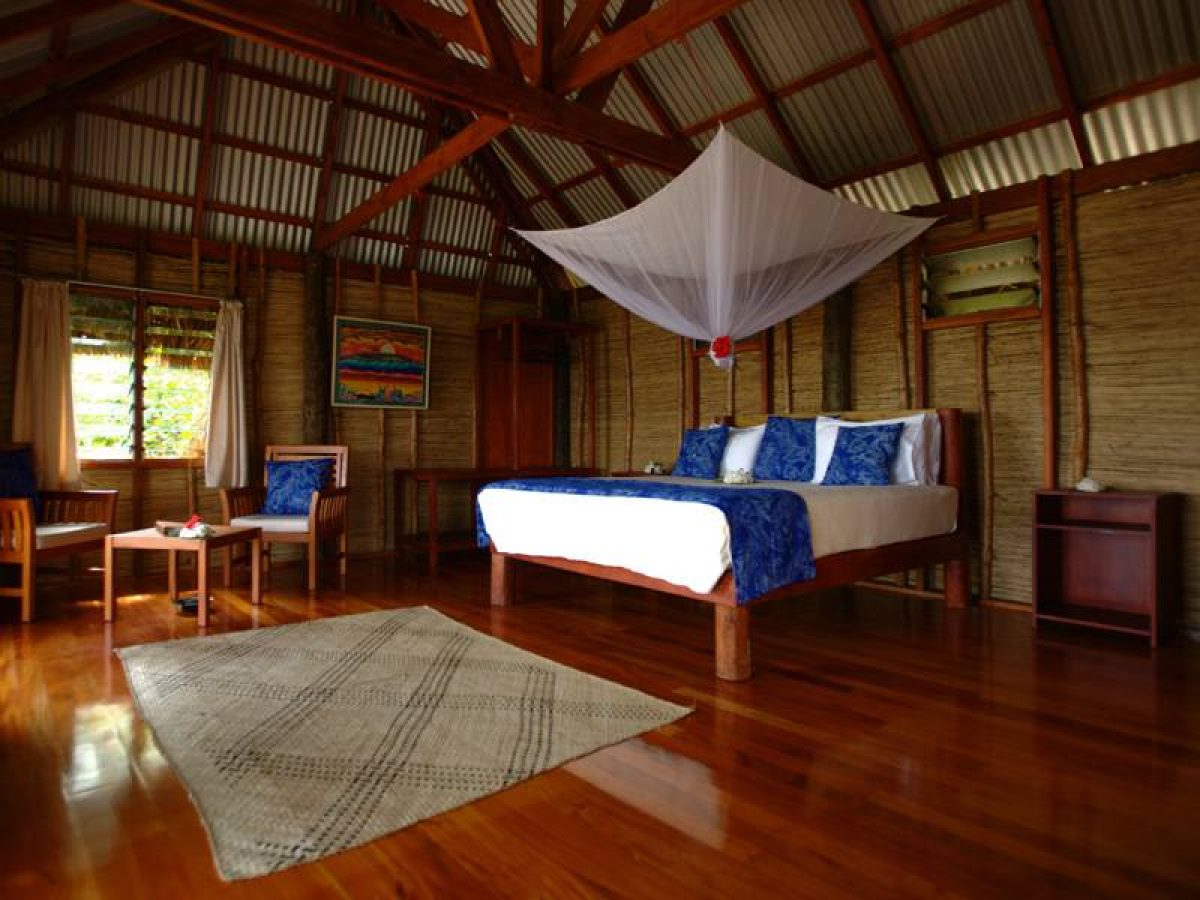 ---
Paradise Taveuni Resort
At this luxurious, recently rebuilt resort on Taveuni, the third-largest island in the Fijian chain, guests get a variety of "on-demand" adventures. Choose from diving at the full-service dive shop; saddling up for horseback riding; hiking in the nearby rainforest; jet skiing on the crystal clear ocean; or taking a guided trek to refreshing waterfalls.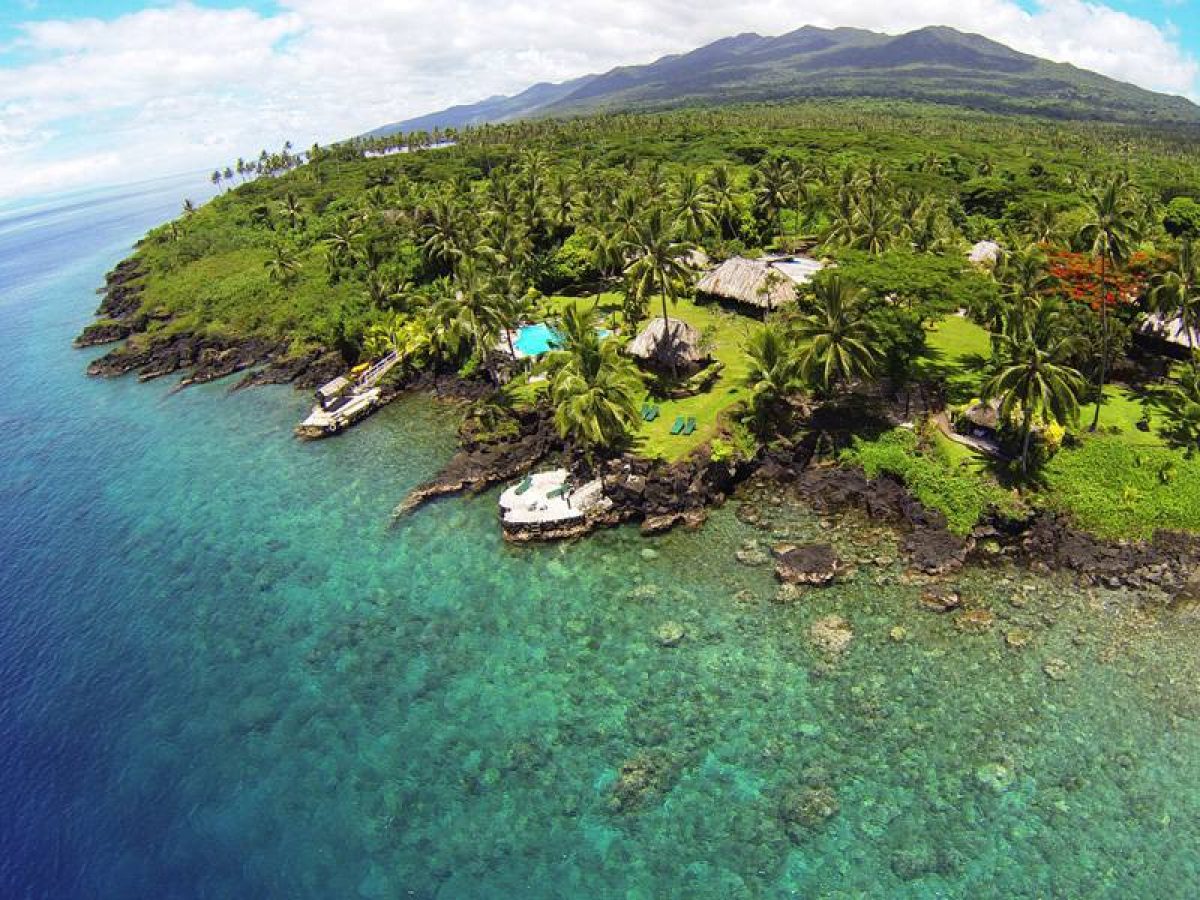 Paradise Taveuni, known for more than 20 years as Susie's Plantation Resort, now boasts 10 new traditional thatched-roof Fijian "bures," including a "wedding" one, right on the shore.
Seclusion is the catch word here. The resort is located behind an extinct volcano, on an oceanfront coconut plantation, a 25-mile, one-hour ride from Matei airport.
Terri and Allan Gortan have recently taken back the Dive Operation and now operate their on-site Dive Shop – Pro Dive Taveuni. Allan and his team of expatriate PADI Dive Instructors and local Fijian Dive Masters, guides and crew take up to 34 divers on our 2 new custom built dive boats – Paradise Princess (12 divers and crew) and Lady Paradise (22 divers and crew). They are excited to be able to take ownership of the dive operation in Paradise so they can now offer their Guests more a personalized and tailor-made diving experience. Their Guests enjoy the flexibility of the Pro-Dive Team's versatility. They dive on request and if their Guests want to dive Rainbow Reef every day, they dive Rainbow Reef every day. They spend time to listen to their Guests requests and comments and if the conditions are right, they will dive when and where they want to dive every day.
Paradise now has 17 accommodation units – 10 Bures and 7 new air conditioned Vales (rooms) and can accommodate dive groups up to 34 divers in a double/twin share capacity. Paradise is perfect for your boutique dive groups and individual divers wanting to experience the best diving in Fiji coupled with a touch of luxury, pampering and our friendly Fiji service.
But if there are any creature comforts you desire during your stay that aren't already available at the resort, let the Paradise Taveuni staff know ahead of time and they can arrange to have them for you when you arrive. Where else can you get the "star" treatment, here in paradise — Paradise Taveuni.
Paradise Taveuni Dive Packages Start at $2504 per person
Gallery: Paradise Taveuni Resort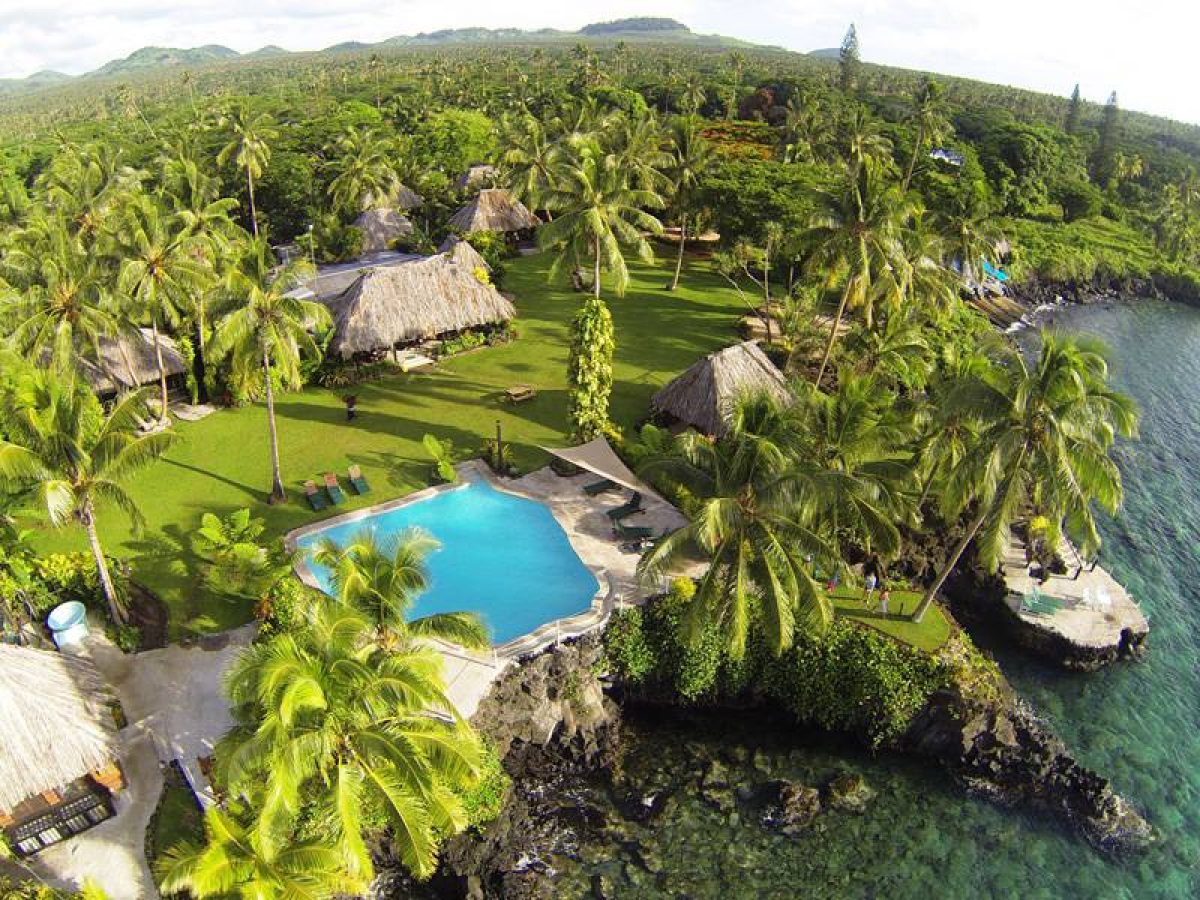 Qamea Resort & Spa
The jewel of Fiji's northern islands, Qamea is a breathtakingly beautiful island of dramatic lush, green, tropical jungle clad hills and white sand beaches. From the moment you step onto the island, you will feel as if you have entered a Fijian village set in a South Pacific tropical paradise.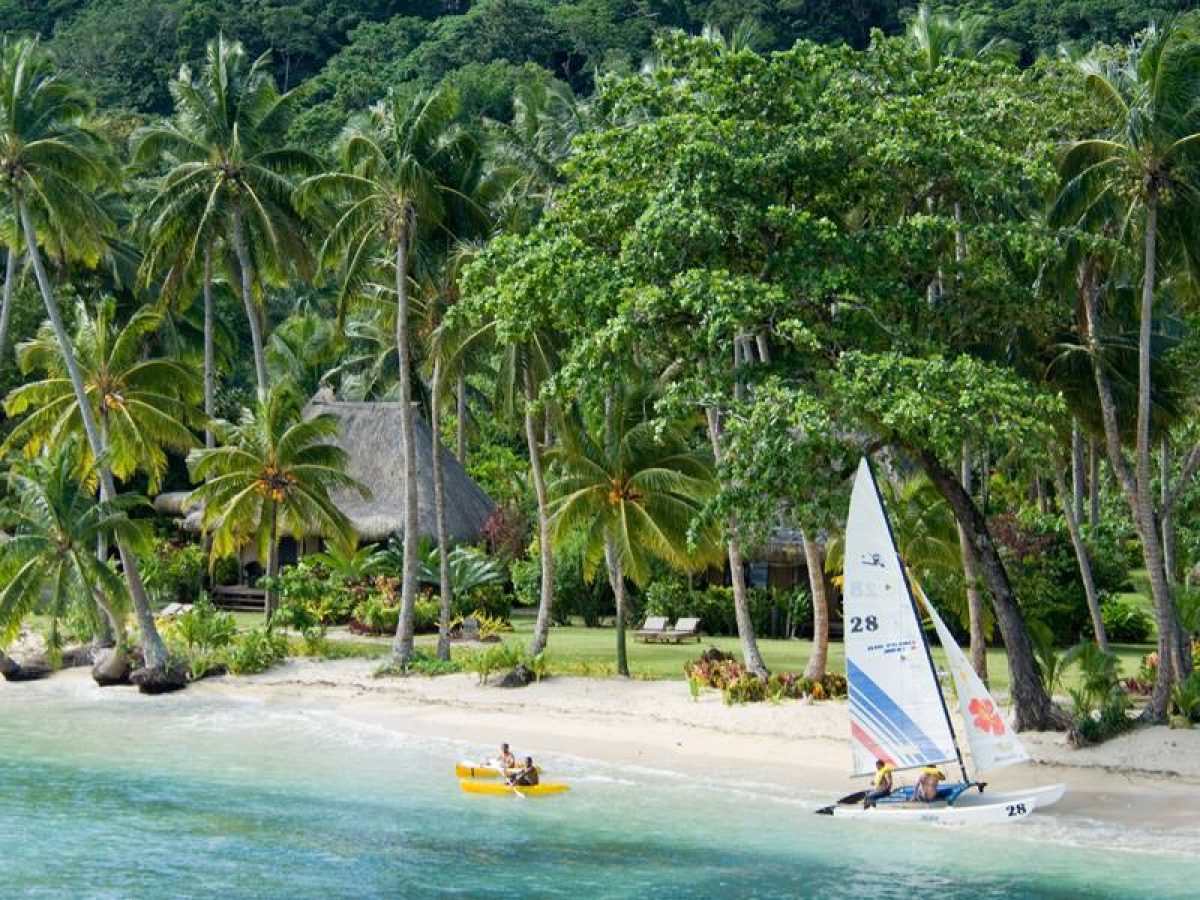 At Qamea they accommodate 34 guests (15 years of age and older) in their 17 spacious beachfront bures (Fijian bungalows) and exclusive villas with private swimming pools. They are the only resort on Qamea Island, set on 100 lush tropical acres of landscaped gardens, bushland, and jagged volcanic South Pacific mountains that soar behind the property.
Their ongoing commitment to providing affordable luxury accommodation is just one of the reasons why they received numerous awards such as one of the "Top Ten Hideaway Resorts in the World" by the Robb Report, and more recently the only resort in the South Pacific to be nominated for Conde Nast's highest award for 2008, "Most Excellent Resort in the Atlantic, Caribbean and Pacific Islands."
Diving with Qamea is effortless, all you need to do is show up and jump on one of our dive boats. Almost all of our diving guests are amazed at how close the majority of our dive sites are to the resort, 23 out of 26 within eight minutes of your bure. This means that you come back to the resort for a very comfortable surface interval, and you can have a full day of diving before lunch.
Both the owners of Qamea are avid divers and can be found underwater most days when they are on the resort. They continue to invest heavily in their dive operation, and have recently added a 9 meter (30 ft) purpose built dive boat to compliment our smaller dive boats, all new dive computers, new BCDs, and Nitrox.
Qamea Resort Dive Packages Start at $2494 per person
Gallery: Qamea Resort & Spa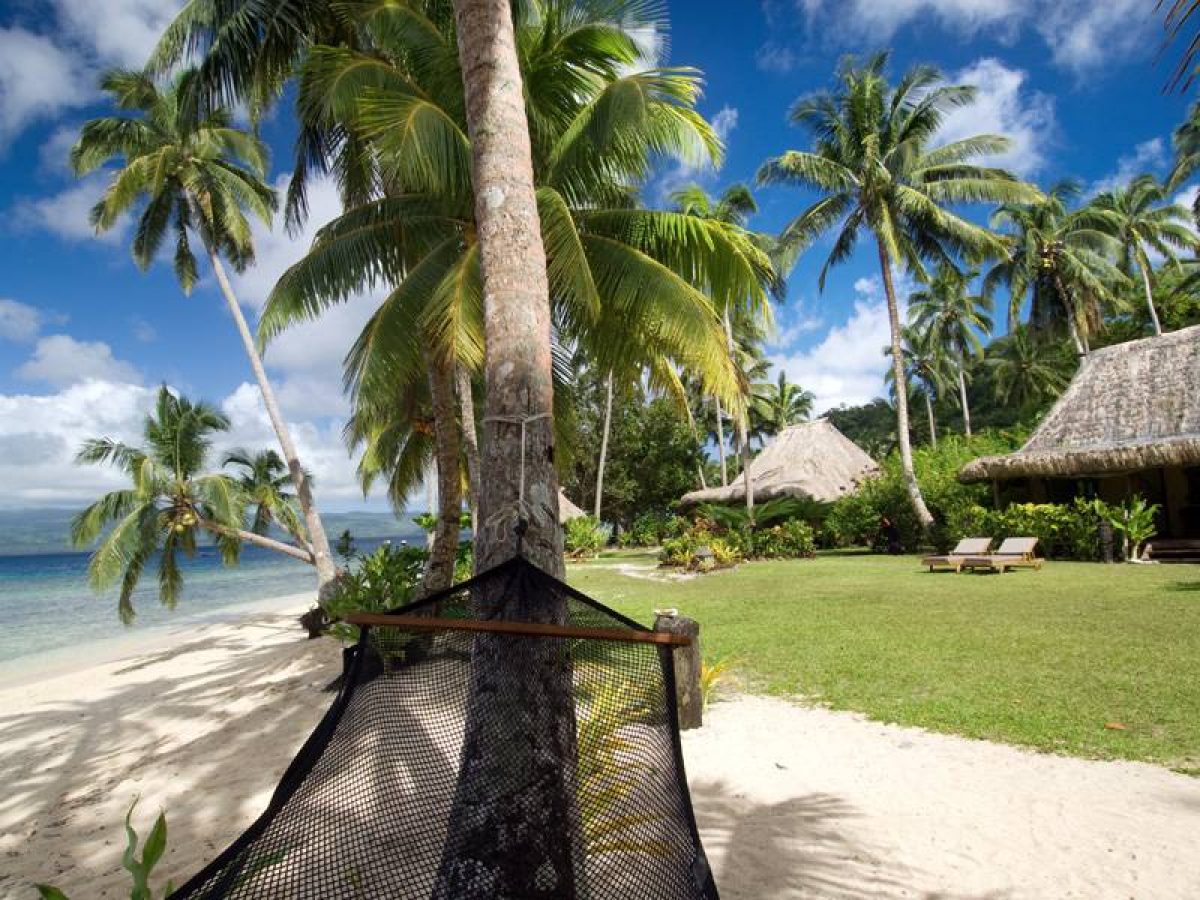 Taveuni Dive Resort
Designed for divers. Designed by divers – Taveuni Dive Resort is the best Resort-to-Reef experience on Taveuni. Their sustainable resort is focused on providing comfort, service, and being the best gateway to the authentic Taveuni adventure.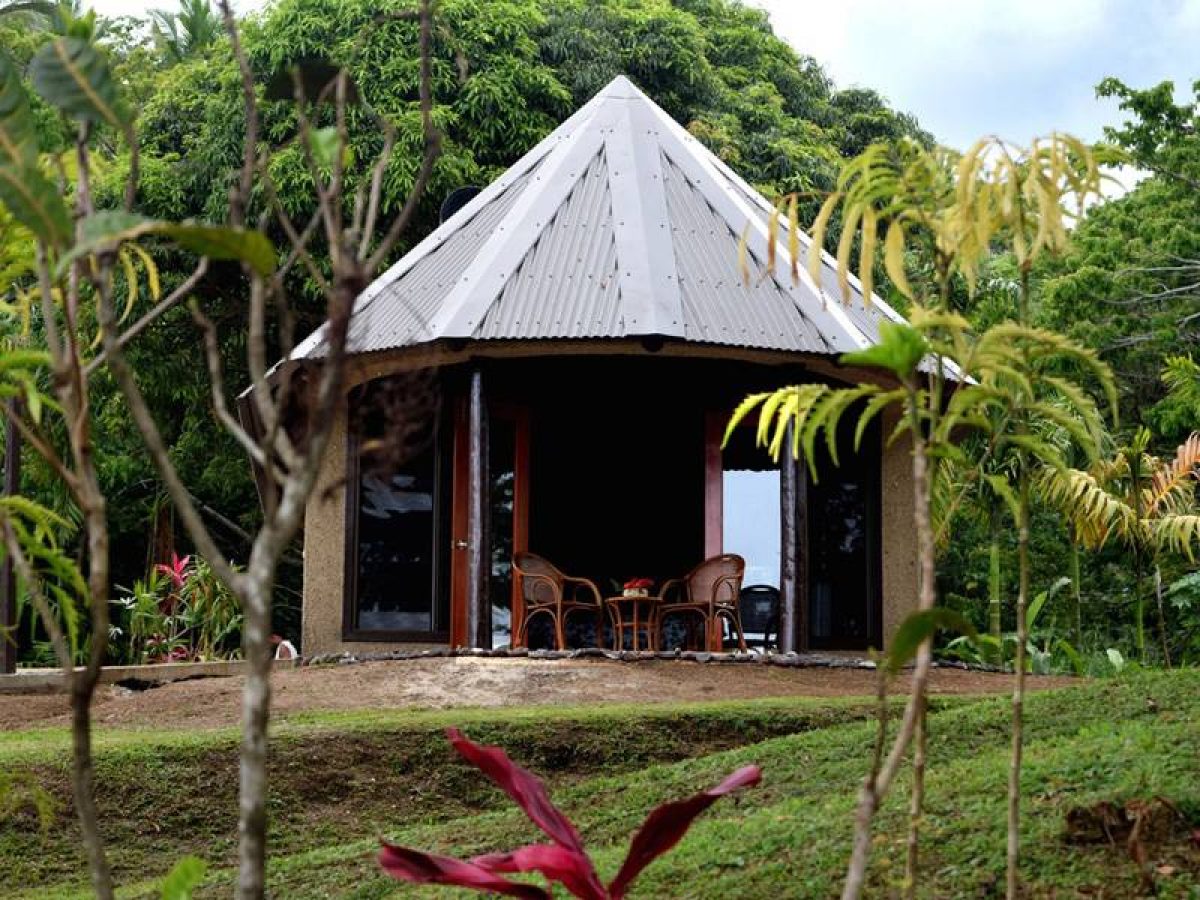 The first sustainable resort on Taveuni, Taveuni Dive Resort provides guest accommodations, dining, scuba diving, and tourism activities to chartered dive groups, small groups of scuba divers, and other tourists attracted to the locale. The resort operates a restaurant & bar, as well as a small retail market for residents of Taveuni Estates and tourists alike.
Located adjacent to the marina where Taveuni Dive's fleet is moored, reduces the guests room-to-reef commute time from approximately 35 minutes to 15 minutes. This is the shortest commute to Rainbow Reef on Taveuni. Accommodations designed to meet the needs of the 16-diver group, with overflow capacity to 24 divers by going from double to triple occupancy.
The Salty Fox, a destination restaurant & bar. This includes social areas for divers to share and discuss their dive experiences. Other social areas are located to enhance the guest interaction, while preserving personal space with the eight privately-sited bures. The Taveuni Dive Resort is the only accommodation on the island located adjacent to the island's nine-hole golf course and tennis courts (at Soqulu Country Club). A pool is available at the resort for practicing confined water skills or just relaxing. Water activities and shore excursions for guests not participating in the day's diving.
Taveuni Dive Resort Dive Packages Start at $1980 per person
Gallery: Taveuni Dive Resort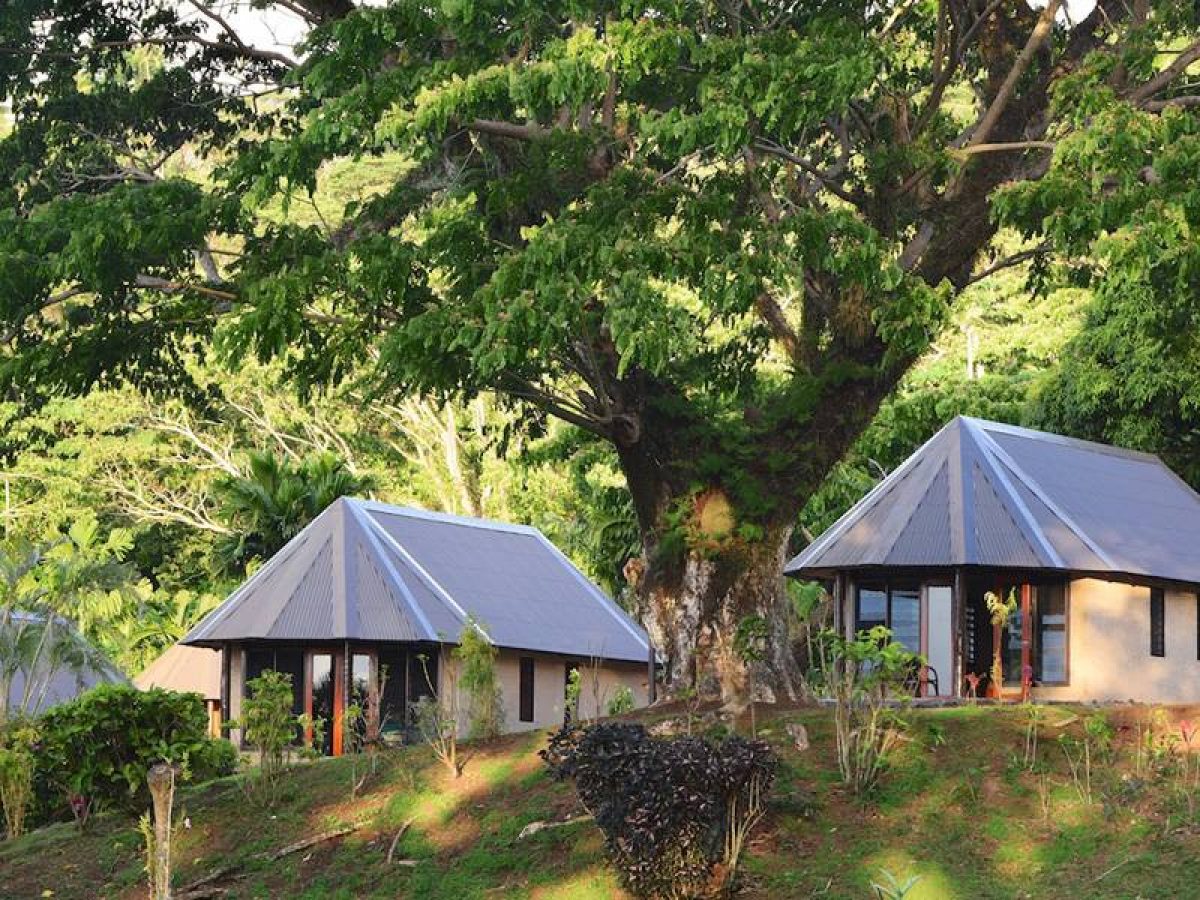 Volivoli Beach Resort
Volivoli Beach is located on the northernmost tip of Viti Levu, Fiji's main island. Just 10 minutes away from the town of Rakiraki, or two hours scenic drive from Nadi International Airport and the same from Suva city.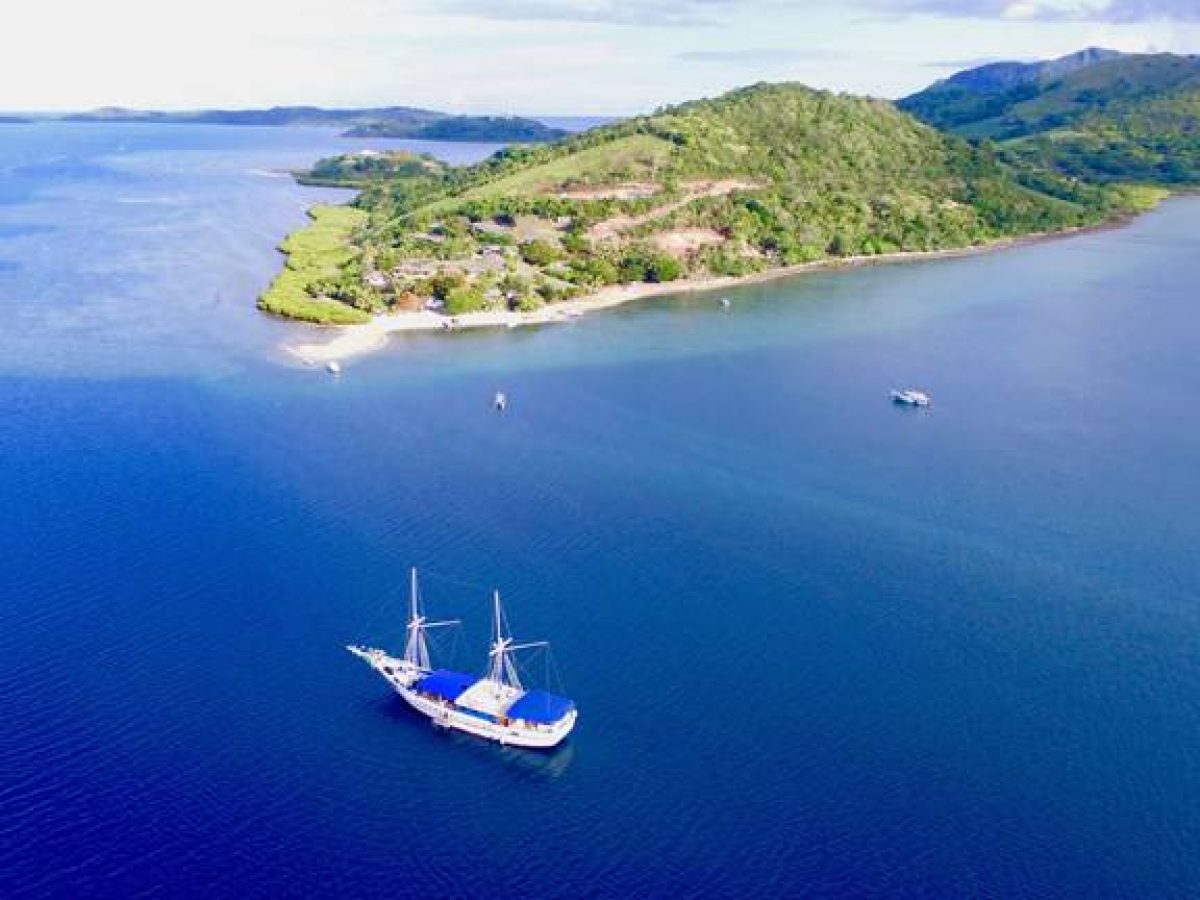 Set on a head land amongst lush gardens and a marine playground on your doorstep, the resort offers you a range of uninterrupted ocean view accommodation options to best suit your needs. Stylish and sleek Premium Ocean View Bures represent the resorts most impressive accommodation.
Nuku Bar and restaurant is located in the main complex and over looks the swimming pool and nearby Bligh Waters. Just above the waters edge you will find Daulomani Spa, captivating views and soothing sounds of the South Pacific are all you need to unwind and experience total tranquility.
Volivoli is home to Ra Divers, a fully certified PADI and SSI Dive Resort. Over 18 years experience diving the Bligh Wates has allowed the crew to handpick superb dive sites for a truly unique experience. From beginners to experienced, they adapt to your level. Over 50 dives sites within a 20 minute boat ride. The Papuan Explorer is in just 20 meters of water, it's Fiji's largest and most accessible wreck and is teaming with wildlife. "Breathtaker" is a deep reef dive to see an incredible display of large fish, white tip, black tip, whalers and grey reef sharks.
The reefs surrounding Bligh Waters are some of the healthiest in the world, with very little pollution and few boats, so you'll be able to see an array of marine life including anemone fish, turtles, colorful soft coral and reef sharks. Some of Ra Diver's most popular sites are in the fascinating "Vatu I Ra Passage". These sites are a mixture of walls, bommies and drift dives, all of which are teaming with life and color. Sites like Black Magic Mountain, Mellow Yellow and Instant Replay will soon be etched in your memory forever!
Volivoli Dive Packages Start at $2400 per person
Gallery: Volivoli Beach Resort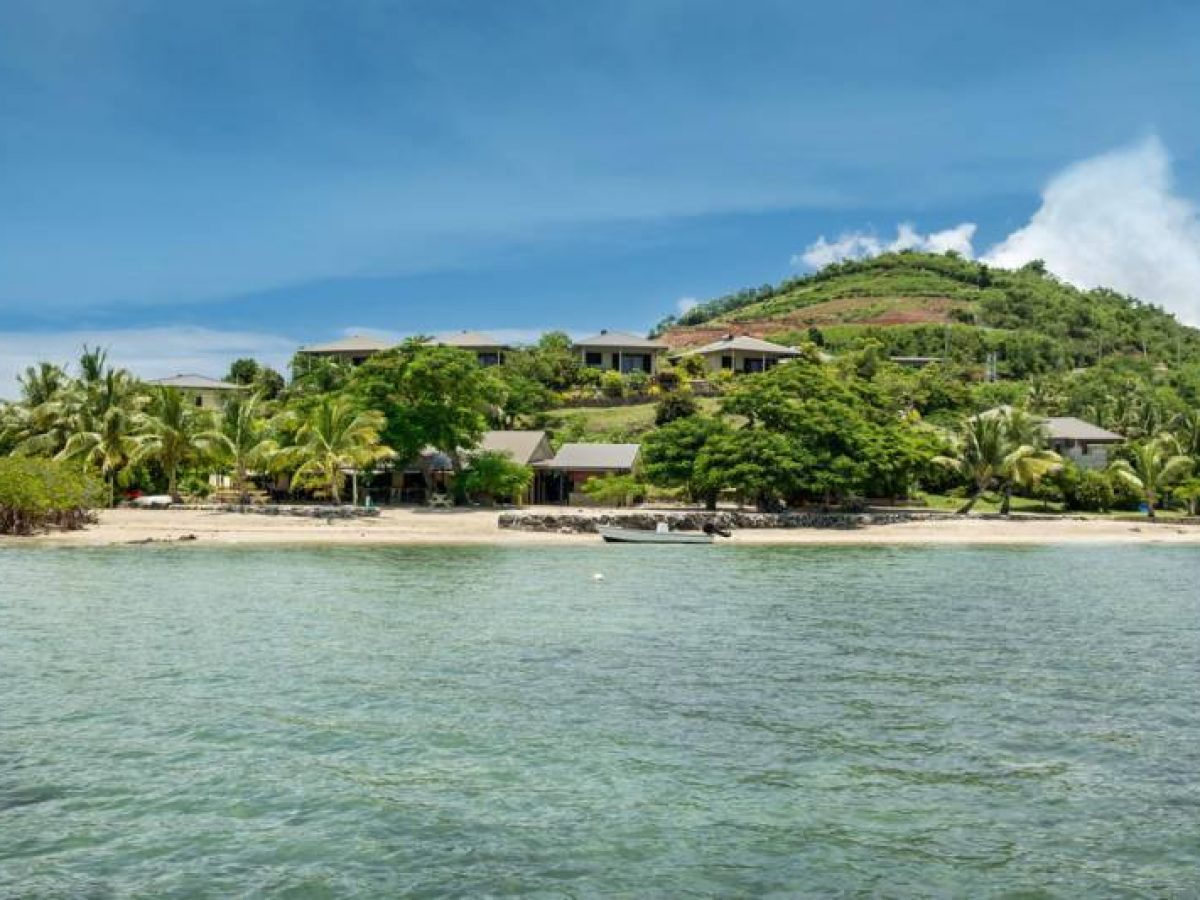 Waidroka Bay Resort
Famous Fijian hospitality and smiles, a variety of beautiful accommodation, great food, stunning views, exhilarating activities on the highest level and a dream location conveniently located on the main island, Viti Levu, only 2 hours distance from the airport and 20 minutes away from the 'Adventure Capital' of Pacific Harbour – yet totally secluded in the midst of the rainforest on their own private Lagoon.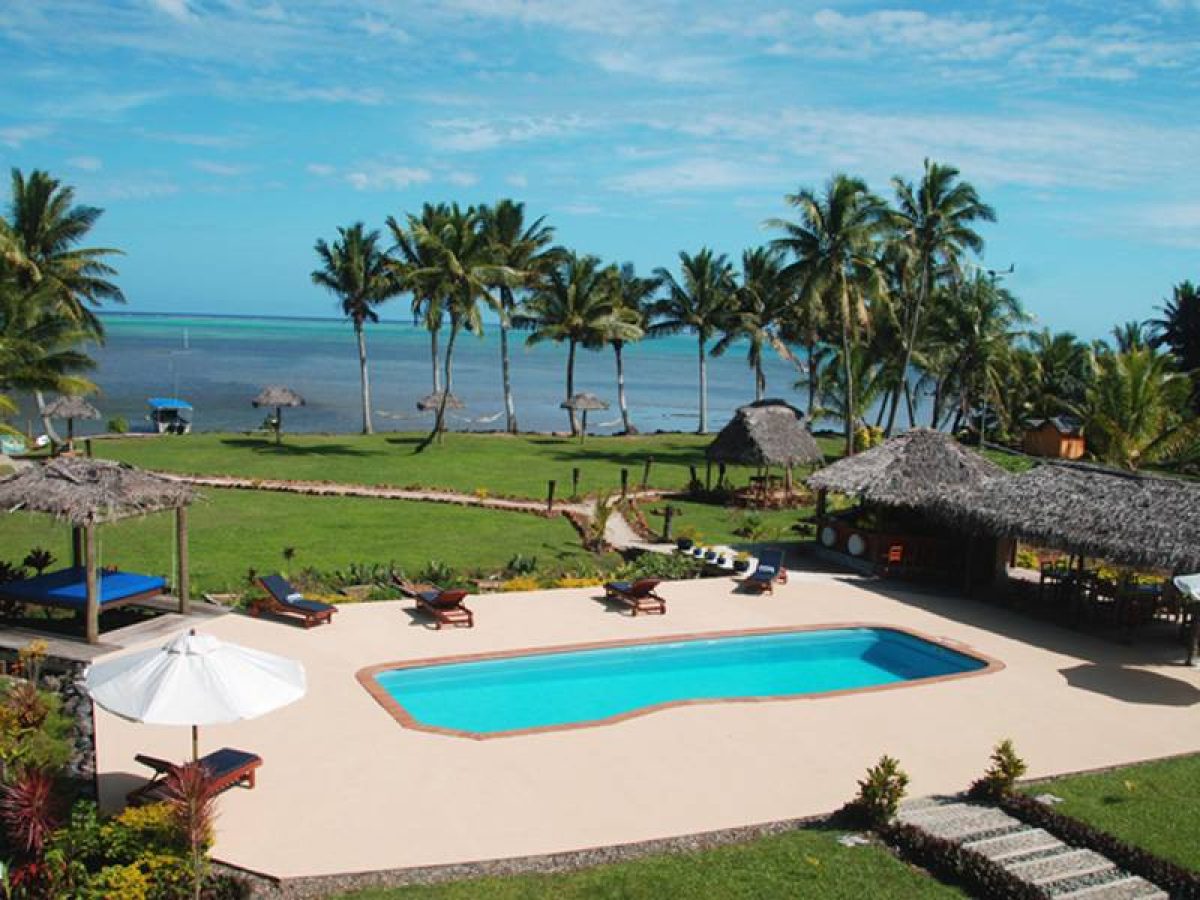 Waidroka Bay Resort is a true haven for those seeking a home away from home combined with an intimate and private boutique experience and atmosphere.
The perfect combination of pure relaxation and exhilarating action, Waidroka Bay Resort offers world class Diving at the famous Bega Lagoon & Reef, as well as the world famous Beqa Shark Dives, Mind-blowing Surfing, Game- & Sport Fishing, Snorkeling, Kayaking, Rainforest-Trekking and all that is expected of a Fijian oceanfront adventurer paradise.
The resort due to it's convenient location also offers a huge variety of exciting land-based cultural and adventure activities, which really gives the visitors a great option to discover the most of Fiji on their off dive days and thereby offers a great combination of options for any Fiji vacation.
Fiji's warm, clear waters and abundance of reef life make the islands a magnet for divers and snorkelers. Visibility regularly exceeds 30m. In terms of visibility the drier months of April to November are more reliable, but in different seasons the diver will experience different things and diving is quite good year round. Many travelers take the opportunity to learn scuba diving while in Fiji.
Their special location close to world famous Beqa lagoon and the amazing variety of local reefs offer an exceptional diving experience. Coral Coast diving offers unexplored diving as well as many dive sites of world renown such as sites in and around Beqa Lagoon. However, there is no such thing as the 'best' diving site, especially in Fiji. Every dive site has something special or unique to see and dives range from safe and easy to wall dives in fast currents.
The main advantage of diving on the Coral Coast is the proximity of sites to the coast. The inside reefs can be reached by small boat, currents are usually moderate, and you will see good coral and reef fish. To see bigger pelagic fish and spectacular coral, they will take you to dive the outer reefs and passages. The reef surrounding Beqa is considered one of the world's top diving locations. Beqa Lagoon, a 64-km barrier reef is famous for its dive sites which include Frigates Pass, a 48m wall dive with large pelagic fish including reef sharks; and Caesar's Rocks with amazing coral heads and swim-throughs.
Waidroka Bay Resort has a full service PADI Dive Shop on site, offering one, two or three tank dives. Waidroka Dive offers well maintained equipment for those that prefer to rent their equipment. They offer dive excursions to dozens of world famous sites along with PADI courses catering to complete beginners through to professional level divers.
Come explorer their abundant and unspoiled hard and soft corals and brilliantly colored walls in clear warm water just minutes from the resort. Whether diving through passages, caves, clearings, or the wreck of the "TASU No.2" with visibility ranging from 50 to 150 feet you will have the opportunity to view sleeping sharks, rays, turtles, dolphins, and an incredible variety of fish…and don't forget the world famous shark dives at Beqa which Waidroka does directly from their resort with their own boats and guides.
Waidroka Dive Packages Start at $1975 per person
Gallery: Waidroka Bay Resort