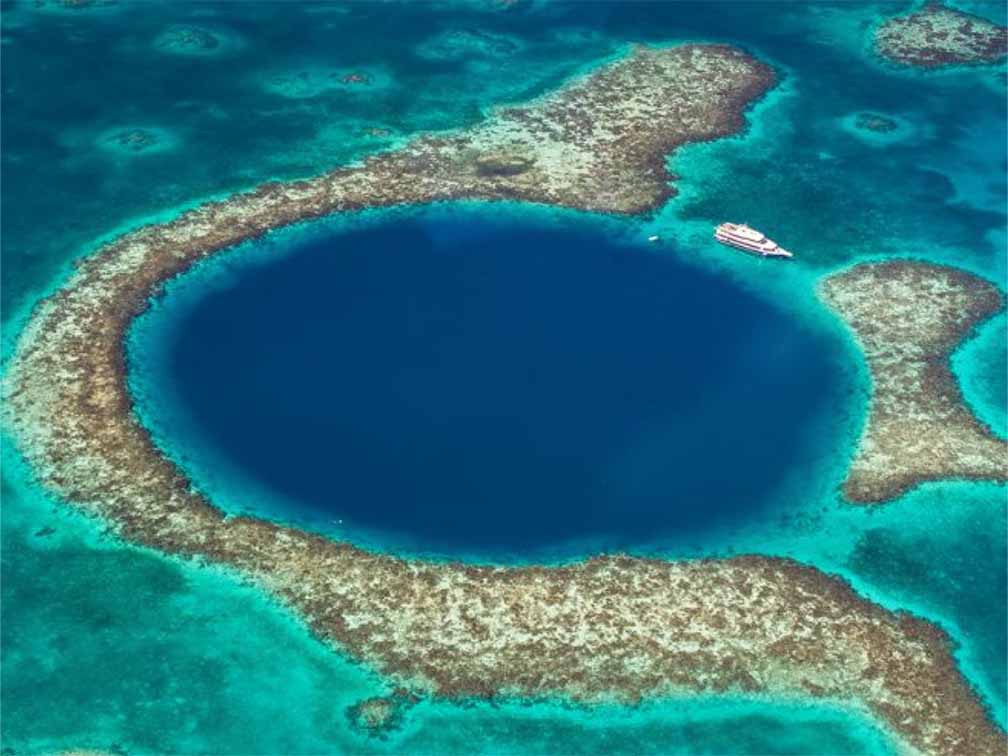 Belize
Scuba Diving in Belize
Like an overstuffed sandwich whose tantalizingly tasty goodness can't all be contained within the boundaries of its slices of bread, this Central American country – tightly wedged between Mexico and Guatemala – has topside and underwater delights bursting at all its seams. With endless acres of rainforest, rushing rivers, a huge swath of the Mesoamerican Barrier Reef – the world's second biggest – an incredible number of mysterious and ancient Maya cities and temples and a diversity of animals roaming wild, you can indulge in practically adventure in Belize you can possibly dream up.
The best part of a Belize vacation is that the country is close to home – only a handful of hours' flight from anywhere in the United States – yet the scenery is exquisite. There is no language barrier, as English and Spanish are the main languages and people in this country are incredibly friendly. Because there's so much to see on land and at sea, you'll probably want to be mobile – either by hitting the road in a rental car, taking to the air in small planes run by reliable local airlines, or cruising in a live-aboard boat.
Belize City is the country's international entry point, but you'll spend very little time here, as the attractions lie elsewhere. The town of San Pedro – immortalized by pop icon Madonna in her 1980s hit, "Las Isla Bonita" – near Ambergris Caye, is where many divers start their adventure. There are tons of luxurious beachside resorts here and even more great dive sites, in Hol Chan Marine Reserve, where you'll be blown away by the numbers of tarpon, nurse sharks and spotted eagle rays you'll see.
Going south from Ambergris Caye, you'll find the idyllic Truneffe Islands, for more memorable diving and farther south, off the coast of towns like Dangriga and Hopkins, you'll find the atolls of Lighthouse Reef and Glover's Reef. This is the area where you can dive the world famous Blue Hole – an unforgettable deep dive in which you'll glide into blackness, pushing recreational depth limits to check out a giant stalactite and, most likely, a squadron of black-tip reef sharks. Also in the atolls, you'll discover coral-laden walls featuring dramatic drop-offs, caves and swim-throughs.
If you've always dreamed of having a whale shark encounter, head to the Bohemian, artsy village of Placencia, where the world's biggest fish congregate in Gladden Spit from March until June, when snappers are spawning. And if you want to be among the first to visit the country's brand new dive sites, head all the way south to Punta Gorda, where areas like Lime Caye await.
Of course, no visit to Belize is complete without sampling the archaeological wonders of its jungle interior. The fictional world of "Indiana Jones" can't compete with the real ancient Maya cities of Xunantunich, Altun Ha or Lamanai, which are only a few hours' drive from Belize City. Elsewhere on land, ecotourism rules, with hiking, mountain biking, white water rafting and bird watching excursions all beckoning your adventurous spirit. Indeed, the hardest part of your Belize adventure is having to return home.
Dive Resorts
Looking for the best dive resorts in the Belize? Check out our Dive Resort Guide for Belize.